Giving: SUPPORT THE MHCTC
Partner With Us
SUPPORT OUR EDUCATIONAL MISSION
GIVE A MONETARY GIFT
Monetary contributions are welcome in order to achieve the teaching, exhibition and programming goals of the Collection, and enables the continued maintenance of appropriate collection management and exhibition standards. Please contact the A&S Office of Advancement for more information on ways you can support the MHCTC:
Office of Advancement
College of Arts and Science
University of Missouri
Columbia, Missouri 65211
Phone: (573) 882-4421
Email: UMCASAdvancementGroup@missouri.edu
GIVE TO THE MISSOURI HISTORIC COSTUME AND TEXTILE COLLECTION ENDOWMENT
The Missouri Historic Costume and Textile Collection Endowment was founded in 2002 by Dr. Laurel Wilson, former curator of the MHCTC for twenty-seven years, with funds from her William T. Kemper Fellowship Award for Teaching Excellence. Today, the MHCTC currently maintains endowed gifts totaling over $180,000 to help support annual maintenance of facilities, best-practice preservation efforts, and educational and exhibition programming. Partner in these efforts by contributing to the MHCTC Endowment.
Give to the Missouri Historic Costume and Textile Collection Endowment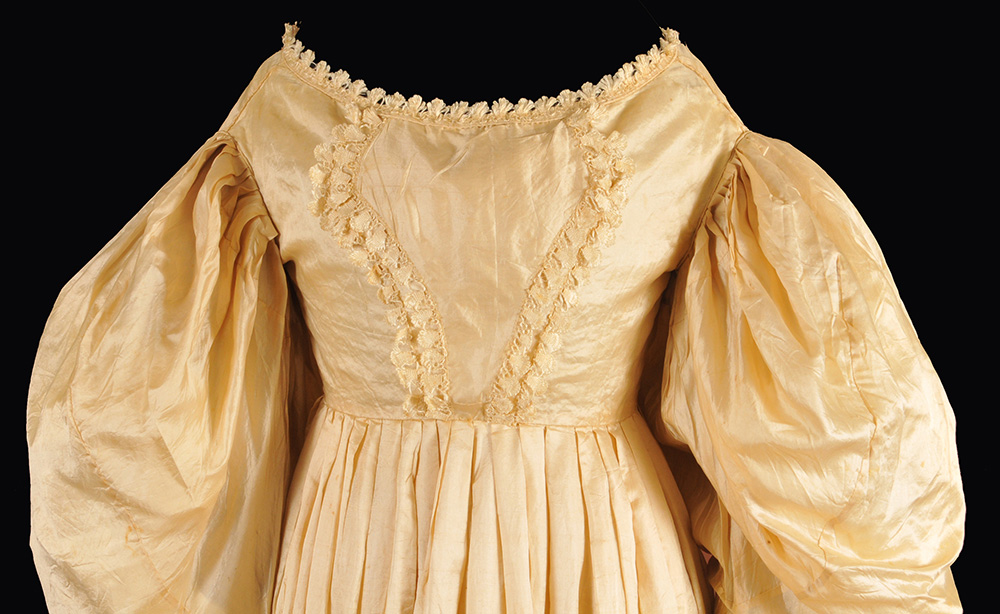 ARTIFACT DONATION
The MHCTC accepts artifact donations of men's, women's and children's apparel and accessories, world dress, and select household textiles, and actively collects artifacts with Missouri and University-related provenance, as well as those by notable regional designers, manufacturers and retailers of the past and present.
Due to limited space, objects are considered for acquisition based on current needs and gaps in the collection. Initial consultations are made using digital images and artifact provenance sent to the Collection Manager: johnstonnr@missouri.edu; local scheduled appointments may also available. In order to ensure the safety of donated items, the MHCTC is unable to accept artifacts without prior consultation. Please contact an MHCTC representative before mailing or dropping off any objects.
---
FRIENDS OF MHCTC
Assist in care, maintenance and development of the Missouri Historic Costume and Textile Collection
Friends of MHCTC is an association of persons interested in historic dress and textiles. Friends also assist with care, maintenance and development of the Missouri Historic Costume and Textile Collection through volunteerism and the solicitation of funds to support exhibitions, acquisitions, and preservation. Individuals who donate artifacts to the MHCTC automatically receive periodic Friends email notifications featuring our annual newsletter and upcoming events. Interested in becoming a Friend? Please contact MHCTC Curator Nicole Johnston at johnstonnr@missouri.edu or (573) 884-5001.
---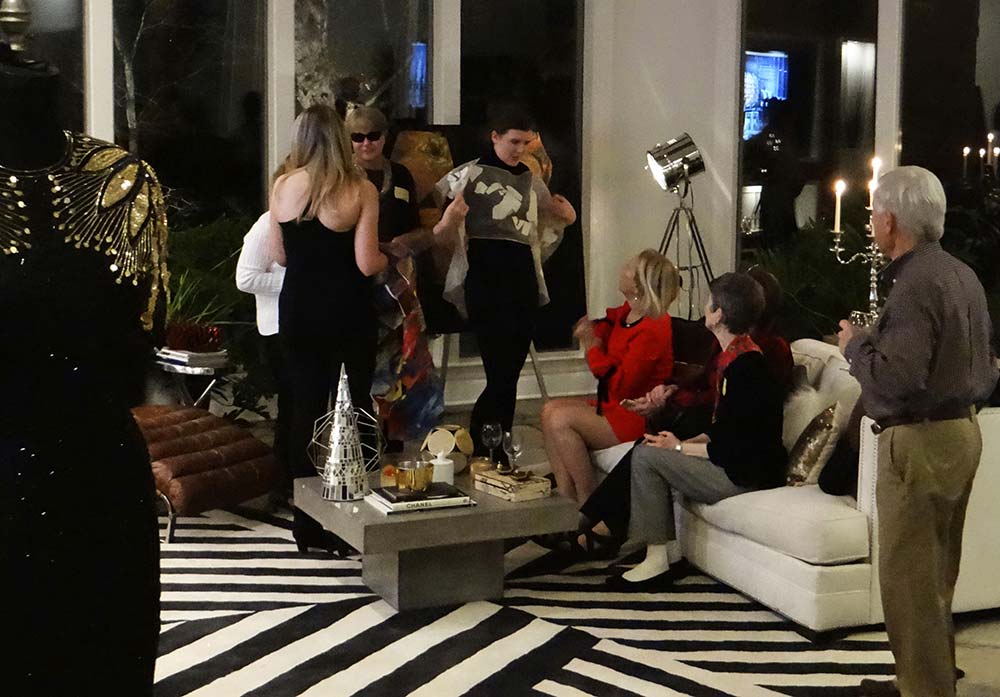 "THAT'S A WRAP!" FRIENDS OF MHCTC 50th ANNIVERSARY RECEPTION
November 30, 2017
TAM STUDENTS MODEL TAM DESIGNS AT "THAT'S A WRAP!"
November 30, 2017
---
FRIENDS OF MHCTC AT THE SAINT LOUIS ART MUSEUM!
July 28, 2017
Friends of MHCTC and guests enjoyed a fun-filled day at the Saint Louis Art Museum exploring three fashion and textile-related exhibitions. The day included an exclusive presentation and tour by SLAM curators of the highly acclaimed, award-winning exhibition Reigning Men: Fashion in Menswear, 1715-2015 originally developed by the Los Angeles County Museum of Art. The exhibit traced cultural influences over the centuries and celebrated a rich history of restraint and resplendence in menswear.Friends also viewed additional fashion-related exhibitions including Cross-Pollination: Flowers in 19th Century European Porcelain and Textiles and The Hats of Stephen Jones.Pictured: Friends of the MHCTC at Reigning Men: Fashion in Menswear, 1715-2015