Jean Parsons: Retrospective (2020)
SEPTEMBER 2020 – FEBRUARY 2021
The Missouri Historic Costume and Textile Collection and the University of Missouri celebrate the award-winning career of Dr. Jean Parsons of the Department of Textile and Apparel Management with an exhibition of past and present design and scholarship. After earning a PhD from the University of Maryland in 1998, Dr. Parsons has pursued scholarship in both design and history with twelve years at Iowa State University prior to her tenure at the University of Missouri from 2011 to 2021. In addition to her academic career,  Dr. Parsons worked as an apparel designer and theatre costume designer and draper in the Washington, D.C. area. Dr. Parsons has received numerous accolades that include more than 85 publications, exhibits, awards and recognitions. Jean Parsons: Retrospective includes samples from a lifetime of design and scholarship in the areas of digital textile and apparel design, history of dress and the apparel industry, and intellectual property rights.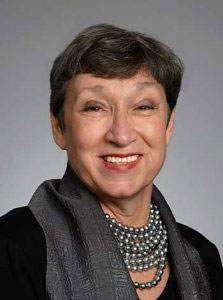 "Throughout my academic career, my research has been both history and design, sometimes separately, but often overlapping. The primary focus of my design scholarship is examination and exploration of the technical and creative intersections of two-dimensional textiles into three-dimensional garment forms, including digitally engineered prints. The theme of 3-dimensional design development relates to exploration of how flat textiles become complex sculptural shapes, how apparel patterns are visualized and developed for industry, and how 2-dimensional surface design interacts with and complements the 3D forms. This has been accomplished using both traditional techniques and digital technologies and in the merging of the two.The second thread of my scholarship is apparel industry history, with current work and publication focused on issues of design piracy, the early development of the ready-to-wear industry, and style protection, including patents. Some of the history and patent research is also used as a starting point to evolve new apparel design approaches." – Dr. Jean Parsons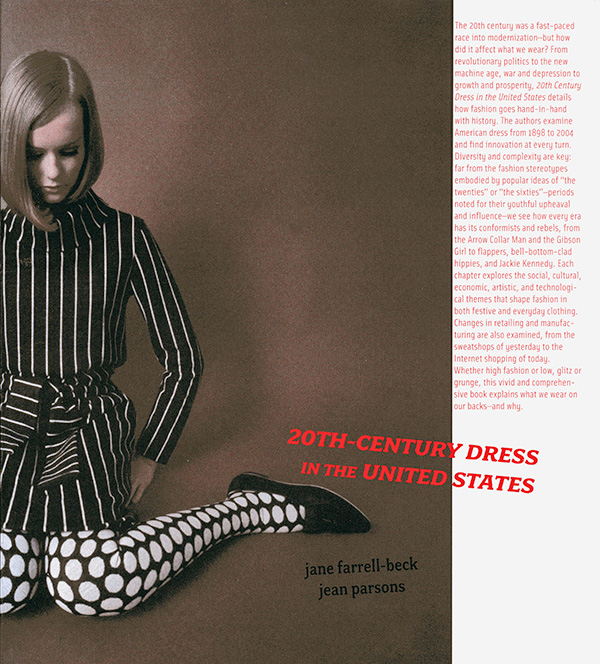 20th-Century Dress in the United States
By Jane Farrell-Beck and Jean Parsons (2007)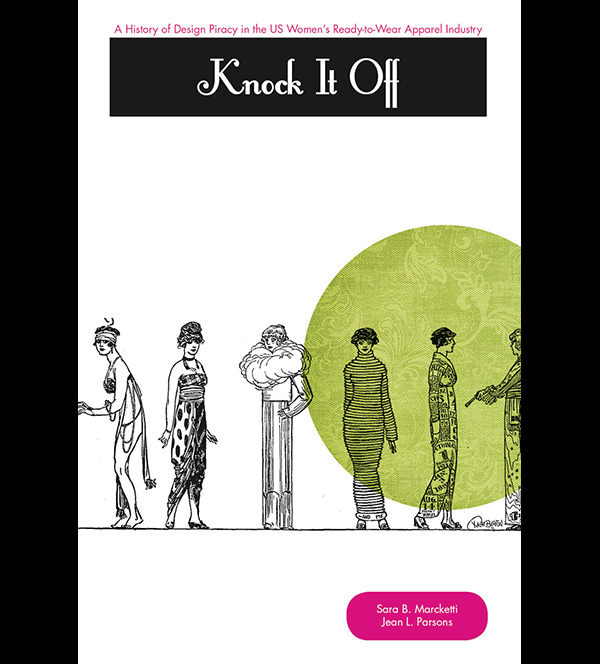 Knock It Off: A History of Design Piracy in the US Women's Ready-to-Wear Apparel Industry
By Sara B. Marcketti and Jean Parsons (2016)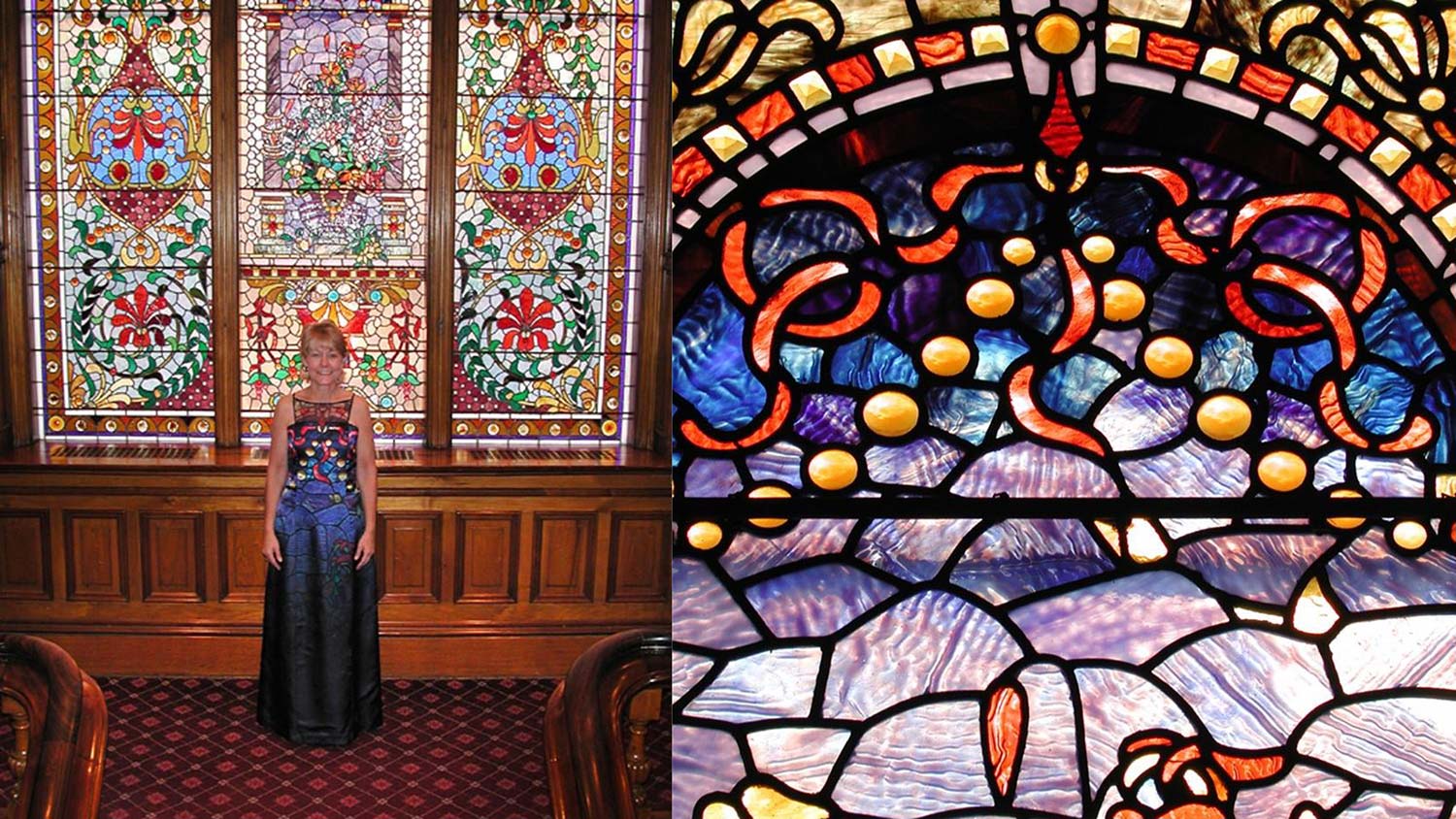 First Lady Christie Vilsack Inaugural Gown (2003) Co-designer: J.R. Campbell
In 2002, my colleague and I were commissioned to design a digitally printed inaugural dress for Christie Vilsack to wear for her husband Tom Vilsack's second term inaugural ball as Governor of Iowa. Her request was for a uniquely Iowa dress. We decided to use images of a stained glass window in the Governor's mansion for the print. Mrs. Vilsack was shown a series of dress design and print variations. After choosing one, a traditional pattern-making and fitting process was undertaken. The print was engineered to follow the cut of the final pattern pieces. As a custom dress, the final engineered, printed pieces would leave little leeway for alterations after printing, thus fitting was critical. The design was not only worn for the Inaugural Ball, but remained on exhibit in the Governor's mansion through their term of office.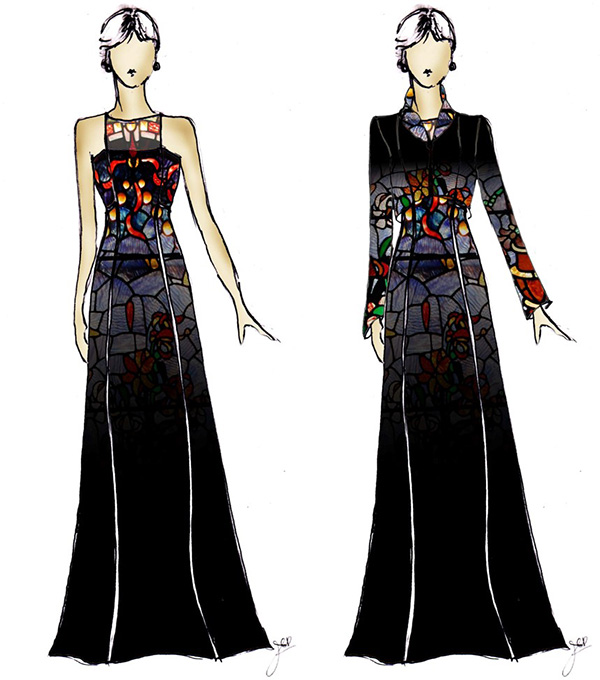 First Lady Christie Vilsack Inaugural Gown Illustrations (2003) Co-designer: J.R. Campbell
First Lady Christie Vilsack Inaugural Gown Digital Print (2003) Co-designer: J.R. Campbell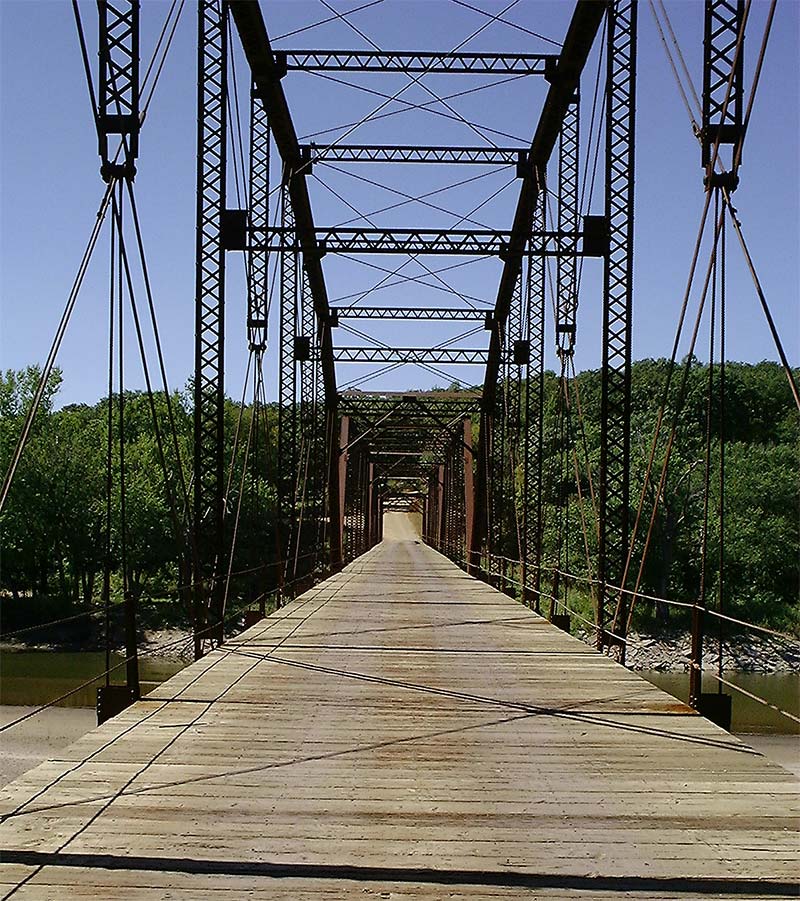 Silk Bridge (2004)
Digital Apparel Design Process: Placing a New Technology Into a Framework for the Creative Design Process
Jean L. Parsons and J.R. Campbell
Design theory and process are studied in different contexts and diverse fields. Designing has the potential to generate new knowledge and is intimately tied to new technologies, such as digital textile printing. These technologies open up a constantly expanding range of creative possibilities, and generate a complex set of decision points for designers. In this paper we demonstrate how the design process is impacted and how new products can be created through exploration of the limits and potentials in digital technologies for textile and apparel design. We evaluated design process for 5 designs, one of which was Silk Bridge. This was especially important in understanding evolution of design problems both technical and creative when working with what was, at the time, a new technology. It was demonstrated how the design process changed as various technical problems were solved with each successive garment design, and focus could move to creative decisions.
Parsons, J.L., & Campbell, J.R. (2004) Digital apparel design process: Placing a new technology into a framework for the creative design process. Clothing and Textiles Research Journal, 22(1/2), 88-98.
Silk Bridge Digital Print Bridge Design (2004) by Jean L. Parsons and J.R. Campbell
Silk Bridge Digital Print (2004) by Jean L. Parsons and J.R. Campbell
By Jane Farrell-Beck and Jean Parsons (2007)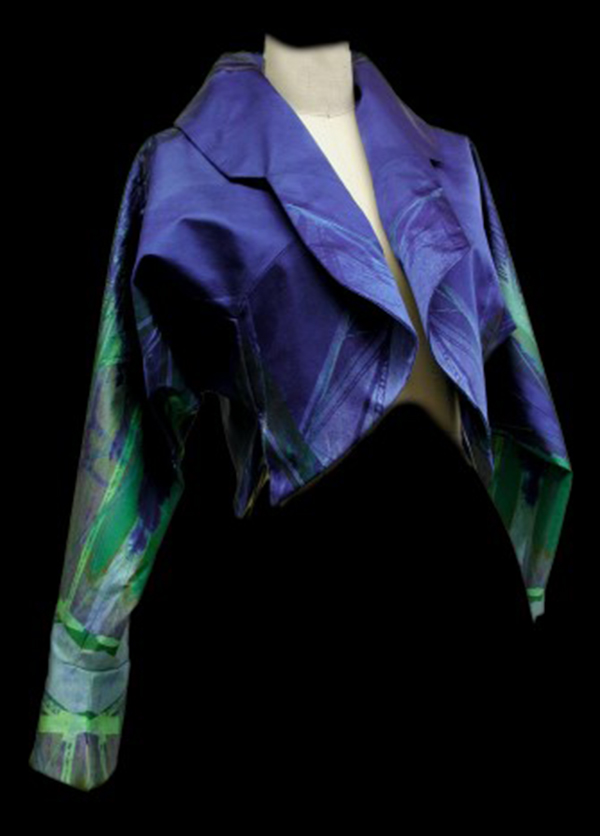 Silk Bridge Silk Jacket (2004) by Jean L. Parsons and J.R. Campbell
By Sara B. Marcketti and Jean Parsons (2016)
Transformation Icarus I/II (2005)
Co-designer: J.R. Campbell
"Transformation: Icarus" I and II were conceptualized as a continuation of experiments with geometric shapes intended for display as both three-dimensional (3D) apparel and two-dimensional (2D) art pieces to hang on a wall or to suspend freely in space. These designs began with a circle, segmented to create collar and sleeve shapes. To add additional dimension, we intersected this basic form with the same shape in a different plane. In the end, we identified three separate circles, one for the "front" of the garment, one for the "back" and a half circle that is inserted into each side at a 90 degree angle to the front and back planes. The printed imagery was created from a photograph of the inside of a clothes dryer drum manipulated to simulate the effect of bird feathers. The first Transformation was printed on wool gabardine, while the second one is silk habotai. The different fabric weights completely change the drape and movement when worn.
Award: First place for Transformation: Icarus I, Wearable Expressions Exhibition, Palos Verdes Arts Center, Rancho Palos Verdes, CA.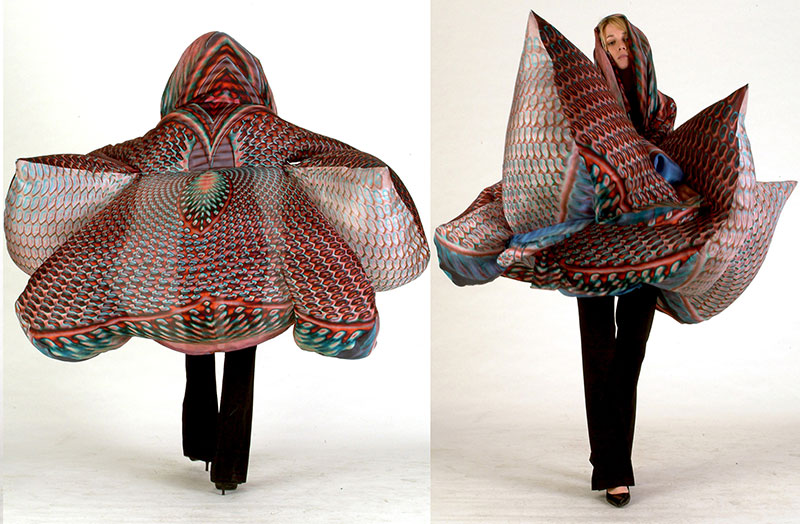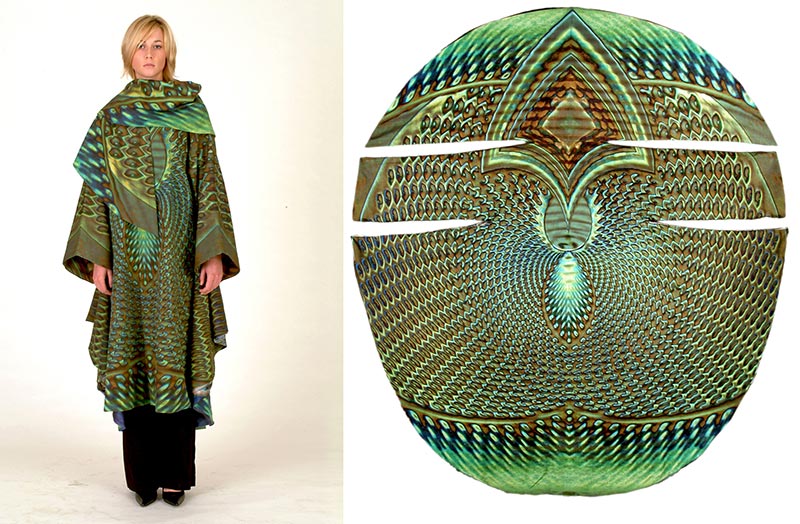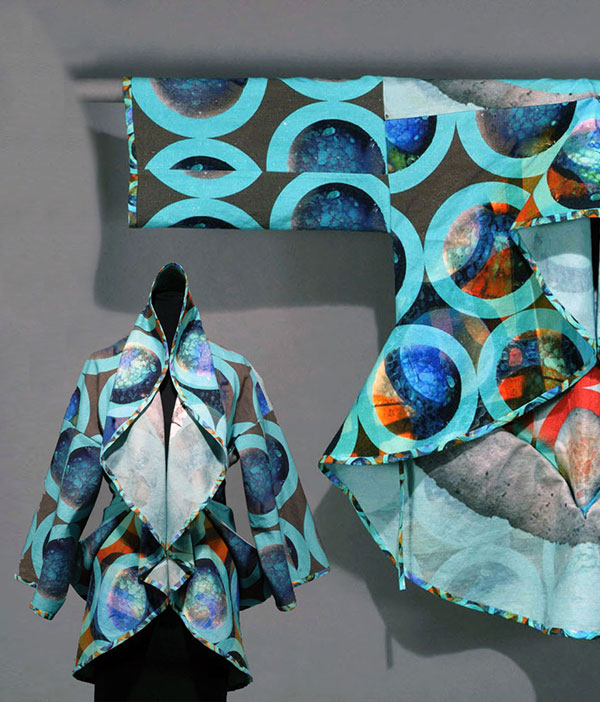 Transformation: Circle Squared (2007)
Co-designer: J.R. Campbell
Transformation: Circle Squared2 represents a continuation of design experiments that focus on exploration of both the sculptural possibilities of intersecting geometric shapes and the engineering of digital textile print design to emphasize and highlight those shapes. This design can to be worn as 3-dimensional apparel, displayed 2-dimensionally on a wall, or suspended free form in space. An additional purpose was to experiment with printing both sides of the fabric. Three different shapes – a circle, a square and a barbell shape consisting of three rectangles connected together – were intersected through openings/cuts in each piece. This was done through an additive process, without removing any fabric from the original geometric pieces. Surface design began by responding to the circular and square shapes using photographic images captured from stained-glass windows. It is printed onto 100% linen that had enough weight to print both sides without strike-through.
Circle/Square Variation (2017)
Circle/Square Variation was created from test fabric prints left from Circle Squared2. It is a large square with a circle of fabric removed from the middle which was then used to make the pockets and center support. It is intended  to be worn as a vest, with the wearer's arms going through the circle, which will be on the back. The square then falls to the front and also forms a collar around the top.
Winter (2012)
Co-designer: Kerri McBee-Black
Winter is a prototype jacket created as part of an ongoing research project focused on historical analysis of garment patents. The original patent was a single pattern piece with minimal cuts and seams. The purpose was to determine the feasibility of the pattern development process and to create a design that could eventually be cut with minimal waste. It is cut from a single pattern piece with the exceptions of facings and a V-shaped inset at upper back. The digitally printed surface design was developed from a series of both photographic images and floral images from scanned flowers. The entire print was converted to sepia tones to achieve an antiqued appearance. The print was then engineered to create a border print that flows with the folds of the coat. (100% linen) Award: International Textile & Apparel Association (ITAA) Award for Excellence/Target Market Design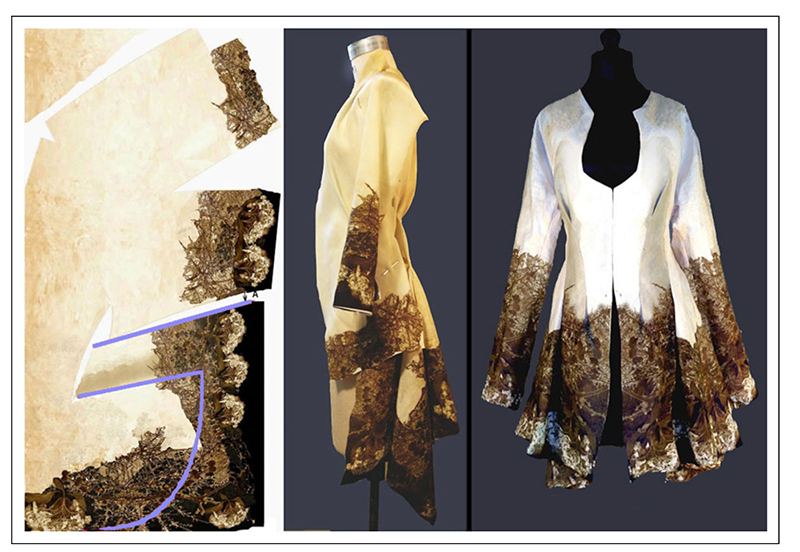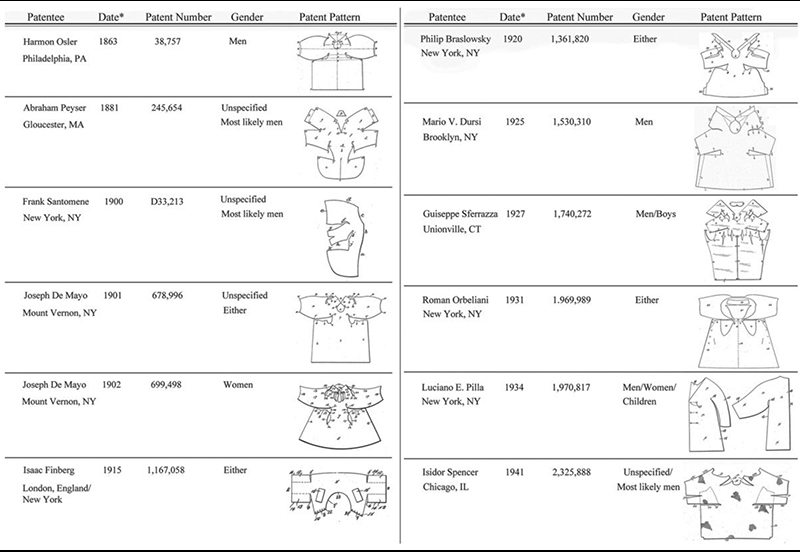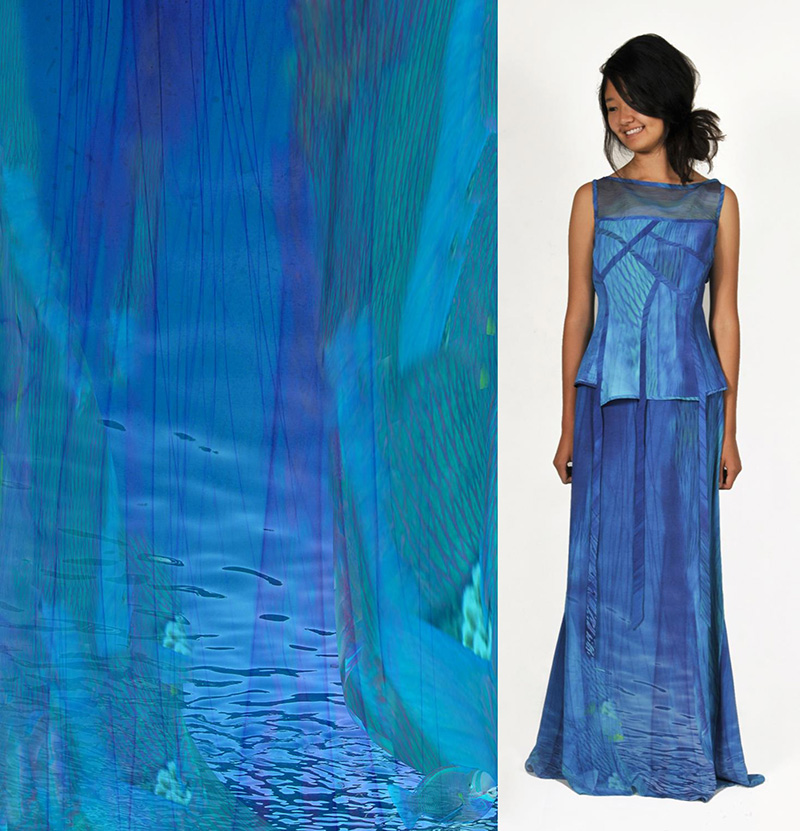 Waterfall (2012)
Waterfall was created in response to the "Balenciaga in Hawaii" design call at the International Textile and Apparel Association conference. Inspired by the panorama of nature, in particular waterfalls, the ocean, and tropical fish, the concept was to blend garment form and surface design to create the illusion of moving water. The garment was developed using traditional dressmaking techniques, while the fabric was digitally printed with a photographic montage of water, jellyfish tentacles and tropical fish. The bodice is divided into sections, then the imagery opens up and flows to the bottom of the skirt, where ripples of water and partially hidden fish  can be seen. (100% silk crepe)
Spiral Rose (2013)
This banner was part of a commission for the Newman Center on campus. The design brief was to create four large banners for the Center with themes based on the coming year's liturgical readings from the Book of Luke – Outcast, Women, Hospitality, and Wonder.
This is a detail of the artwork (without the text) for Women. The swirling pattern is intended to bring the viewer to the central heart of the composition and thus to the role of women in the readings. The design was later re-imagined as the print for a coat, titled Spiral Rose. The coat pattern was adapted from a historic pattern that provided a large and unsegmented surface for the composition. (100% silk crepe, with printed silk lining. Displayed at ArtWear Fashion Week, Fort Collins, CO, it was sold after the exhibit)
Pictured below: "Hospitality" and "Women" banners with Spiral Rose digitally-printed coat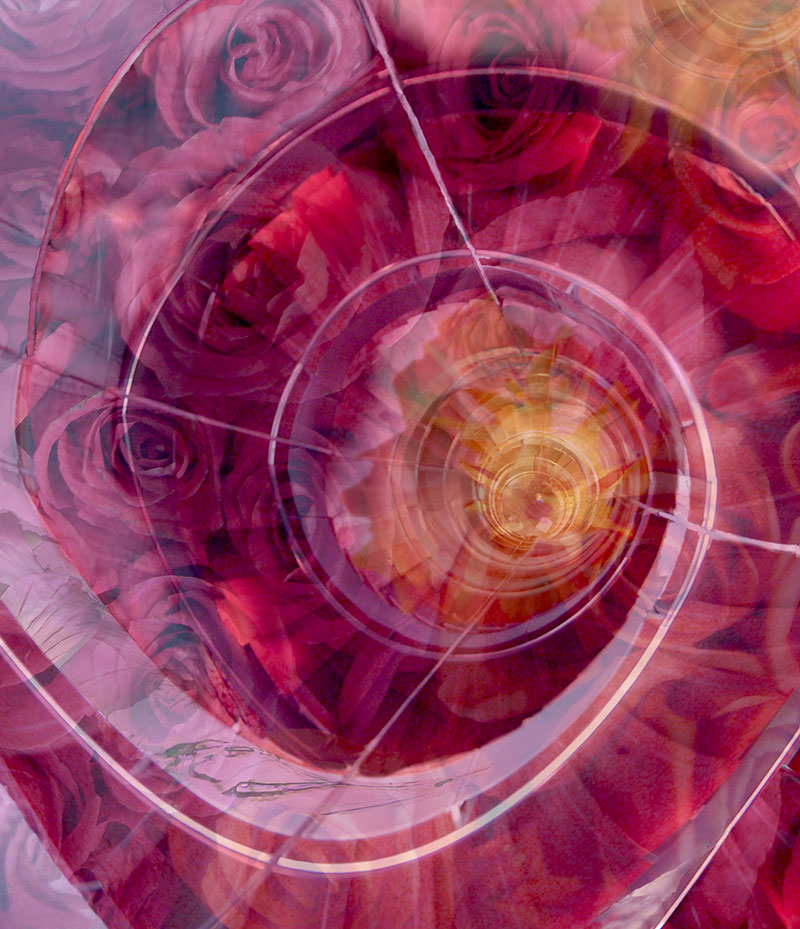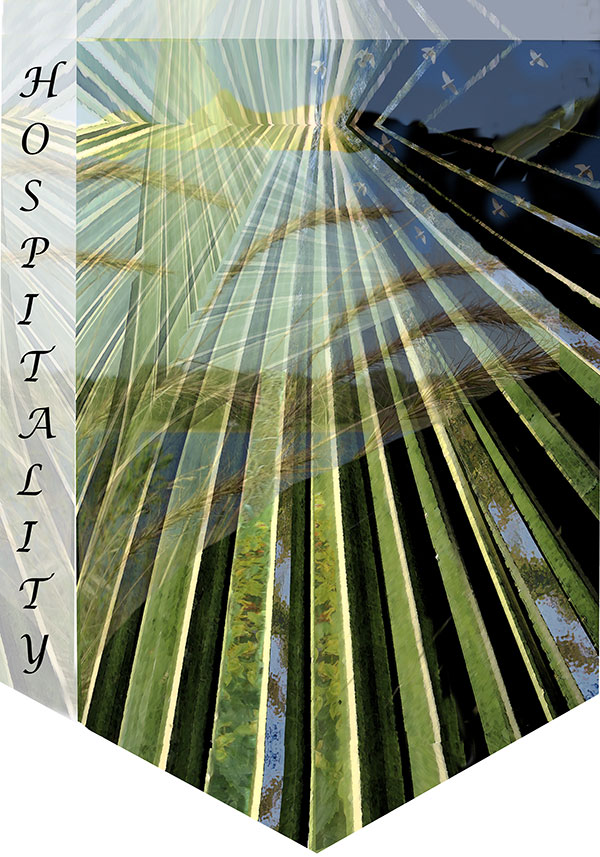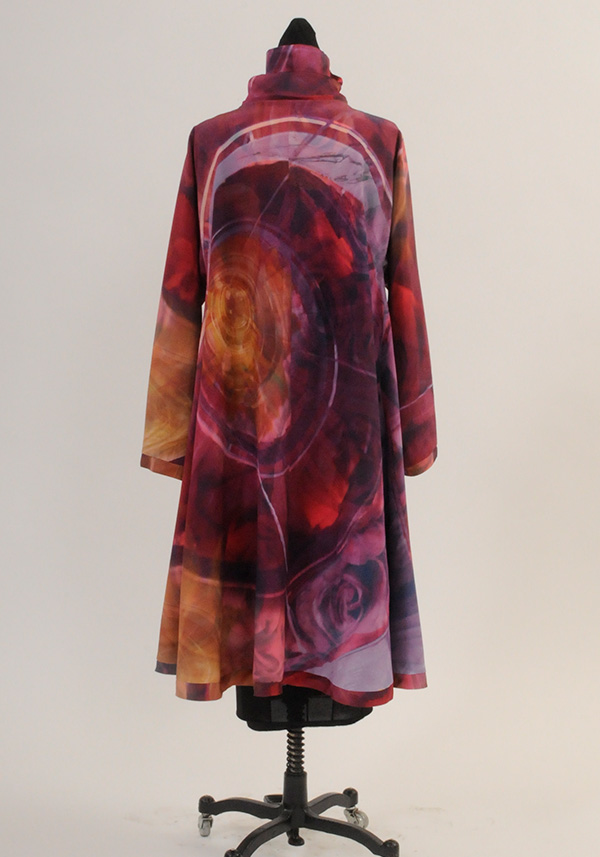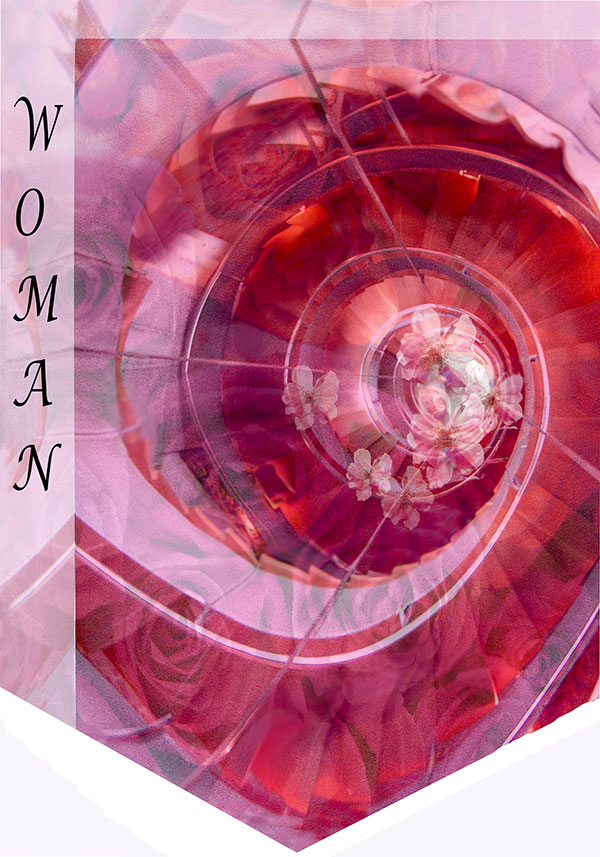 Autumn (2017)
Autumn was created as part of ongoing creative research exploration that is twofold. The first goal was to work only with rectangular or square pattern pieces; something intended to minimize digital printing waste. The second was to approach the textile art as a complete composition within a confined square canvas, rather that engineered into separate pattern pieces. The orientation was thus to begin with the 2D art piece and make it the driving force for the apparel design. The apparel design evolved from a series of these printed squares at different scales. Both fabric width, the experimental draping of pieces, and the ability to fully fill the printing marker determined the number and size of the pieces. Autumn began with the large square that is the back panel. It was draped on a diagonal and served as an anchor point to experiment with other garment components. The textile print includes both photographic and digitally drawn imagery. It began with several photographs of autumn leaves with raindrops, lying on an oil slick road surface. Additional lines were digitally drawn in to accent the leaves and create further movement in the composition. Drawn lines also accent the edges of the square. Some of these edges were printed as separate rectangles to form the halter bands. The others give the appearance of a binding or of a separate strap, but are part of the printed square, emphasizing the contours of the design.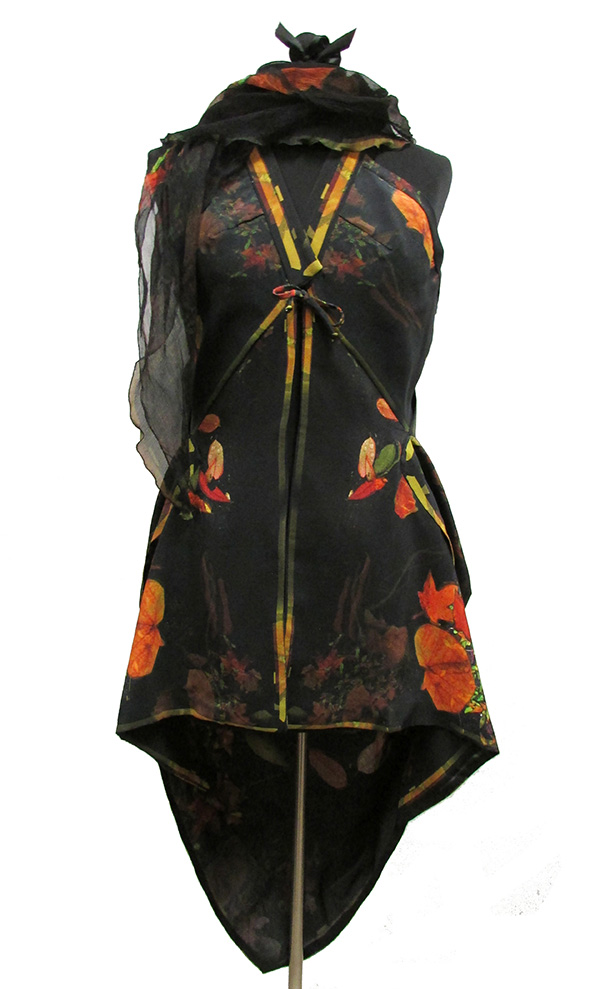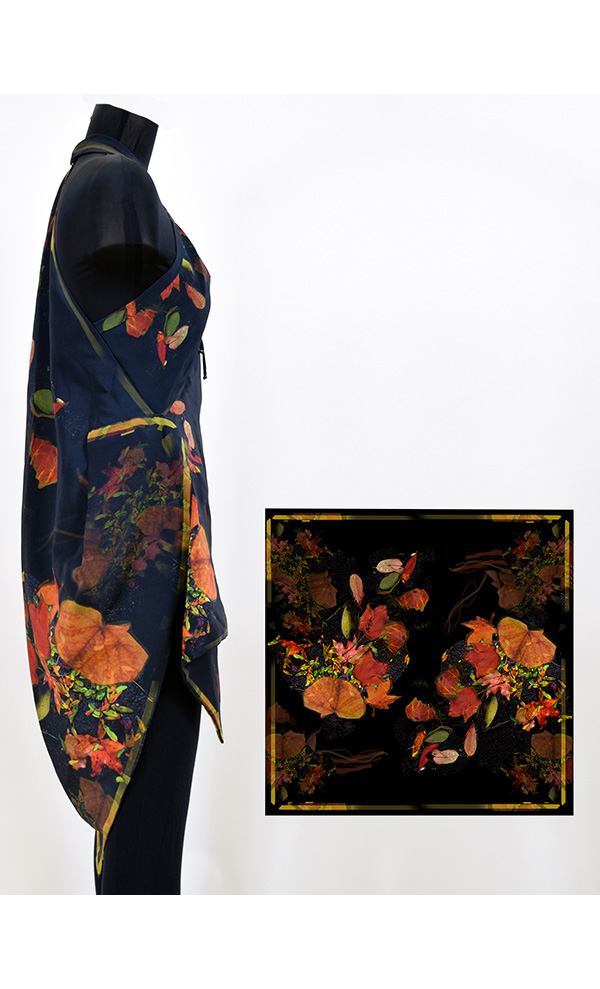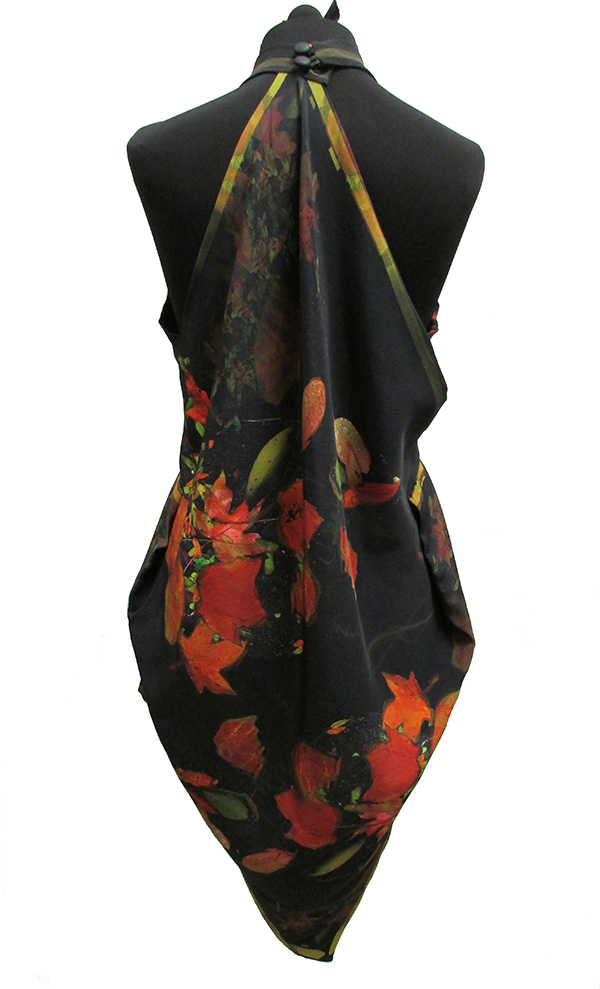 Synthesis Flow (2017)
Co-designer: Kristen Morris
Synthesis Flow began as a first prototype experiment to blend digitally printed textile designs with laser cutting. The primary goal was to view the laser cutting not as an additional surface design, but rather an integral aspect of how the garment shape was developed. Our goal was to use laser cutting as a technique to make strategic cuts in the cloth and allow shape and form to be evolve organically within the basic square canvas. This would be accomplished through a series of draping experiments to determine how cut lines and curves could enhance addition of pleats and folds, extensions of the garment and control shape. The textile design was developed with a goal to retain a large and uninterrupted surface on which to create the digital art composition. The photographic imagery is of water flowing under ice during a spring thaw, combined with photographs of rust. The images are both linear and fluid, including areas of softly defined curves. The square sizes were developed to fit within the 42- inch width of the silk crepe. The large front piece was bonded to a lime green dupioni silk using a double-sided adhesive web.  (100% silk crepe outer shell, 100% silk dupioni lining) Pictured below: Front, back and print views of Synthesis Flow silk bodice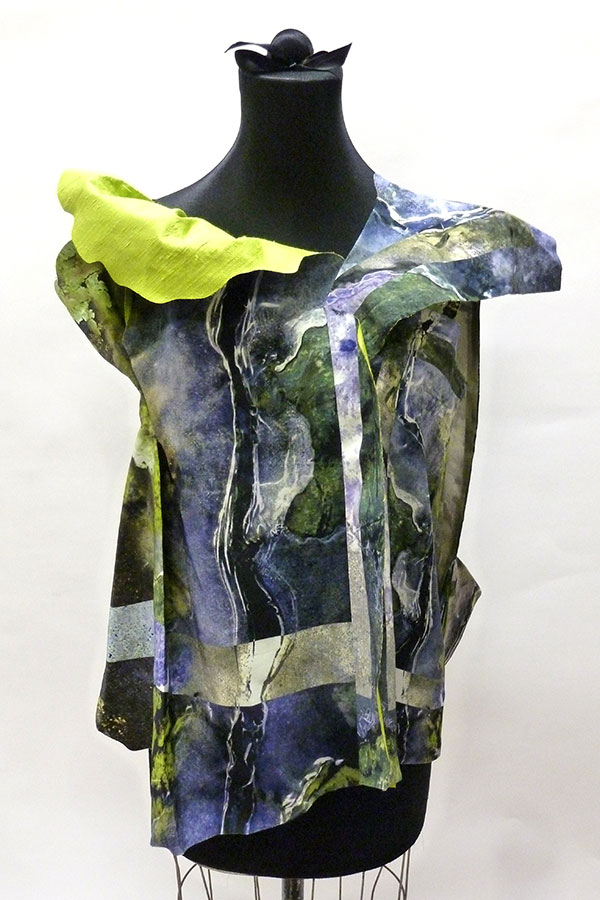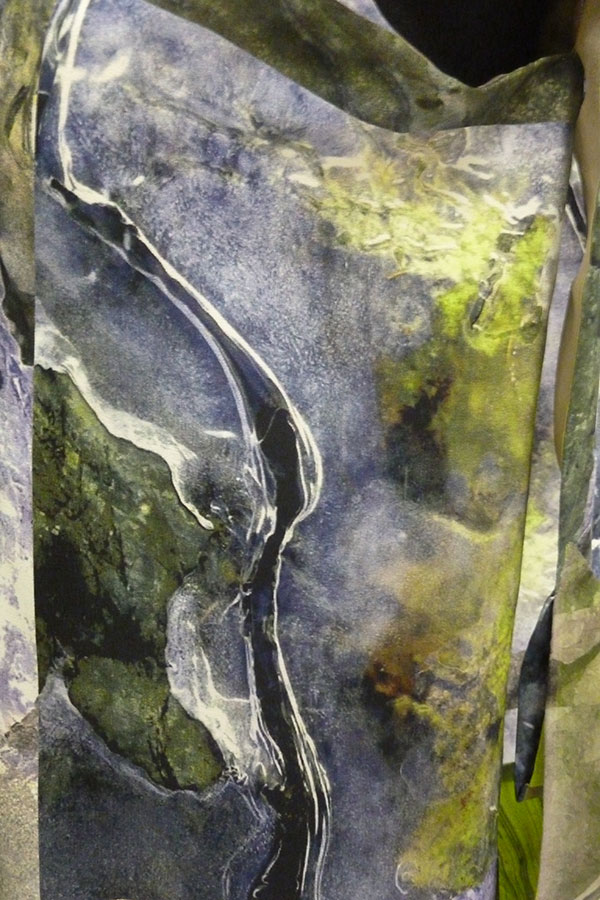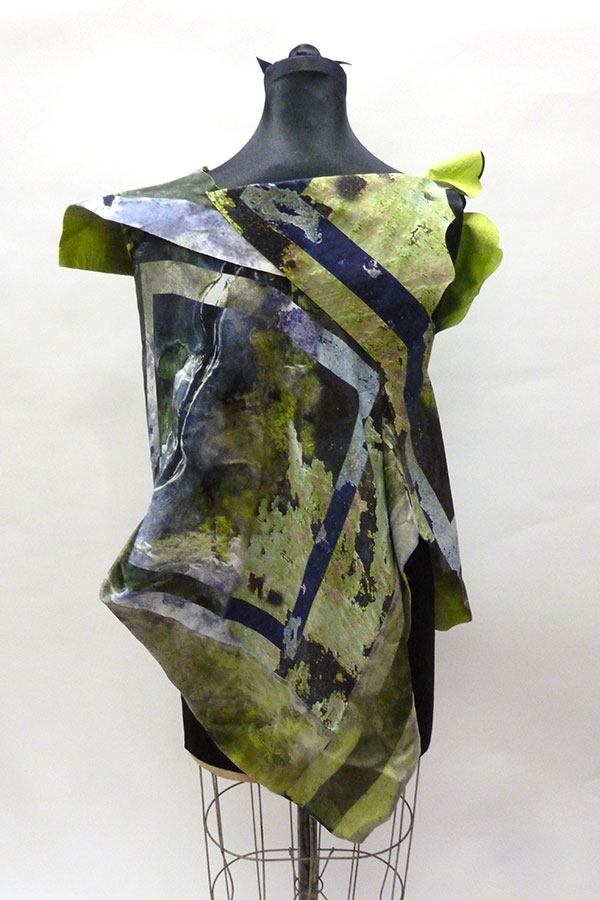 ---
The Hidden History of American Fashion: Rediscovering 20th-Century Women Designers (2018)
CH 5: Marian McCoy and Pauline Fracchia: Mid-Twentieth- Century Originators By Jean L. Parsons and Sarah B. Marcketti
The U.S. ready-to-wear industry has long clothed women fashionably at all price points. By the mid-twentieth century, thousands of designers created clothing ranging from high-priced originals to low-priced copies. These designers remain largely unknown today as the company or department store label seldom included their names. Through the industry trade press, patent records, and advertisements, it is possible to discover the lives and contributions of these individuals, expanding our knowledge of the women's U.S. ready-to-wear apparel industry. The dual focus of this chapter is two American wholesale designers whose distinct paths, working in major garment centers in the United States, including New York, Chicago, St. Louis, and Kansas City, exemplified the varied experiences of designers of the time: Marion McCoy and Pauline Fracchia. While Fracchia and McCoy do not represent all American fashion designers, facets of their careers—working in various markets, and the recognition that their designs had to have widespread appeal—were shared across the industry. An uncovering of the stories of both women reveals much about the American apparel industry, particularly the diversity of experiences by the relatively unknown yet successful designers for the wholesale manufacturing firms of the mid-twentieth century.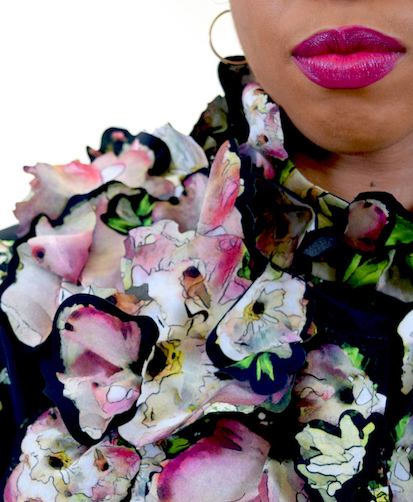 Floral Fusion (2019)
Co-designer: Kristen Morris (2013)
Floral Fusion represents a continuation of the exploration of creative possibilities for integrating digital textile print with laser cutting. We previously experimented with use of laser cutting as a tool to create techniques for adjusting fit (All the Ribbons), and with internal laser-cut shapes as a beginning point for garment shape development (Synthesis Flow). The goal of Floral Fusion was to use digital print design both as a guide to create textures within the garment and as a tool to create individual print motifs to be used as 3-dimensional shapes for applique. The dress was not laser cut, but rather has applied flowers that were laser cut from a print marker. The entire bolero jacket was laser cut and has an engineered print so that a row of laser cut flowers follows both hem and sleeve edge. The print itself was created to give the impression of watercolor techniques. The skirt is composed of two squares of the full print design composition. (100% silk crepe)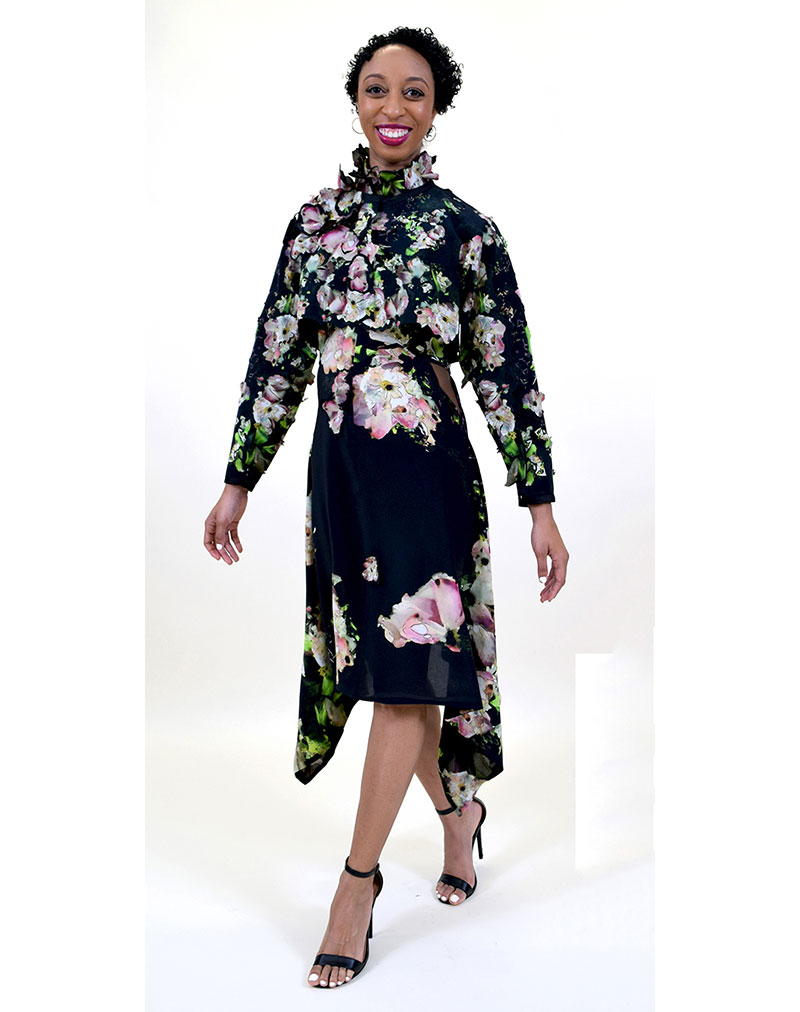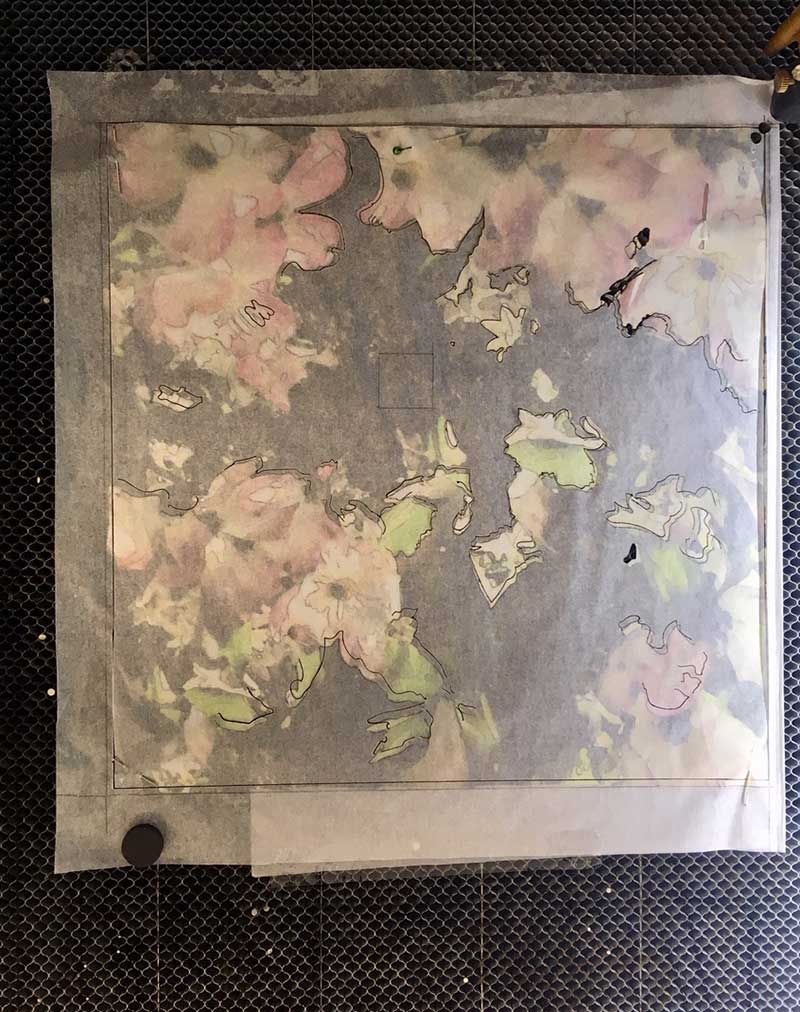 Crossing Gender Boundaries: Fashion to Create, Disrupt and Transcend (2020)
In-vest-ed Meaning: Gender Ambiguity in Costume Collections
By Katie Baker Jones and Jean Parsons
'Men and men, women and women, and occasionally even women and men, walked arm in arm in twos and threes. Their clothes were interchangeable […]' (Rourke 1992). In this description of an early 1990s Jean Paul Gaultier show, fashion editor Mary Rourke captured the spirit of a new wave of androgyny on the runway and in the fashion press. Fashion plays a critical role in gender stereo-types. In addition, considerations of gender are essential for dress historians. For the fashion historian and museum curator, scenes such as the one described by Rourke present an interesting dilemma: what role does or should gender play in the preservation of fashion as material culture? This chapter explores the gendered nature of objects through a material culture analysis of a Jean Paul Gaultier (1952-) 'Homme' vest housed in the Missouri Historic Costume and Textile Collection located at the University of Missouri. Of central concern is how an object is gendered at each stage of its 'life' at an organizational level – from production and retailing to consumption and ultimately to preservation in a collection or museum.