Established by Carolyn Wingo in 1967 to support the teaching mission of the Department of Textile and Apparel Management in the College of Arts and Science at the University of Missouri, the MHCTC has grown to include over 7,000 items of apparel, accessories and household textiles, as well as over 4,000 archival resources including books, catalogs, illustrations, and photographs. Objects range in date from the early nineteenth century to the twenty-first century. Housed in the climate-controlled Josephine Margaret Holik Conservatory in Gwynn Hall, the Collection includes apparel and accessories for men, women and children, as well as military apparel, world dress and household textiles.
University, State, and Regional Apparel
The MHCTC actively collects apparel and textile artifacts belonging to notable Missourians and by prominent regional designers, manufacturers and retailers of the past and present. The MHCTC is also the premiere repository for University of Missouri-related apparel and textile artifacts, including those belonging to past and present faculty, staff and students. One-of-a-kind designs created by students in the Department of Textile and Apparel Management are also collected to document technology and artistic trends within the apparel industry. Explore these collections below. Pictured: Polyester T-Shirt (Detail) with Missouri Tiger Print (1970s) Gift of B. Smith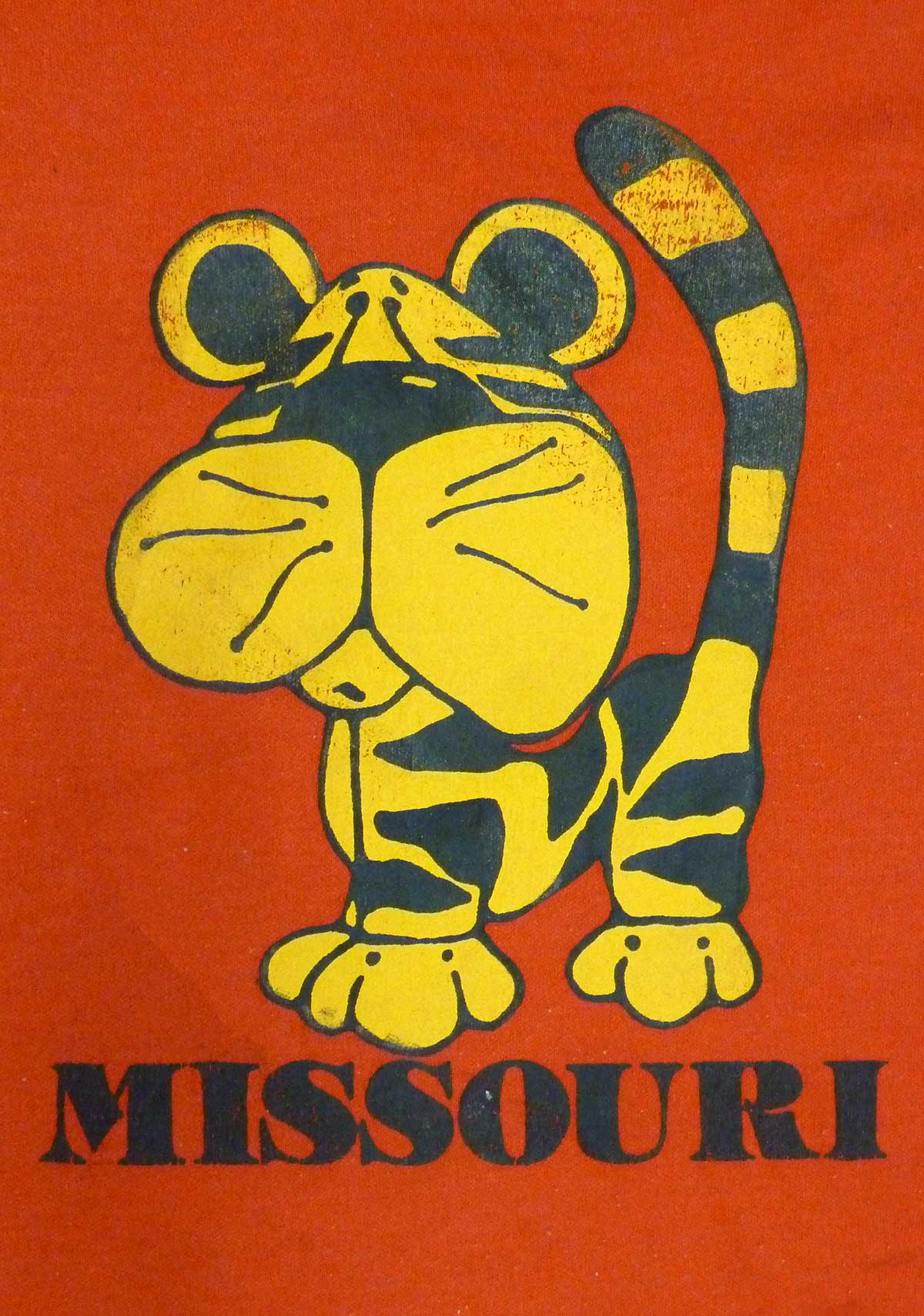 ""Tiger Spirit" – that magical phrase that means everything worthy, courageous, and fine to a student of our University. It is spirit that not only makes dignified men and women rise to their feet and cheer loudly for the wearers of black and gold, but that spirit which follows students into larger fields of endeavor." MU Savitar 1931, page f
NOTABLE MISSOURIANS AND TIGERS Collection
The MHCTC is the premiere repository of University of Missouri-related clothing and textiles, and actively collects artifacts with Missouri-related provenance from notable individuals who formerly lived and/or worked in Missouri or attended the University of Missouri as students, faculty, or staff.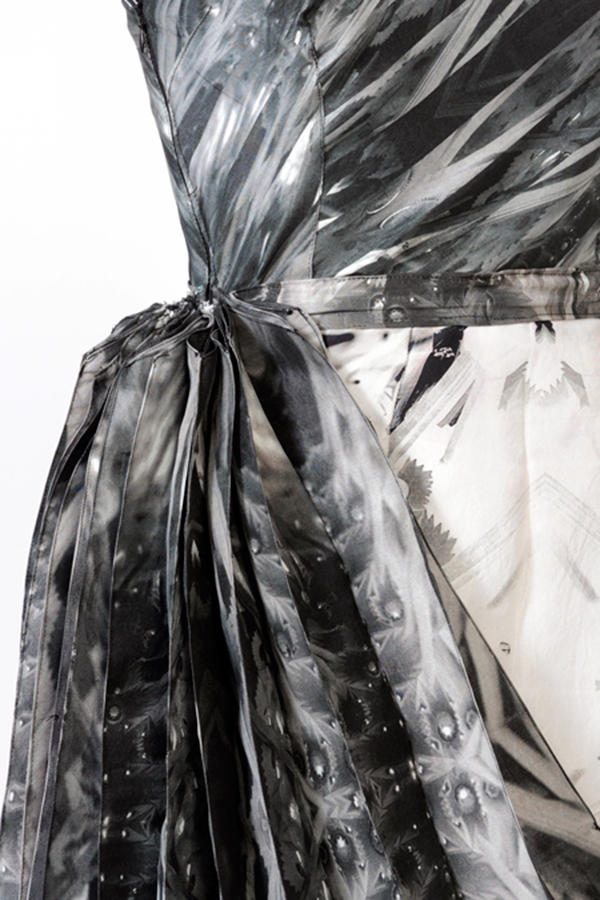 One-of-a-kind apparel designs by students in the Department of Textile and Apparel Management are collected to document department academics and technology and artistic trends within the apparel industry.
---
INTERDISCIPLINARY SCHOLARSHIP
Collection artifacts are used in a variety of interdisciplinary collaborations with campus, community and regional museums, departments and institutions. MHCTC exhibits such as Missouri Women: Suffrage to Statecraft, Origins: Dress and Textiles  and Arts and Crafts Design (Re)Forms  include numerous artifacts from local, regional, and national collections. The MHCTC's online presence encourages national and international inquiries, research requests, and consultations, such as those by the Museum of Modern Art in New York, Cornell and Stanford Universities, the University of Cambridge in England, even the University of Technology in Sydney, Australia! See even more examples below and on our EDUCATION and EXHIBITION pages.
MISSOURI STATE CAPITAL Exhibition Partnership
An exhibition partnership with the Missouri State Museum was formed in 2019 in which MHCTC military garments are periodically displayed in the Veterans Gallery of the Missouri state capitol building in Jefferson City.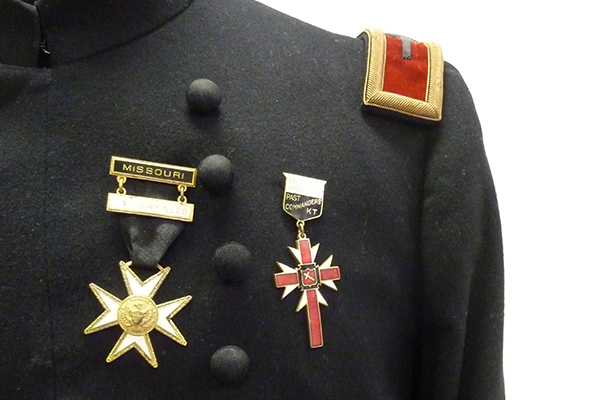 SHOW ME MISSOURI Bicentennial Virtual Exhibition
Show Me Missouri is a state-wide collaborative initiative to document and commemorate Missouri's bicentennial in 2021. This digital exhibit tells the story of Missouri and Missourians through the lens of 200 historically and culturally significant objects, three of which are from the MHCTC, including the 1929 wool Masonic Lodge uniform pictured above that once belonged to J.R. Baker whose family founded Millersburg, Missouri. Gift of M. Baker.
National World War 1 Museum and Memorial Exhibition
In 2020 the National World War I Museum and Memorial in Kansas City, Missouri selected ten garments and accessories to enhance their exhibition Silk and Steel: French Fashion, Women, and WWI.
---
COLLECTION HIGHLIGHTS
The MHCTC actively collect artifacts with Missouri-related provenance, as well as those by prominent designers, manufacturers and retailers of the past and present. Numerous collections of artifacts exist within MHCTC holdings, many of which reflect Missouri's strong apparel and design history. Explore a few highlighted collections below.
Mizzou Golden Girl Uniforms (Coming Soon!)
Ginger Rogers Nightclub Collection COMING SOON!
Pictured: Detail, Mariano Fortuny textile with "Pomegranate" design (1920s) MHCTC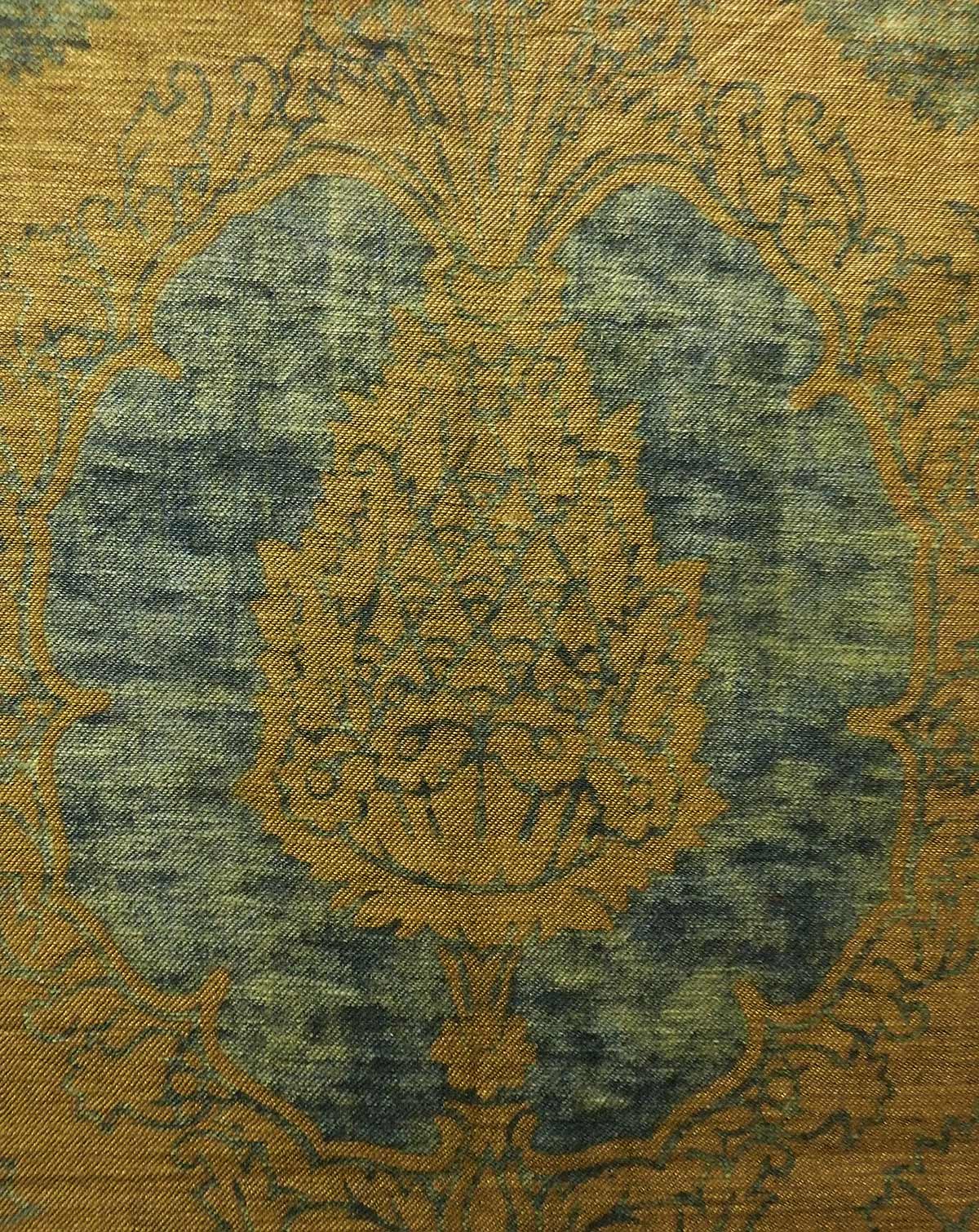 Mizzou Collections
OTHER LOCAL AND NATIONAL DRESS AND TEXTILE COLLECTIONS