Beauty of Korea: Hanbok and Hanok (2002)
Curatored by:
Suk-Hyang Yang, Ph.D., Visiting Professor from Sunchon University
Sun-Sim Kim, Ph.D., Visiting Professor from Seowon University
So-Yeon Yoon, Resident Assistant Professor, Environmental Design, University of Missouri-Columbia
Laurel E. Wilson, Ph.D., Associate Professor, Textile & Apparel Management, University of Missouri-Columbia
The form and style of Korean dress developed over five thousand years ago, resulting in a distinctive style of clothing known as Hanbok, which is still worn by Koreans today.  Costume materials vary with the change of seasons but the style of dress is generally the same. The beauty and quality of women's Hanbok is judged by the curve of the sleeves, the way the git (collar) and the dongjuhng (white, narrow neckband) come together at the sup (front gusset) of the Jeogori (jacket), and the goreum that ties at the chest, an interesting accent to the simple style of the Jeogori. Men's Hanbok consists of several layers of clothing including a waist-length Jeogori, Baji (trousers), Jokki (vest), Durumagi (coat), Magoja (overcoat) for winter wear.  Traditional men's clothing is made in bright colors that are very different from the men's clothing worn in Western societies. Pictured below are hanbok and hanok styles from MHCTC collections.
Children's styles differ slightly from adult styles. The Saekdong jeogori (children's outer robe) is a colorful garment made in five colors with striped saekdong sleeves, and a dark blue collar and Goreum (tie) for boys and dark red collar and Goreum for girls. These were worn by children until the age of six. The Saekdong represented Obangwi (five primary substances or elements of cosmology, earth, water, air, fire, life) and Obang-Hyang (five directions: east, west, north, south and center). This symbolized good harmony and was believed to protect children from illness, bad luck, and ensure them a healthy long life.
Pictured: Korean Girl's Rami Saekdong Jeogori, Detail; MHCTC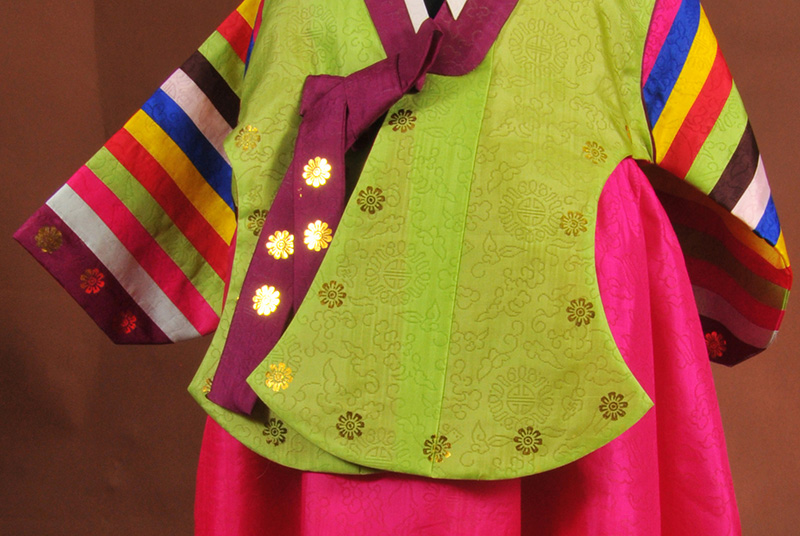 A child's first birthday is a very important celebration in Korea.  Traditionally, boys wear a bright costume of silk Saekdong jeogori (jacket with multi-colored sleeves), Baji (trousers) in pretty colored purple, a dark blue Jokki (vest), a Kkachi Durumagi (coat), and a Junbok (unlined vest) tied with a silk braided cord at the chest. Also, boys wear a Bokgeon (hood) on their birthdays. Girls wear silk Saekdong Jeogori (jacket with multi-colored sleeves), red silk Chima (skirt), colorfully embroidered Beoseon (socks), and Jobawi (open-topped hat), or a Jogdoori (crown with ornaments).  A pair of tasseled socks and flower-embroidered silk shoes completed the attire for the first birthday and other important occasions.
The history of accessories in Korea goes back to the Mahan period (2nd – 1st century BC) when beads were used as earrings and necklaces. They reveal the supreme, artistic craftsmanship that continued to be refined throughout Korean history.  Some were purely ornamental while others had practical purposes.
Examples of common accessories were: Norigae (decorative ornaments that consist of Maedeup (knotting) and Tassels, Joomuni (small silk pouches), Bojagi (wrapper), Golmu (thimble), Gawijip (scissors case), and Boochae (Fan).
Pictured (left): Korean Silk Norigae; MHCTC
Pictured (back): Korean Ramie Bojagi (Wrapping Cloth), Detail (2010) MHCTC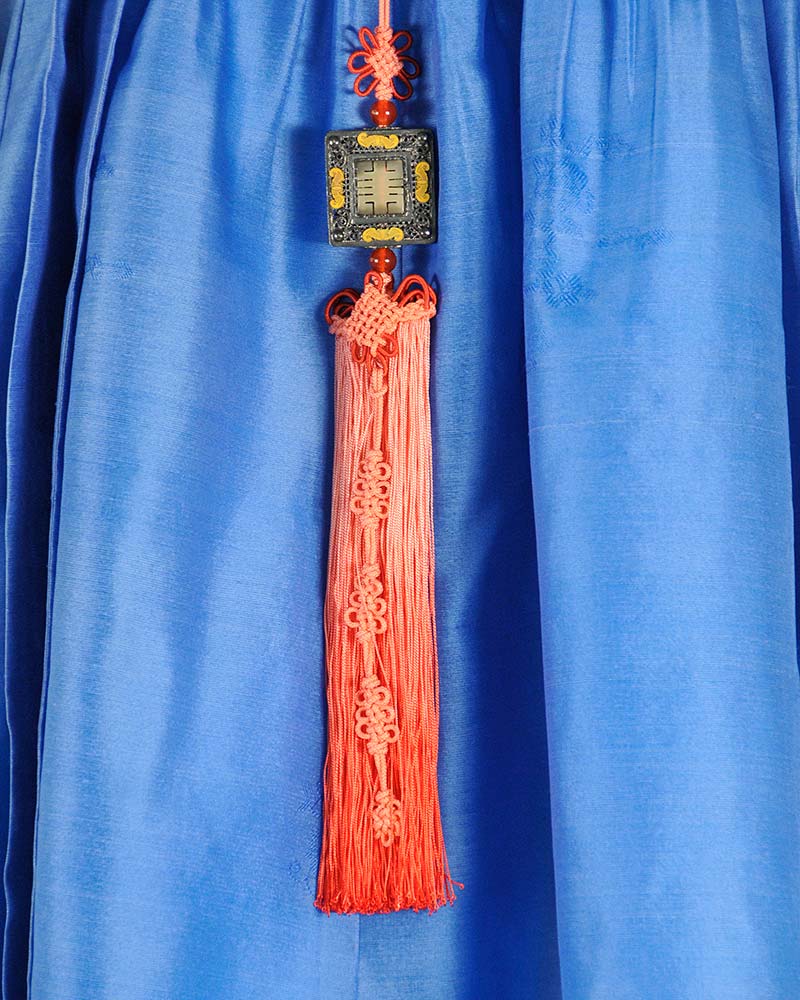 A jogakbo is a style of patchwork, traditionally used to create domestic wrapping cloths (known as bojagi) from scraps of left-over fabrics. The art of making wrapping cloths has enjoyed a long history in Korea. During the Joseon dynasty (1392 – 1910), women, living in a male-dominated society and excluded from formal education, concentrated on domestic tasks such as weaving and embroidery. They produced costumes, beddings, and wrapping cloths for the whole household. Following the ideas of frugality and simplicity advocated during the dynasty, the left-over fabrics were not discarded, but would be used to create a jogakbo by patching those scraps together into larger squares or rectangles.
A jogakbo is comprised of scraps of one type of fabric, such as cotton, silk or ramie (a plant fibre native to eastern Asia which has a particularly lustrous appearance), hemp or even paper. The scraps are sewn together using a triple-stitched seaming technique known as gekki, which results in a sealed, flat seam and gives the jogakbo their distinctive 'window pane' appearance. Patches are joined into squares and extended in an irregular, improvisatory fashion until a cloth reaches the required size. The jogakbo can include several colours composing a modern abstract pattern, or be made of one single-color." Victoria and Albert Museum, Korean Collections