MADE @ MIZZOU: TAM DESIGNS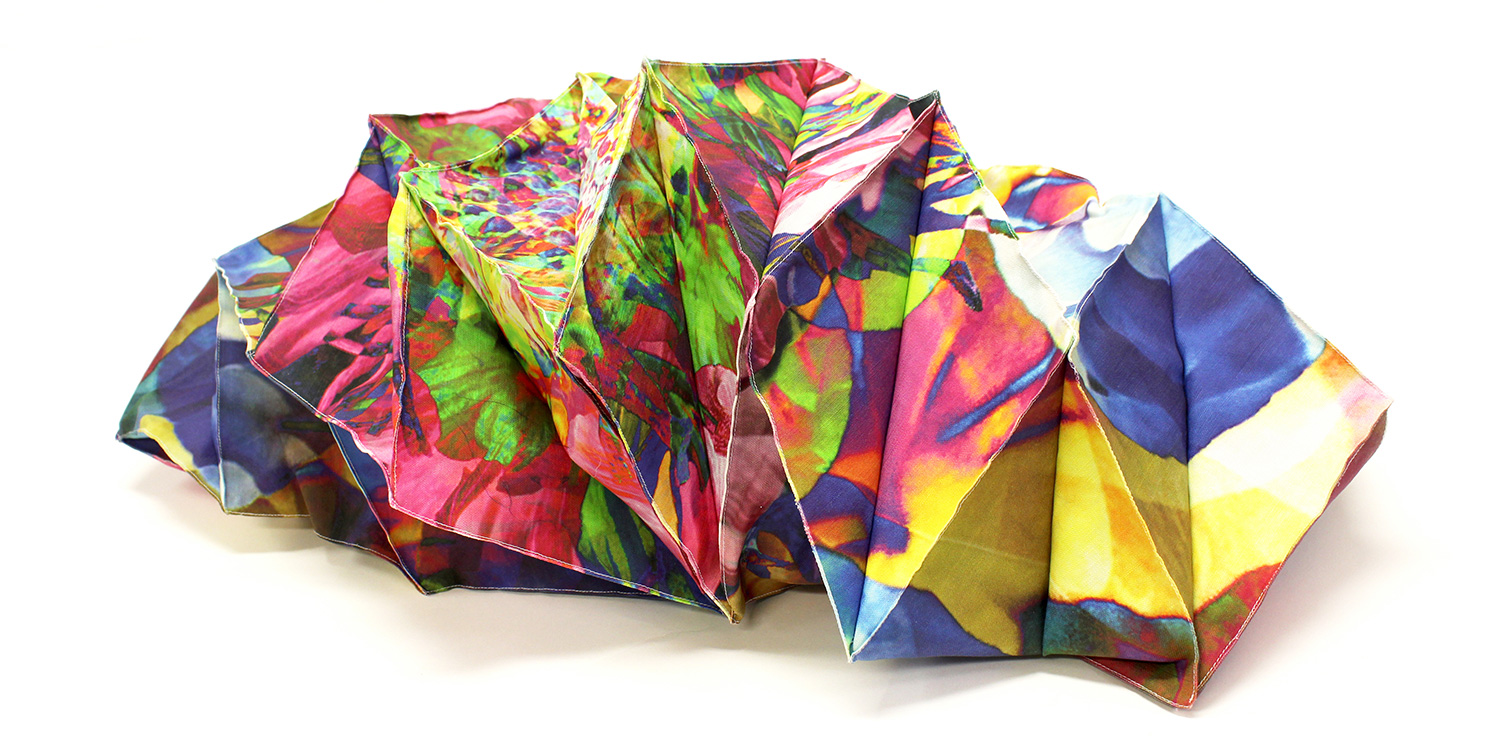 This is a growing collection of one-of-a-kind apparel designs by students and faculty in the Department of Textile and Apparel Management, acquired as a means of documenting technology, artistic trends, research, and collaborations within the department and related industries.
"Organized Chaos" Digitally Printed Origami Sculptural Shrug (2017) By Allison Vaughn, BS HES '17
This piece was inspired by origami springs. The duality of the spring's expansion and contraction reflect chaos found within order. When compacted and hung on the wall, it illustrates order. When expanded and worn, it reveals a brightly colored surface design representing chaos. This design was created as part of the Art (Wear) Off the Wall project for TAM's Creativity and Problem Solving class. It was also modeled during the MHCTC's 50th anniversary Friend's fundraising reception That's a Wrap in 2017.Pictured above: "Organized Chaos" as decorative art.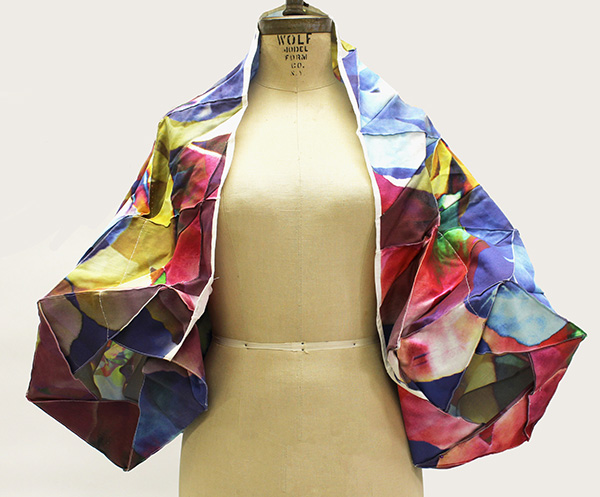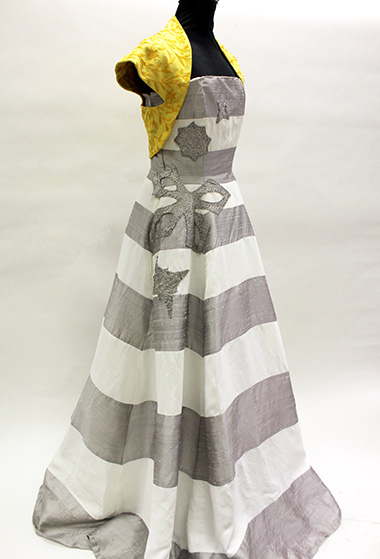 "Iolani" Grey and White Evening Dress with Yellow Jacket (2012) By Kate Brooks, BS HES '12
Sponsored by faculty member Dr. Jean Parsons, Kate Brooks created this design for the 2012 Balenciaga Competition at the International Textile and Apparel Association. Iolani was inspired by the Hawaiian Royal Palace, specifically the decorative striped columns that adorn the building. The dress is comprised of a princess seam bodice and a six-gored skirt broken into striped sections of varying width. The sections are pieced together to form a slight chevron, giving the skirt a hexagonal structure. The hand-beaded appliques are artistic representations of the insignia worn by members of the royal family. The jacket references the boleros made famous by Cristobal Balenciaga.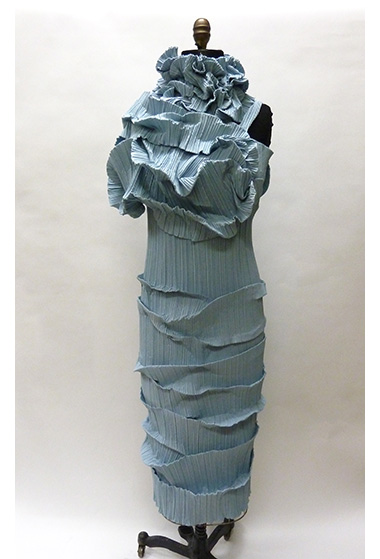 "Rippling" Pleated Polyester Dress (2020) By Jenny Wu, BS HES '20
My design is called Rippling and is inspired by one of the arts of nature: the shapes and grills of oyster mushrooms. I used a textured fabric as the reflection of the appearance of oyster mushrooms and a 3D element. The color of this fabric is a hazy blue which looks like the color of water because the twisting shape and the layered bottom reminds me of the effect of ripples and waves. Jenny's process paper.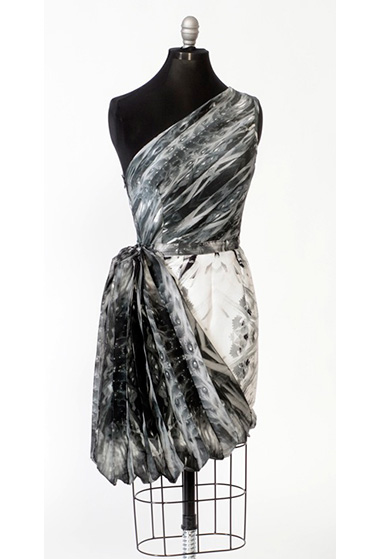 "Pleats Perspective" Digitally-Printed Dress (2014) By Amanda Smith, BS HES '16
Pleats can be used to shape textiles and apparel in a multitude of ways, transforming flat fabrics into three-dimensional forms. The purpose of this research was to explore the importance of pleats in fashion, to identify the methods, uses, history, and design possibilities of pleats, and then to create designs based on pleated inspirations [which included the MHCTC's Mariano Fortuny's pleated Delphos dress and Issey Miyake's hooded gown.] My design began with an understanding of pleat forms with a goal to incorporate digital textile printing to heighten the appearance and depth of the pleated surface." Amanda's garment was sponsored by TAM faculty  member Dr. Jean Parsons for submission to the 2015 design competition of the International Textile and Apparel Association, and was also modeled during the MHCTC's 50th anniversary Friend's fundraising reception That's a Wrap in 2017.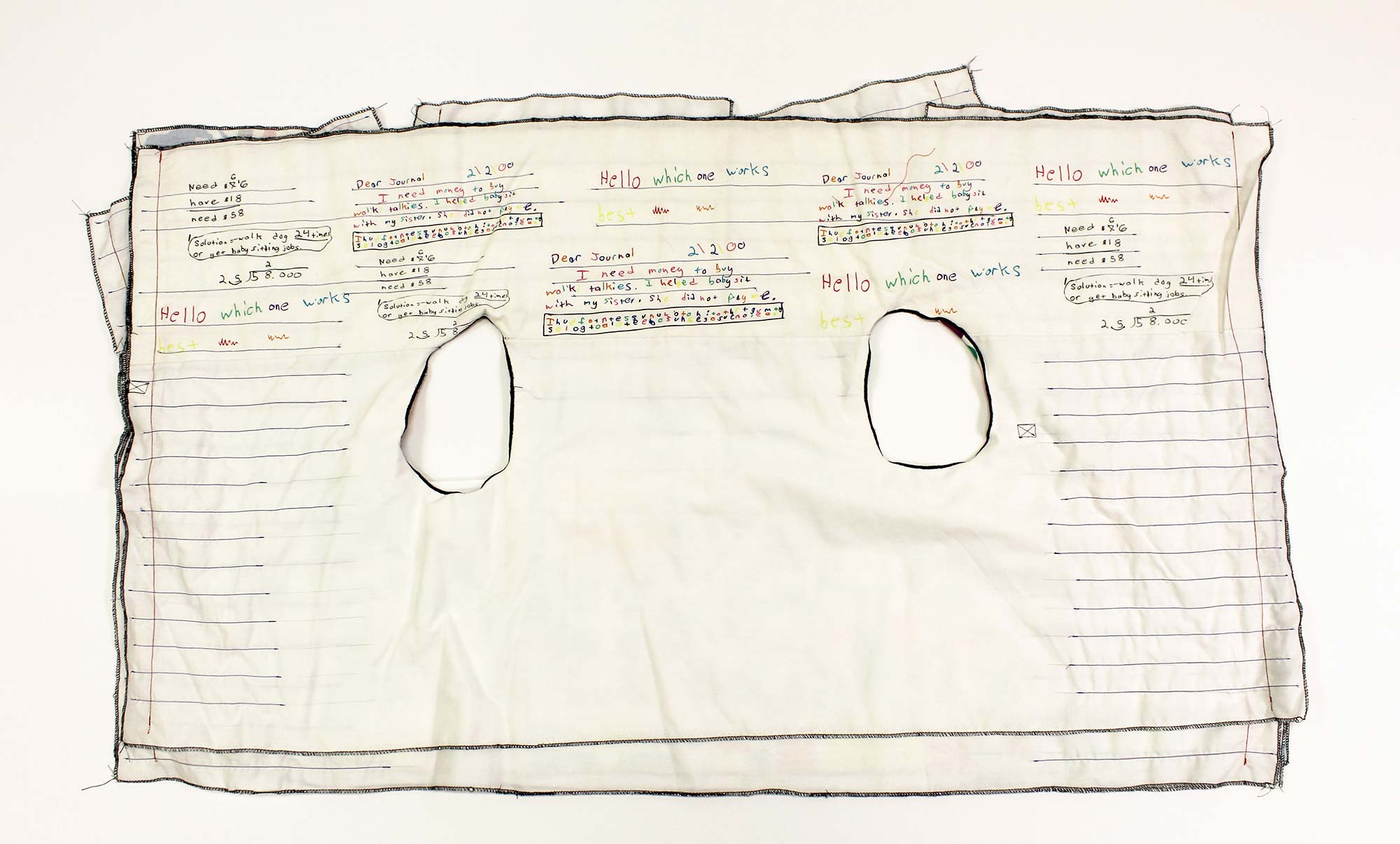 "Bricolage" Cotton Vest (2011) By Ellie Schamel, BS HES '12
The Bricolage creative design project was presented in TAM 4480 Creative Problem Solving as an opportunity to use objects on hand, objects donated and objects found. It was also inspired by the Columbia One Look Program: Ediciones Vigíia's Art of the Book and Our Creative Response. Ellie focused on three themes for her design: 1) the use of language on clothing, 2) how dress interacts with the body as it is put on and removed, and 3) using texture, image, surface and 2D to 3D surface design. The digitally-printed and hand-painted interior "pages" highlight "hand-written" text from Ellie's childhood journal intended to resemble the handmade quality of the Cuban bricolage books. View the gallery guide from MU's Museum of Art and Archaeology 2012 exhibition The Art and History of Cuba's Ediciones Vigía (pdf).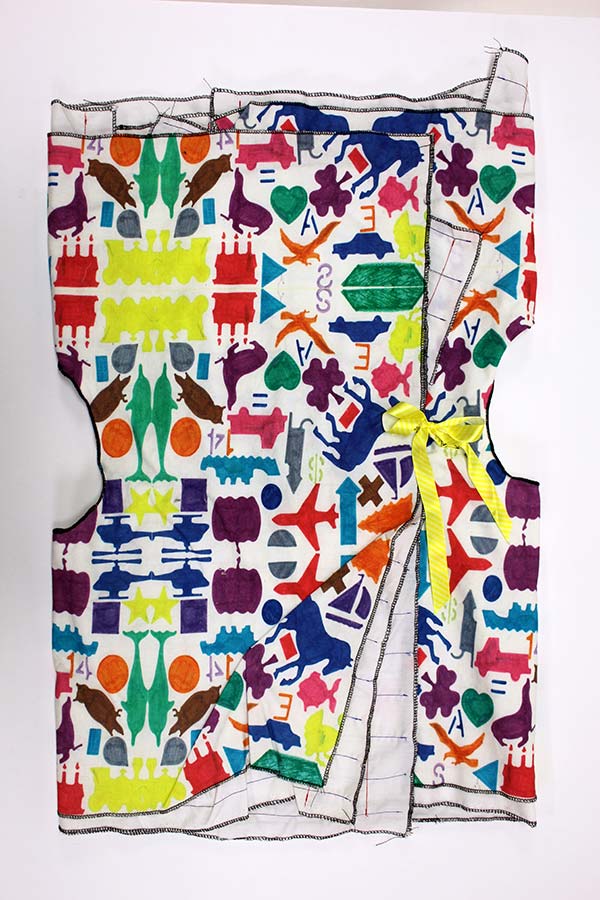 "Bricolage" Cotton Vest as Folded Book (2012) By Ellie Schamel, BS HES '12
When flat, the rectangular object replicates the simplicity of a book shape, while the black yarn recalls the repetitive use of borders on the pages of the Cuban books. A yellow ribbon acts as a creative yet functional closure, relating the process of dawning the garment to opening and closing a book.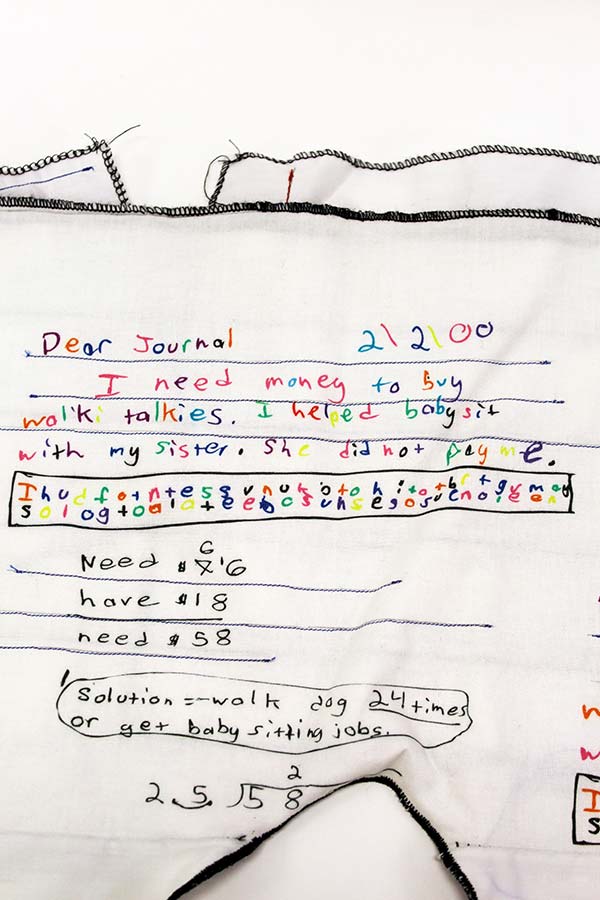 "Bricolage' Cotton Vest/Book Interior Text Detail (2012) By Ellie Schamel, BS HES '12
"Dear Journal, I need money to buy walkie talkies. I helped babysit with my sister. She did not pay me. Need: $76; have $18; Solution = walk dog 24 times or get babysitting jobs."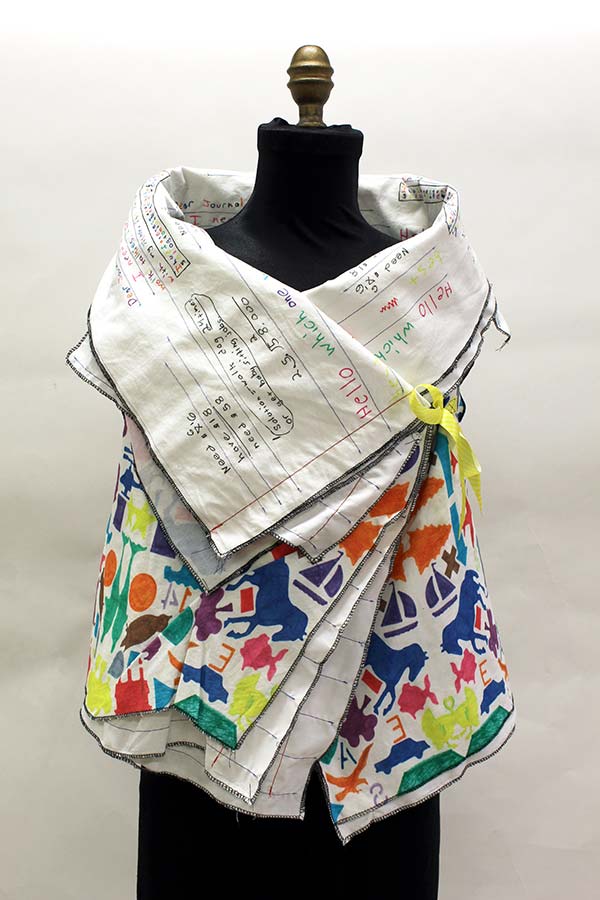 "Bricolage" as Garment (2012) By Ellie Schamel, BS HES '12
The interior "pages" of the garment are highlighted while worn on the body: the collar can be maximized to show more of the interior words while the hem flares at the hips, accentuating the tucked and folded interior.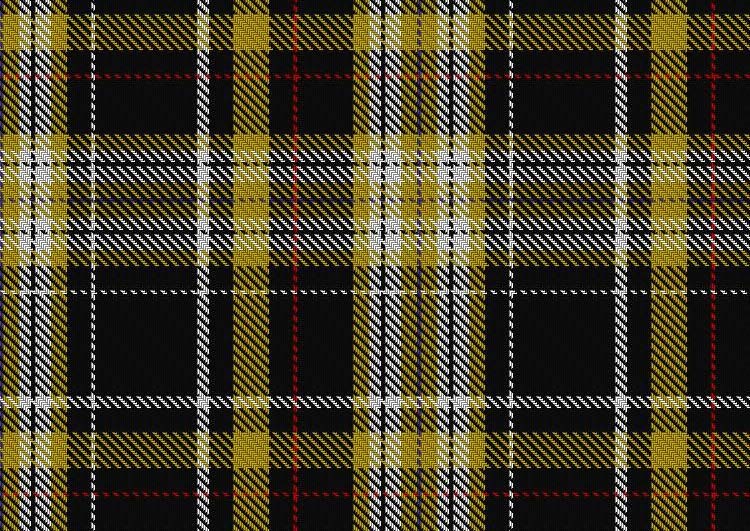 Mizzou Plaid (2007)
The Mizzou Plaid was designed by TAM student Lauren Drufke-Mahe, BS HES '06,  as part of a design competition in TAM's computer-aided design class. Twelve students created plaids inspired by their study of Mizzou's history. Nearly 6,500 people then voted in an online poll for their favorite plaid. The gold lines woven into the winning design, according to Drufke-Mahe, "represent strength and endurance of the past, present and future." A woven sample of the tartan was received by the Scottish Register of Tartans in 2009 for permanent preservation in the National Records of Scotland.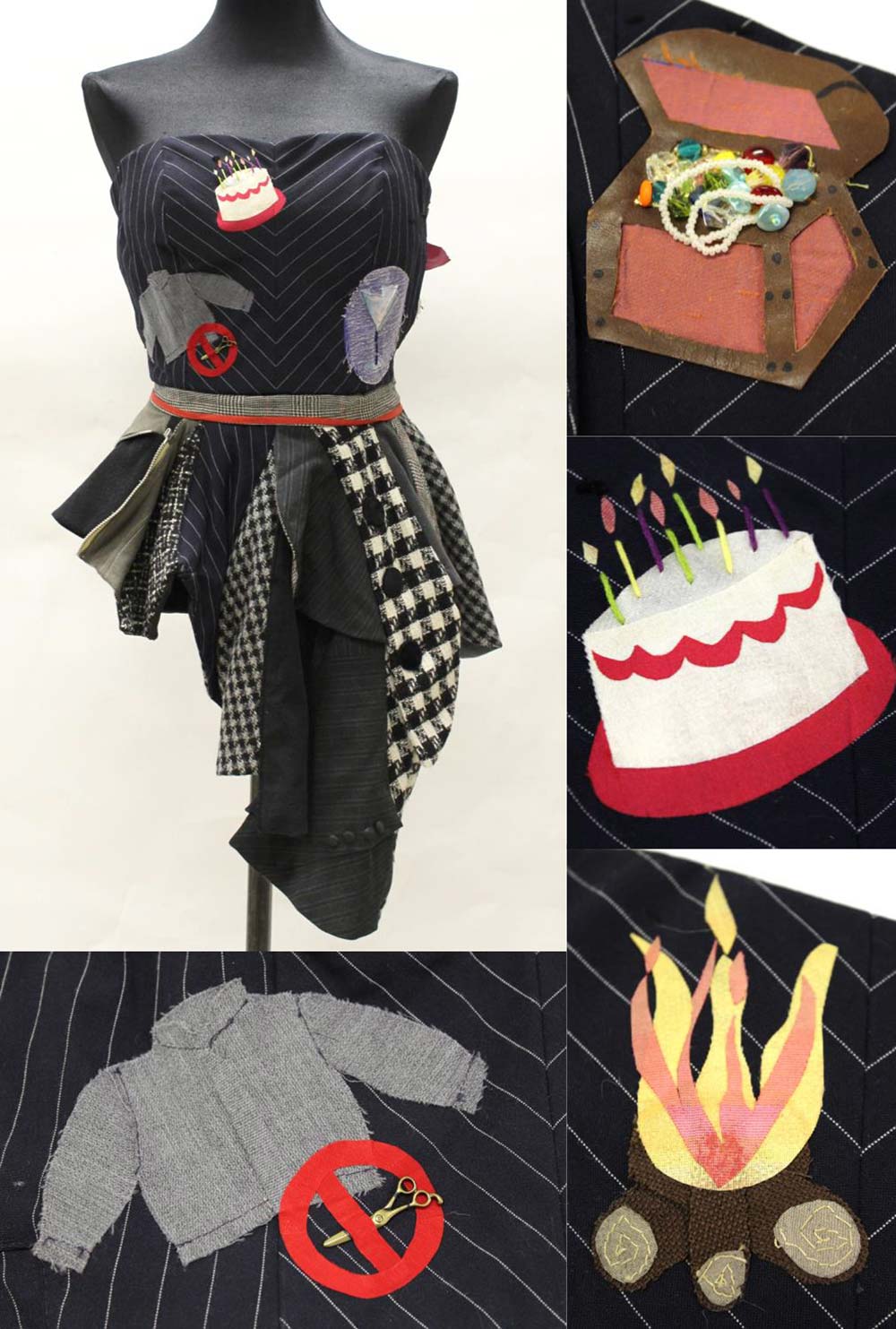 Recycled Suiting Bodice and Skirt (2011) By Stephanie Link, MS HES '12
Also inspired by Columbia One Look Program: Ediciones Vigíia's Art of the Book and Our Creative Response, Stephanie was drawn to the hand-craft qualities of the Cuban books and incorporated as many found materials as possible. Utilizing social media, Stephanie asked friends to donate clothing for her project and tell the stories behind their clothes. Stephanie used these and other pants and suiting materials to create both the strapless bodice and asymmetric skirt; the latter also transforms into a second bodice.
Bodice appliques include a treasure chest, campfire, birthday cake, martini glass, and jacket, the last of which was made to reference her fiancé's favorite gray jacket, a ripped and unwearable garment that she still could not bring herself to cut for her project. Original suit pockets were also incorporated into the bodice and skirt designs. The skirt features buttons, zippers and hooks and eyes to create a second bodice design that folds up from the waistline.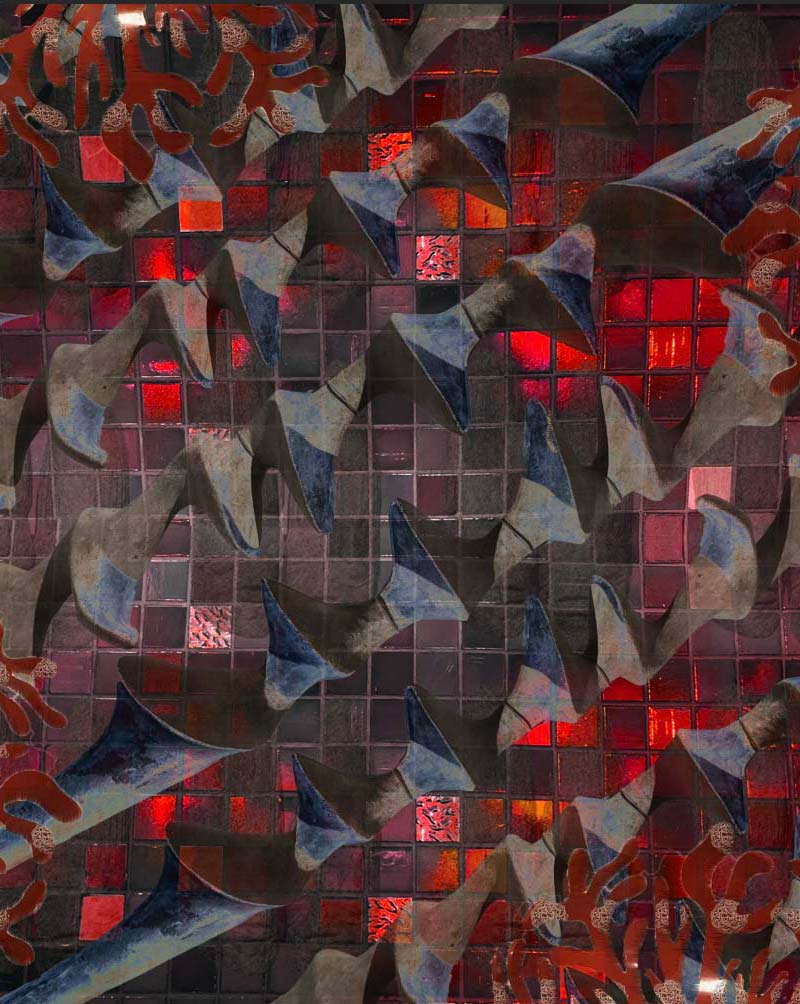 "Red Solaris" Digitally Designed and Printed Silk Scarf (2019) By Alexandra Rhodes, BS HES '20
This purpose of this design project was to develop a digital print and corresponding engineered scarf print inspired by Museum of Art and Archaeology artworks and/or 17th-century ornamental prints utilizing the department's digital print technology. Allie's print incorporated the elongated standing sculpture Figment (1953) by Adaline Kent at the Museum of Art and Archaeology, as well as personal object photos including a glittering square tile. This design was created for F.A.M.E.: Fashion. Art. Museum. Experience, an MHCTC joint fundraising event with the Museum.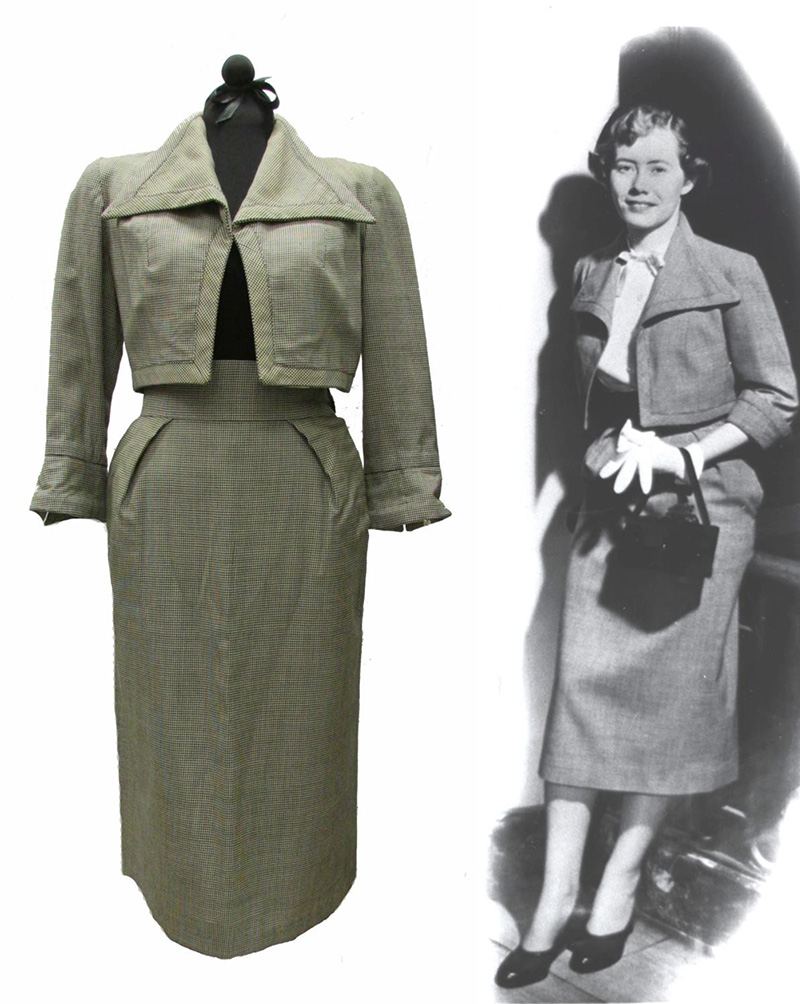 Wool Jacket and Skirt (1953) By Claire Gallivan, BS Agriculture '56 Home Economics
Pictured is MU student Claire L. Gallivan in 1953 wearing her wool jacket and skirt made as a senior while enrolled in a Home Economics course. The wool suit won the senior division of the 1953 "Make It With Wool" contest held in Long Beach, California. 1953 was the first year Missouri entered the national sewing and design competition created to highlight and promote not only the adaptability of wool, but also the talent of young designers throughout the country.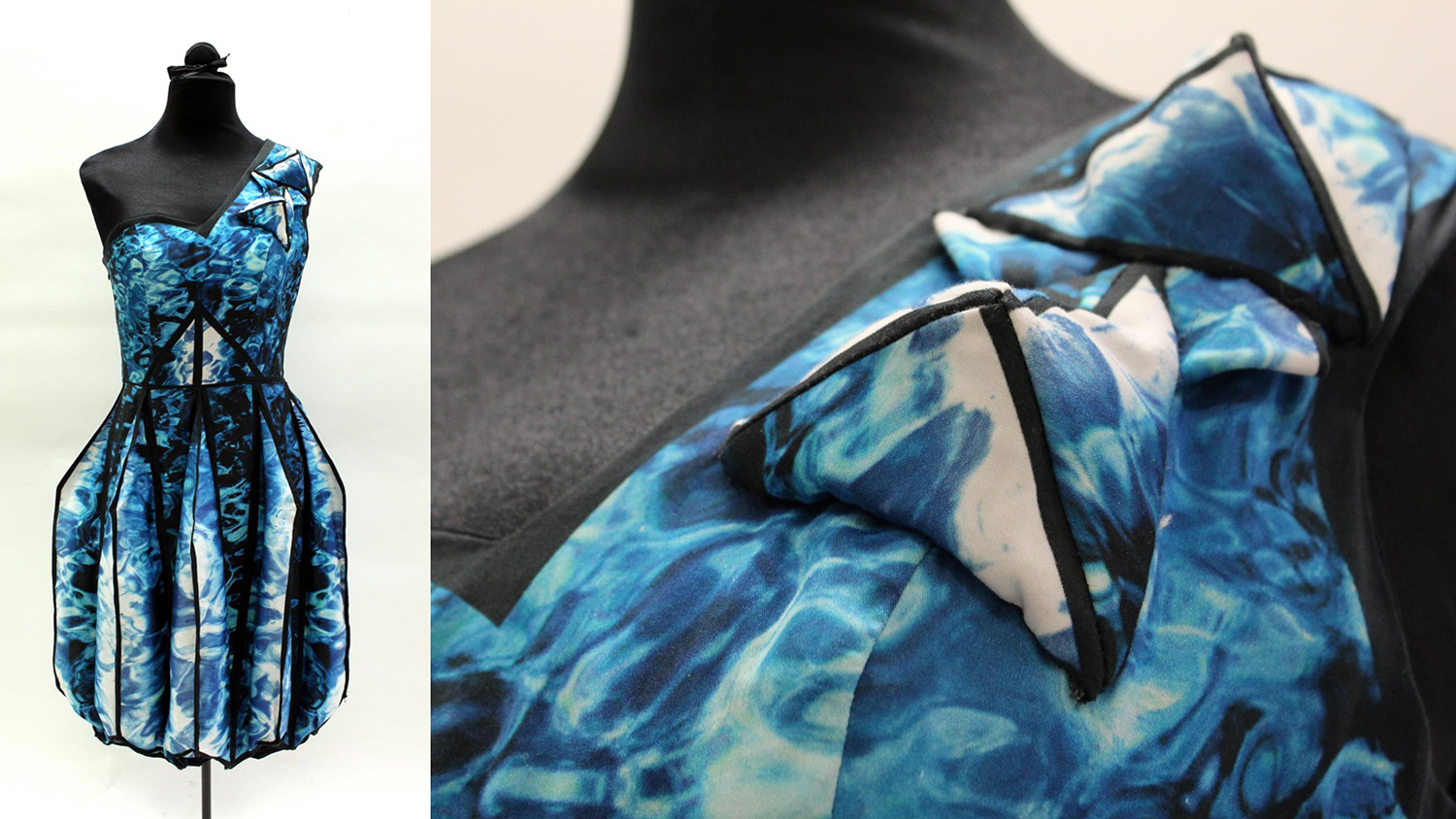 "Water Prism" Digitally Printed Cotton Origami Dress (2014) By Callie Norment Shikles, BS HES '14
This garment was digitally printed using TAM's digital textile printer in which the print was engineered to fit specifically within flat pattern pieces to define the garment's three-dimensional shape. "Water Prism was created to take advantage of fold lines seen in some origami shapes and to combine it with digital printing to develop surface design engineered to correspond to the 3D shape. Experimentation with garment shape initially evolved through folding paper and placing the pieces on a half-scale dress form to evaluate proportion, line and balance. In evaluation of possible surface designs, I played with the interaction of 2D and 3D design, including using light and dark to enhance perspective. The printed image is of water's surface with light passing through from a lit floor [onto which] black origami fold lines were placed. The overall use of line and print creates a dynamic vision of 2D and 3D integration that draws the eye from the straight lines of the skirt across diagonals on bodice front and back, thus enhancing visual perspective."  Callie's garment was sponsored by TAM faculty  member Dr. Jean Parsons for submission to the 2015 design competition of the International Textile and Apparel Association.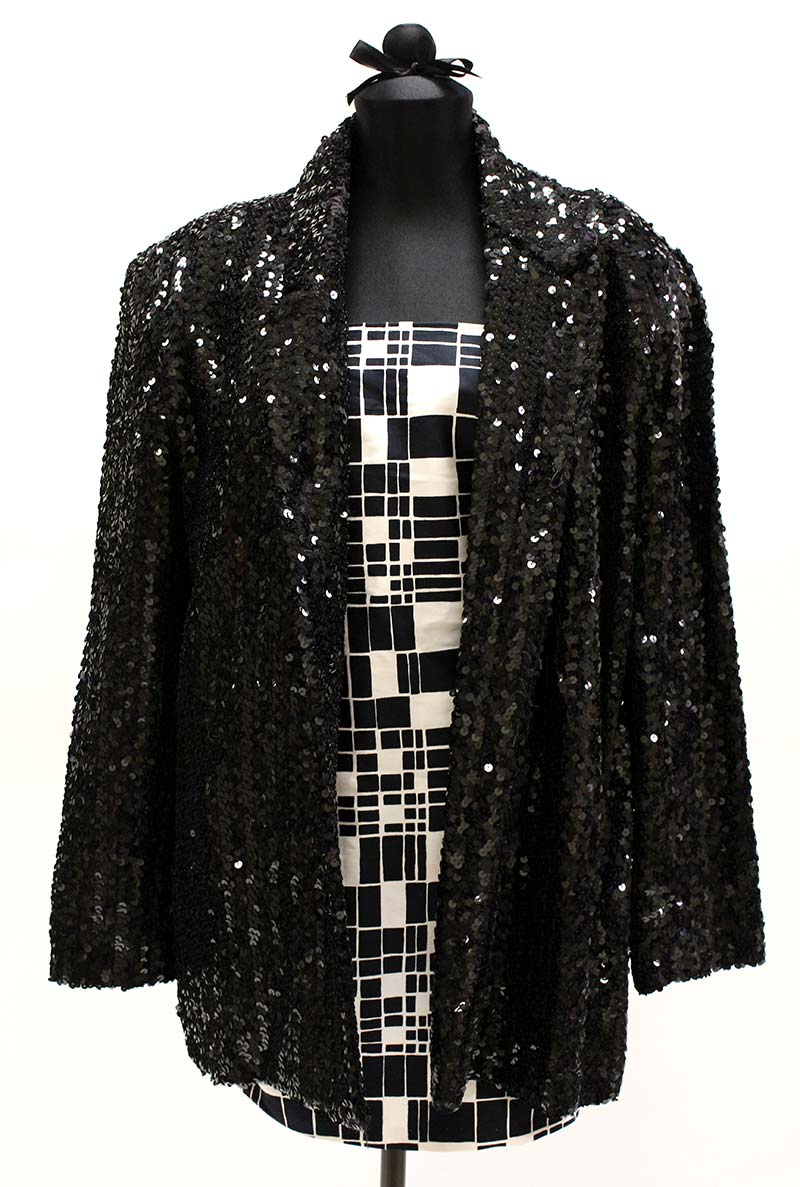 Sequin Jacket and Satin Dress (1983) By Christiana Lapetina-Johnson, BS HES '83, Clothing and Textiles
Christiana created this jacket and dress as part of a collection that won the Department of Clothing and Textiles senior design award at MU in 1983. After graduation, Christiana designed fabrics and apparel for the ready-to-wear company One Destination in India before launching her own successful design business in California in 1994. Christiana's patchwork and hand-beaded beaded clothing, accessories and home furnishings were featured in numerous magazines and sold in a variety of high-end department stores.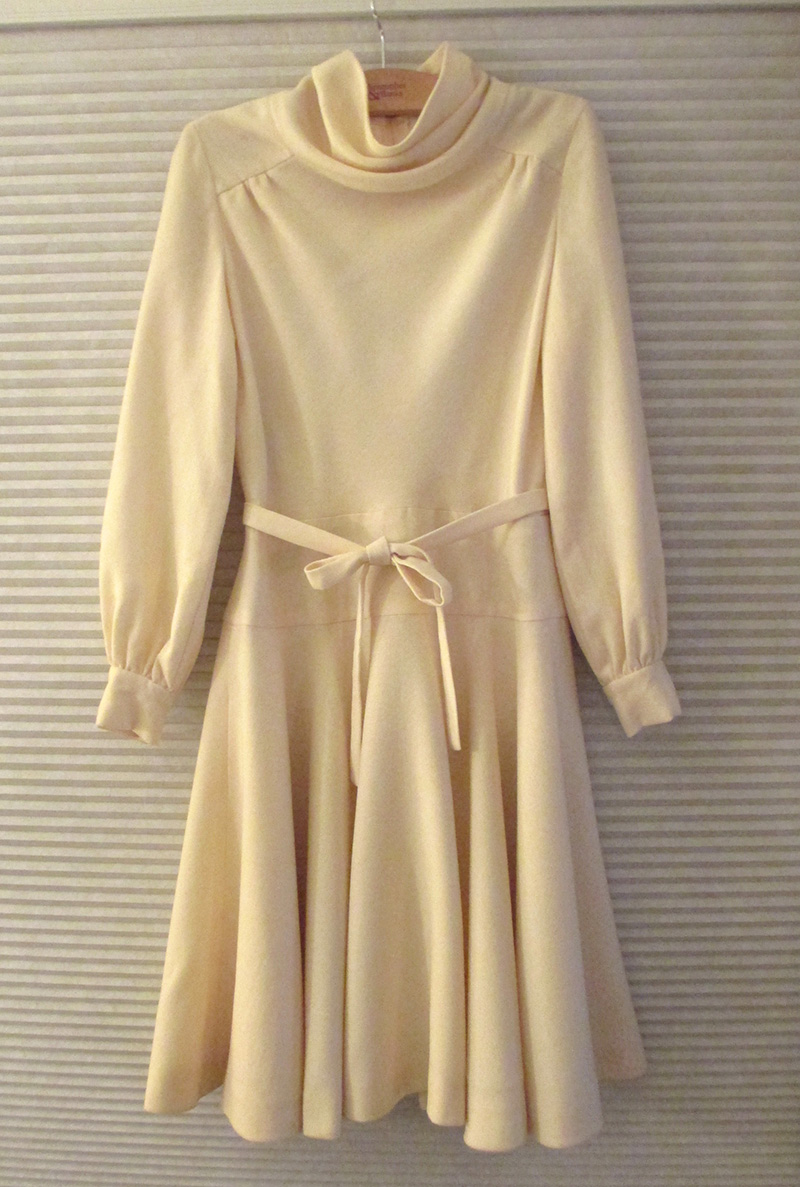 Wool Crepe Dress from Vogue Couturier Pattern (1974) By Linda Bonett, BS '76 Clothing and Textiles
This wool crepe dress was made by Fashion Merchandising student Linda Bonett neé Timmons in 1977 under the instruction of Helen Allen. Linda used Vogue Couturier Design #1102 by Belinda Bellville to create her garment.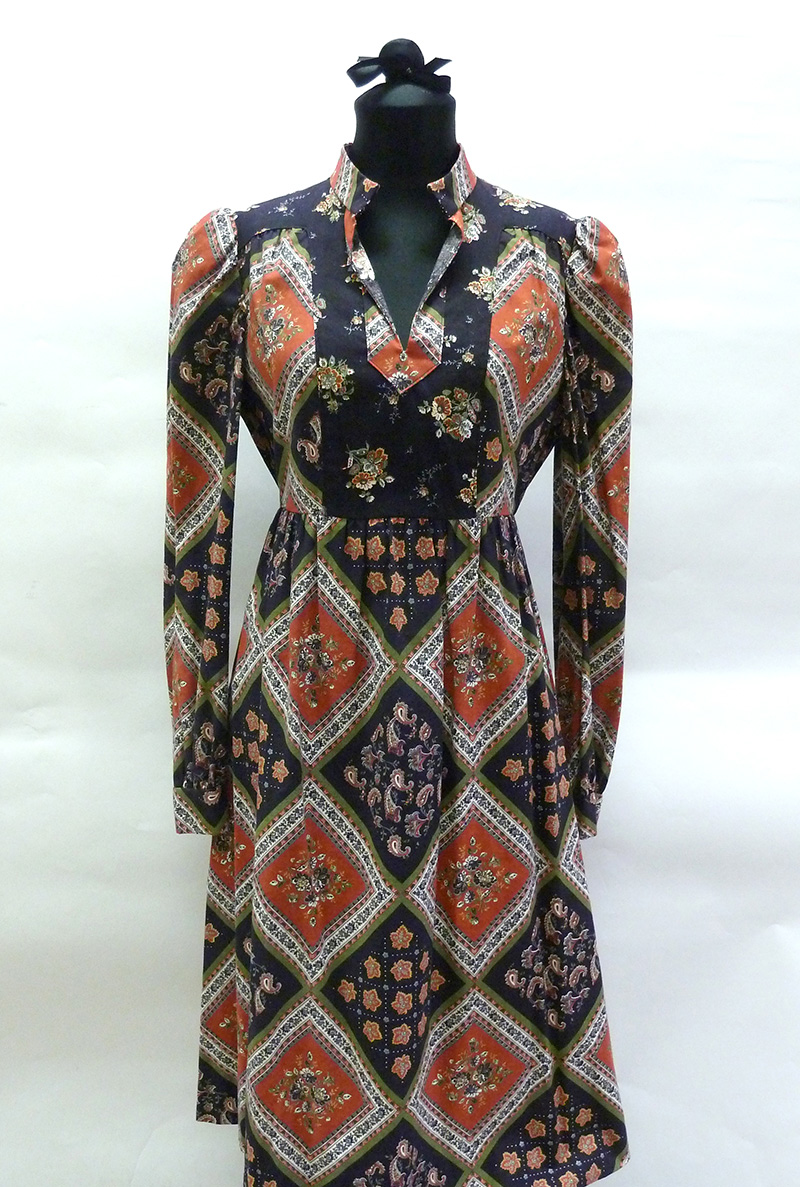 Cotton Dress (1977) By Jill Svejosky, BS Education '80, Occupational Home Economics
While enrolled in a sewing class in what was then the Department of Clothing and Textiles, Jill created this one-of-a-kind cotton dress and matching padded hanger using Cranston Print Works – V.I.P. Fabrics.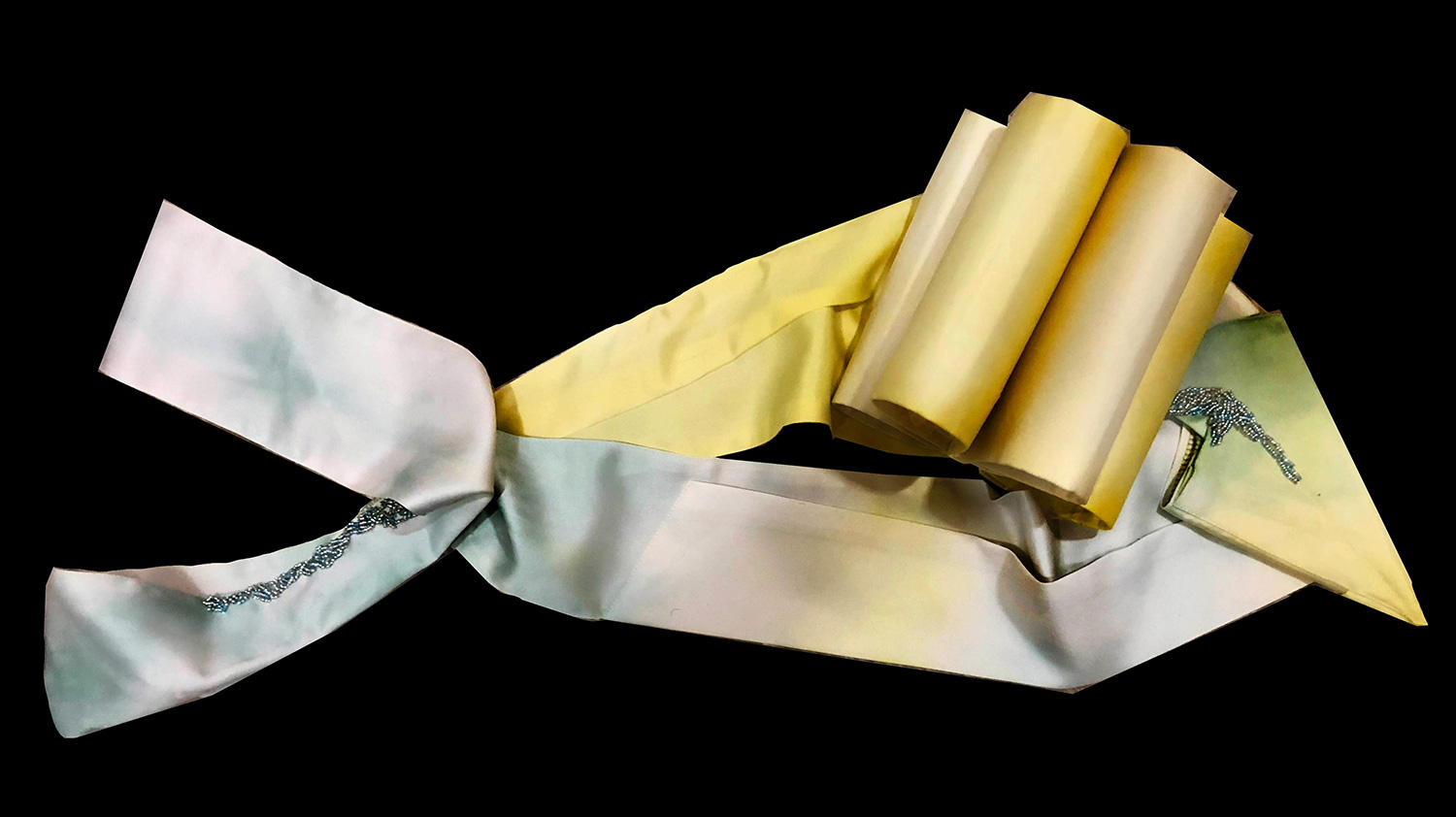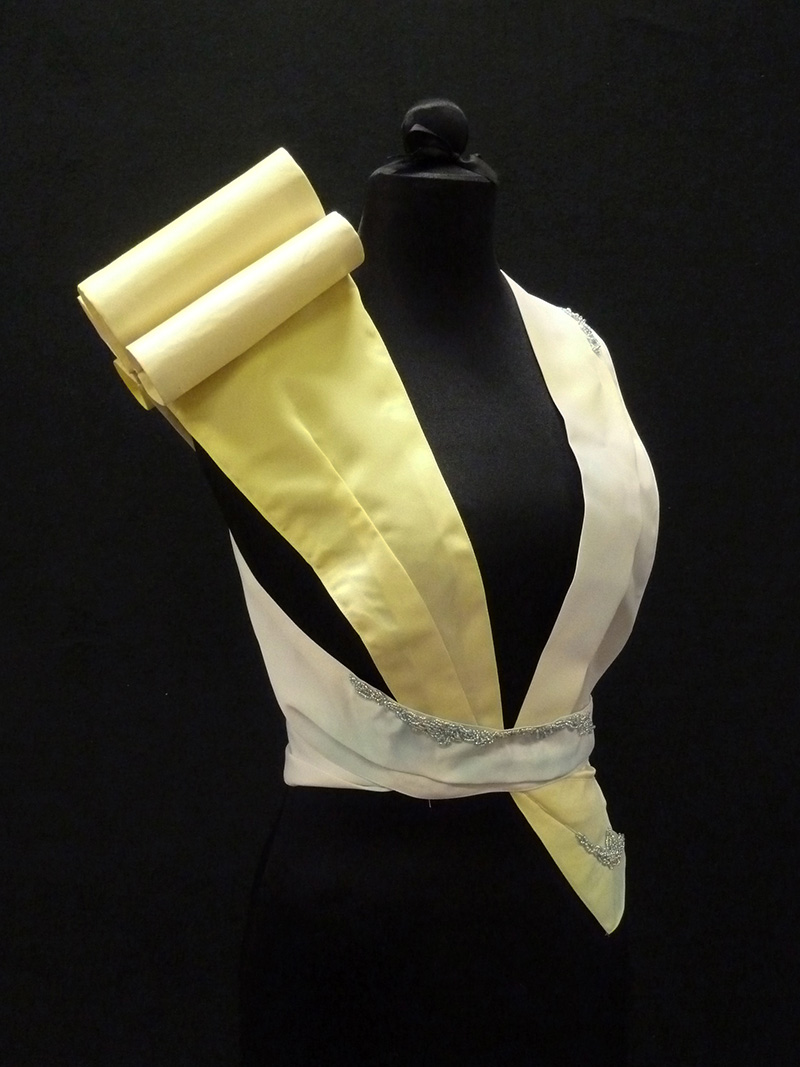 "Bluefin Tuna" Hand-Dyed and Beaded Silk Wall Art and Bodice (2017) By Andrea Radicic, BS HES '18
I was first drawn to the Bluefin Tuna for its iridescent scales and unique form. I imagined a fish swimming swiftly through the vast, blue ocean— its scales moving through the current, reflected by glimpses of light. I thought of creating a garment that mimicked this iridescence and the texture of the scales. The fabric was hand dyed in a shade to respond to the yellow of the tuna's fins. I hand-beaded abstract details over the front and wrap pieces. When folded into a flat form it resembles a fish; when worn, it creates a wrapped bodice with extended fins.
This design was created as part of the MHCTC's 2018-19 exhibition series ORIGINS: Dress and Textiles for Fauna and Fashion.
Floral Fusion (2019) By Jean Parsons and Kristen Morris
Floral Fusion was created by TAM faculty members Jean Parsons and Kristen Morris. The design explores the creative possibilities for integrating digital textile print with laser cutting. The goal of Floral Fusion was to use digital print design both as a guide to create textures within the garment and as a tool to create individual print motifs to be used as 3-dimensional shapes for applique. The dress was not laser cut, but rather has applied flowers that were laser cut from a print marker. The entire bolero jacket was laser cut and has an engineered print so that a row of laser cut flowers follows both hem and sleeve edge. The print itself was created to give the impression of watercolor techniques. (100% silk crepe)