FLORA AND FASHION: TAM 2380 Student Designs
TAM 2380 Integrated Apparel Design and Production POLLINATOR PROJECT
As part of the MHCTC's Origins-Dress and Textiles Series, students in Textile and Apparel Management's Integrated Apparel Design and Production (TAM 2380) with Dr. Kristen Morris were asked to create apparel designs related to the Collection's fall exhibition Flora and Fashion. Students were instructed to create a micro-collection of apparel garments using flat patternmaking techniques inspired by two initiatives of the Mizzou Botanic Gardens: Missourians for Monarchs and Restoring Bees and Pollinators. The micro-collection was to reflect a thoughtful statement about key issues surrounding environmental conservation and support the natural environment through the medium of clothing to inspire positive social change. Continue below to view student designs. Return to the Flora and Fashion Exhibition.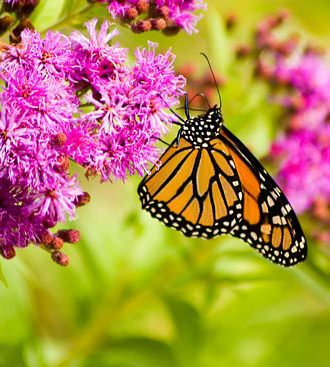 Monarch Butterfly on Ironweed; Image Courtesy of Mizzou Botanic Garden
MISSOURIANS FOR MONARCHS
Missourians for Monarchs is a collaborative of citizens, conservation and agricultural organizations, government agencies, utilities and agribusinesses committed to monarch, and more generally, pollinator conservation. The organization formed in 2015 as statewide initiative to address pollinator preservation, and in August of 2016, collaborative partners signed a memorandum of understanding committed to creating and maintaining 19,000 acres of pollinator habitat annually for the next 20 years.
Missouri's strategy for monarch butterfly conservation focuses on expanding and creating milkweed and nectar plant habitat necessary to support robust breeding and successful migration throughout the state. The Missouri Monarch and Pollinator Conservation Plan combines the efforts of multiple entities through awareness, education, volunteerism and non-regulatory, voluntary action. In 2016, the collaborative finalized a state conservation plan, making Missouri the first state in the nation to do so.
THE MIZZOU BUTTERFLY GARDEN
The Butterfly Garden of the Mizzou Botanic Garden was created as part of the state's conservation plan. In 2016 two beehives were placed in the Garden to serve a key role in educating students of all ages about these important pollinators. The hives are maintained by volunteers from Sustain Mizzou, an environmental student run non-profit group.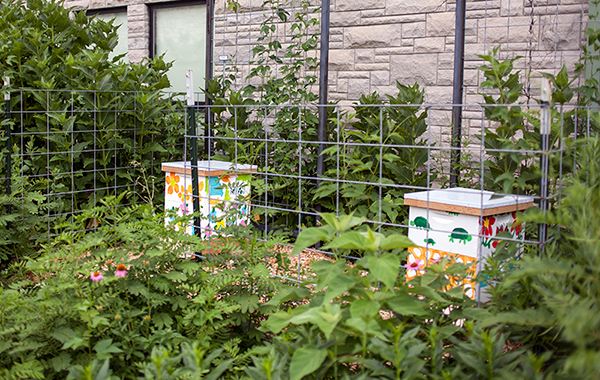 Beehives in the Butterfly Garden; Image Courtesy of Mizzou Botanic Garden
FIGHT OR FLUTTER
By Adriana Martin (2019)
Inspiration for this collection came from monarch butterflies, and their favorite flower to collection nectar from, the milkweed. The theme of this collection is to bring attention to the decreasing number of monarchs. The Spider milkweed plant is one of the plants that helps save monarchs because it provides their food. I incorporated the design of the monarch butterfly wings into the laser-cut shapes of the corset top. The color inspiration was taken from the spider milkweed plant, which is green with pink flowers. Other inspirations for this collection was taken from Giambattista Valli and Rodarte.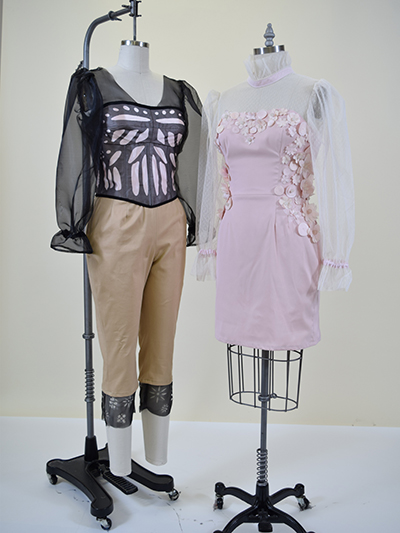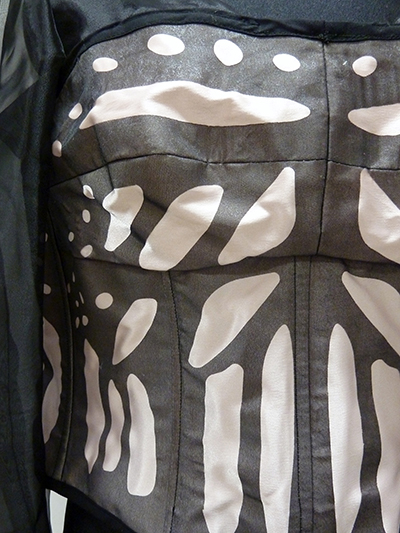 ---
SAVE OUR POLLINATORS
By Amanda Lee (2019)
Pollinators such as bees and butterflies contribute a great amount to our ecosystem. Unfortunately, there has been a world-wide decline in pollinators. This decline can lead to the death of all our plants and agriculture systems. These designs represent what will be lost when all of our pollinators die off. Without bees there will be no more honey produced. The black blazer with attached cape represents the global death of vegetation.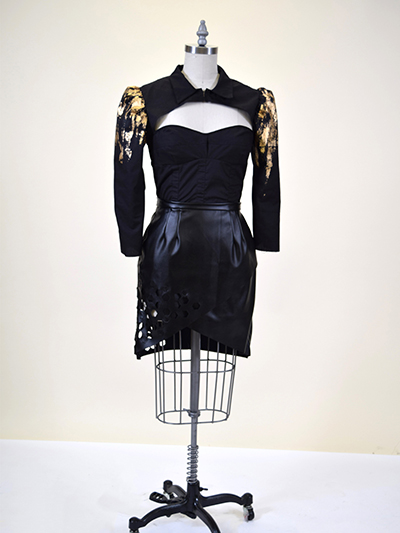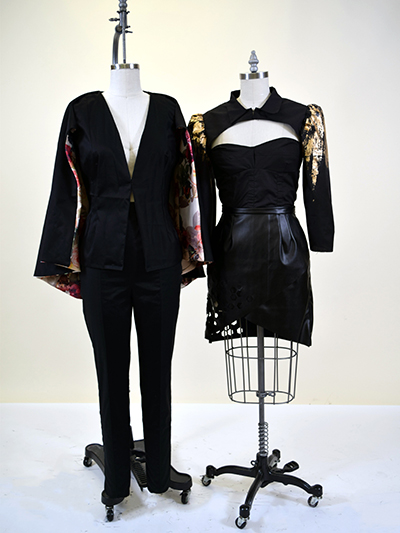 ---
ASCENT OF THE MONARCH
By Anna Moritz (2019)
Ascent of the Monarch is inspired by the goal to increase the habitat for monarch butterflies in the state of Missouri. This collection is centered around the effort to increase the population of monarchs while highlighting the certain species of plants that they are attracted to.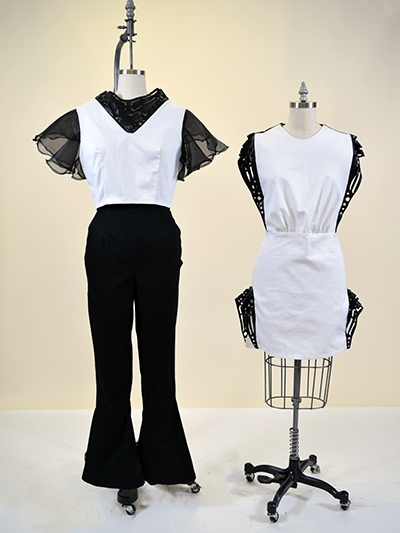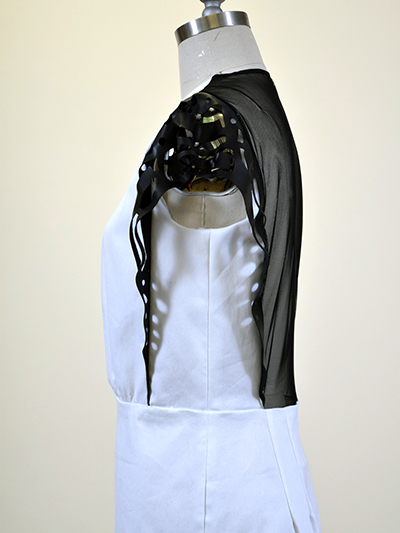 ---
Bee-Wareness
By Benjamin Jarzombek (2019)
In designing these garments, I was inspired by the scale of impact a loss of bees would have on the entire population, no matter who you are or what you do. I also drew inspiration from depiction of bees in various artistic contexts, including vintage scientific illustrations and jewelry. The Civilian Conservation Corps (CCC), an organization created by President Franklin Roosevelt during the Great Depression, was also a huge inspiration to me, as it drew me to an idyllic notion of Americans serving their nation in the capacity as both civil and environmental stewards. Vintage athletic uniforms and traditional "prep" garments also influenced my ideation process.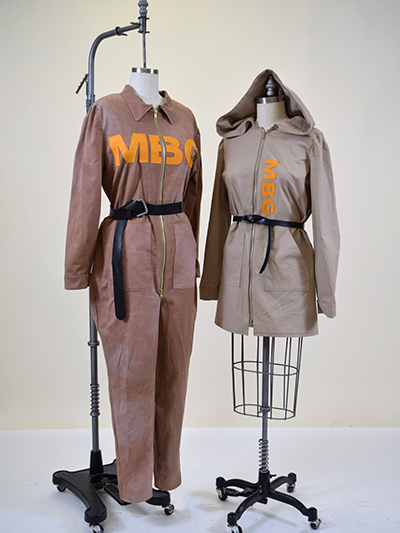 ---
BROKEN WINGS
By Ruiyao Yuan (2019)
Butterflies break through the bounds of the cocoon, becoming a beautiful presence in nature. The are dancing in the air, flying around flowers. Bringing nectar and pollen to other flowers when they stop over. Due to urbanization and deforestation, butterflies are disappearing. People will not see butterflies fluttering among the flowers. Let's save them, save our nature.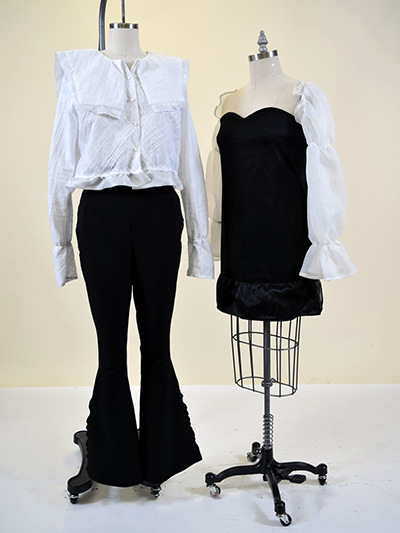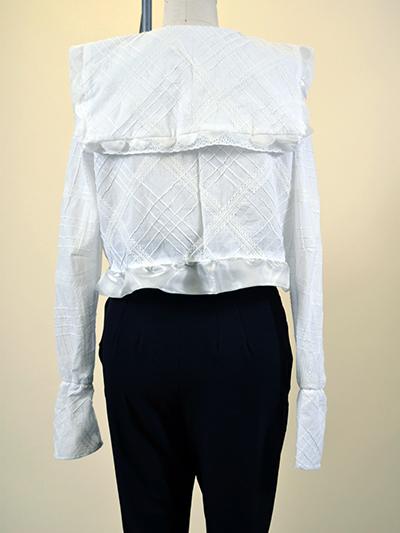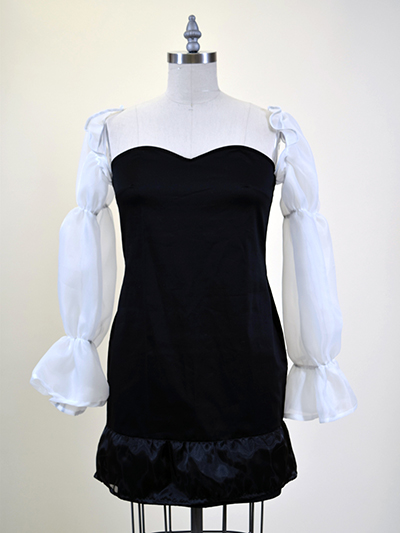 ---
THE GARDE
By Sze Wai Suen (2019)
Bees and butterflies are the most helpful pollinators in the world. They help flowers reproduce. Based on the environment and deforestation they are starting to disappear. This will bring significant damage to our agricultural system. In this design the gold represents bees and the blue represents the morpho butterfly whose flashing blue in flight is very eye-catching. If the bees and butterflies totally disappear, we will lose the inspiration that nature gives us.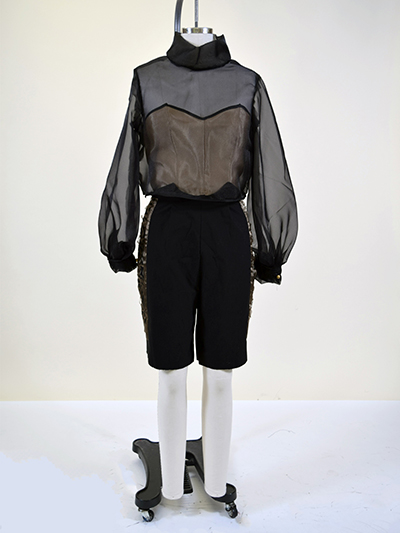 Men's Cotton Swim Trunks (1960s-70s) MHCTC
Leather Cowboy Boots by Acme (1970s) MHCTC
Silk, Lace and Fabric Flower Hat (1979) MHCTC
---
COLEOPTERA SHELL
By Tanisha Tolbert (2019)
This design was inspired by the beetle to bring awareness to our many pollinators that aid in the reproduction of an ecosystem's many plants. Beetles are known as one of the first insects to visit plants and are important pollinators of ancient plant species. Beetles have encasing for their wings that comes in many different colors, such as an iridescent shell. In this garment I want to bring forth a beetle's colorfulness and create a garment that will stand out and encase a woman, but bring to her an airiness that is unique and beautiful. Through this I want to express how beautiful these creatures are as well, and why their beauty and importance to life should not be any different than ours.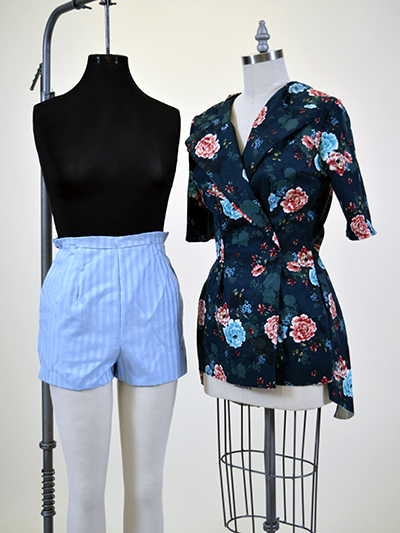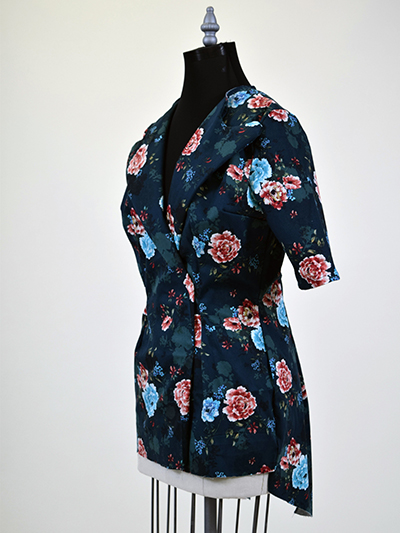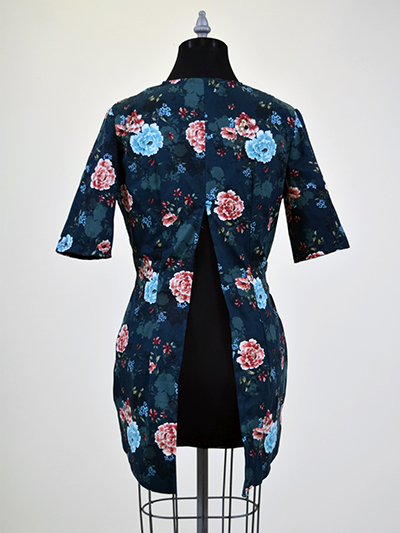 ---
BEEING HUMAN – SAVE OUR POLLINATOR
By Tingting Zhu (2019)
Pollination is one of the most important biological processes on our planet. Both bees and butterflies are vital characters as the world's pollinators. However, due to disease, extreme weather, competition from invasive species, habitat loss, and climate change, wild bee populations are now in decline. This decline can lead to ecological imbalances and even the deaths of plants and environments. A large part of this is caused by human behavior, so people need to stand up and solve it. These designs represent the coat armor of bees and butterflies.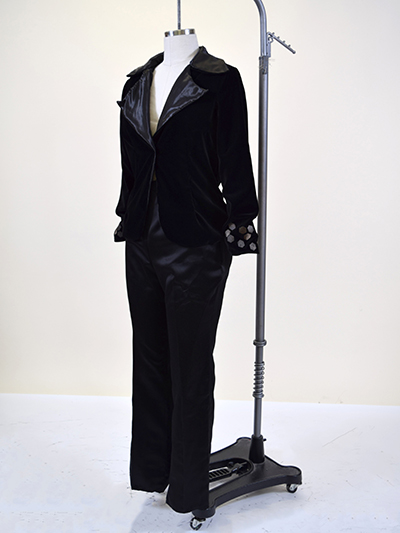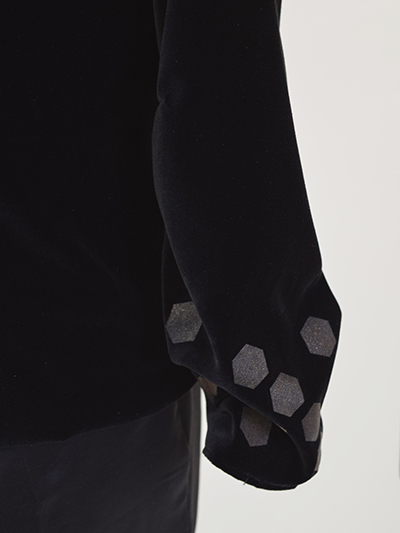 ---
Return to Origins: Flora and Fashion homepage