FLORA AND FASHION: CELLULOSIC MATERIALS: RAYON, LYOCELL, ACETATE, PAPER
By Nicole Johnston and Jean Parsons
September 20, 2018
Manufactured cellulosic fibers are produced from naturally occurring cellulose materials that are chemically dissolved and then regenerated into fiber. Some of the most commonly used cellulosic fibers include rayon, lyocell and acetate. Cellulose products can be obtained from a variety of sources, most commonly wood pulp, but also sometimes cotton, ramie, flax, jute, and bamboo. A main commercial source of cellulose in the United States was cotton mill waste, including cloth scraps from clothing production and waste fibers from spinning plants. The raw materials required to synthesize celluloid may also include nitric acid, sulfuric acid, water, alcohol, camphor, colorants, and fillers, depending on the desired end product.
Cellulosic acetate made of tree pulp was turned into cellulose acetate film and plastics before continuous filaments of acetate yarn were made in 1913. A type of artificial silk, British Celanese Limited was the first to commercially produce cellulose acetate in England after World War I, and the partially-synthetic yarn first appeared in the U.S. in 1924 under the trademark Celanese.
Celanese Acetate Rayon Evening Gown by Martini Designs (1949) MHCTC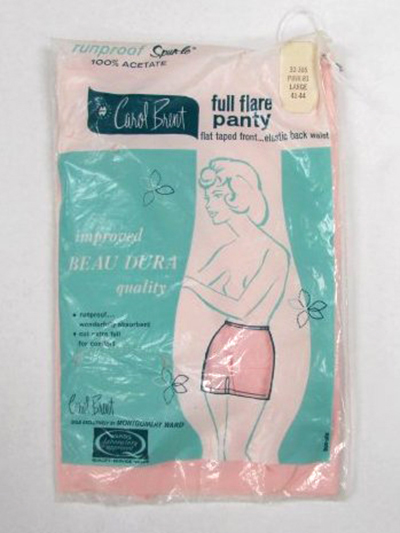 100% Acetate Panties (1950s) MHCTC
Acetate and Silk Suit by Carlisle (Mid 2000s ) MHCTC
The first man-made cellulosic alternative fiber was RAYON. Created as a substitute for silk, rayon was developed by French engineer Louis-Marie Hilaire Bernigaud de Grange who discovered in the 1880s that nitrocellulose from cotton and linen rags or wood pulp could be turned into fiber, thread, and fabric. Made commercially available in 1910 by DuPont, rayon was coined in 1924 as a generic term for regenerated cellulose fiber. Rayon use exploded in the 1920s and 1930s as a popular fashion fiber. In the Depression years of the 1930s, rayon was an inexpensive alternative to silk. During World War II there was an increase in the production of rayon for fabrics, military equipment, and for tire cord to replace natural rubber.
Rayon Dress (1937 ) MHCTC
Avisco Rayon Apron (1960s ) MHCTC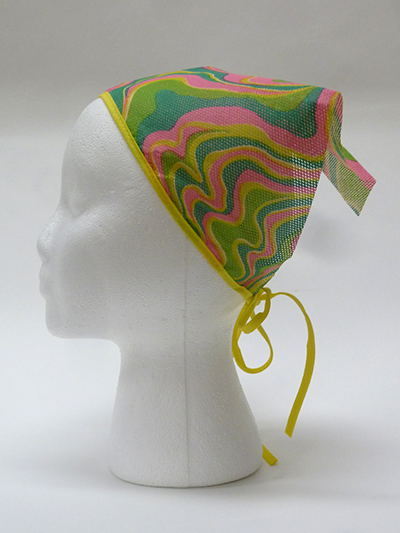 Avisco Rayon Kerchief (1960s ) MHCTC
PAPER is another type of cellulosic product. Paper fans and umbrellas have been used for centuries in China, Japan, and Korea. Paper collars and cuffs were worn extensively during the 1920s. Inexpensive crepe paper dresses were popular as costumes in the 1950s. Early paper garments for industrial use included lab overcoats, foot covers, aprons, examination gowns and surgical drape sheets. During the 1960s regenerated fibers including rayon were used to create nonwoven disposable paper products such as paper dresses, underwear, table covers, and bedding.
Paper and Bamboo Wagasa Umbrella, Japan (Early to Mid 20th Century) MHCTC
Kaycel Paper Lab Coat (1960s) MHCTC
Paper Medical Shoe Slippers (1960s) MHCTC
Webril Rayon Pillowcase (Mid 1960s) MHCTC
In 1958 Scott Paper Company patented "Dura-Weve," a flexible fire-resistant cellulosic paper that consisted of 95 percent paper-napkin stock reinforced with rayon webbing.(17) A 1966 marketing ploy was developed in which customers could purchase a disposable "Paper Caper" dress for $1.25 and receive a coupon for Scott's toilet paper, paper towels, and napkins. Dress options included a red bandana print like the one below or a black and white op art pattern.
Paper Caper Dress of Bonded Fiber Paper by Scott Paper Company, Bandana Print (1966) MHCTC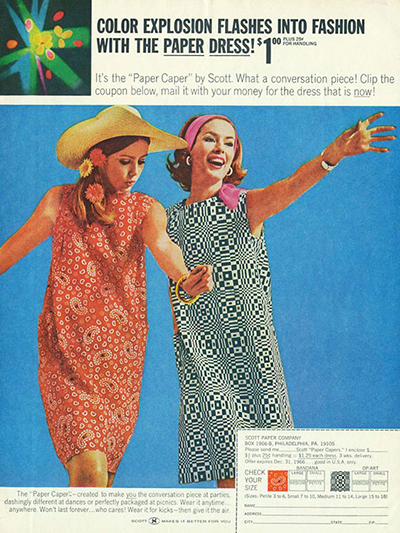 Paper Caper Dress Advertisement with Coupon by Scott Paper Company, LIFE Magazine, (November 1966)
Paper Caper Dress of Bonded Fiber Paper by Scott Paper Company, Op Art Print (1966) © Victoria and Albert Museum, London
Other manufacturers quickly followed suit. Mars Manufacturing Company of Asheville, North Carolina, developed Kaycel, a water resistant paper that was 93% cellulose and 7% rayon. See the MHCTC's Wastebasket Boutique Kaycel dress below. Mars also offered paint-your-own paper dresses ($2 with paint set), sold at The Wastepaper Basket Boutique in New York.(18) Other paper-like styles sold at the boutique included long silver "foil" dresses like the one below, made of Lustre-Weave, a 100% non-woven silvered polyethylene. (18) A similar silver foil dress was made by the Mars Manufacturing Co.(19)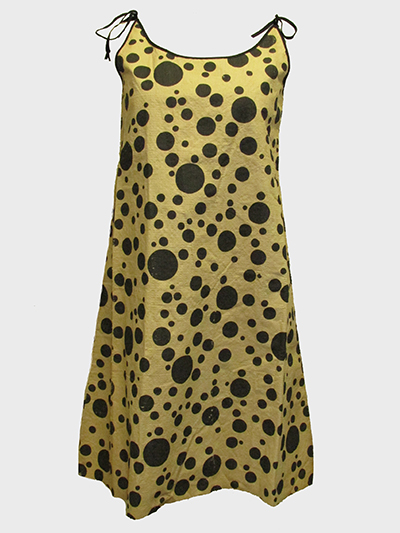 Kaycel Paper Dress by Mars of Asheville (Late 1960s) MHCTC
Paper Packaging for Kaycel Paper Dress by Mars of Asheville (Late 1960s) MHCTC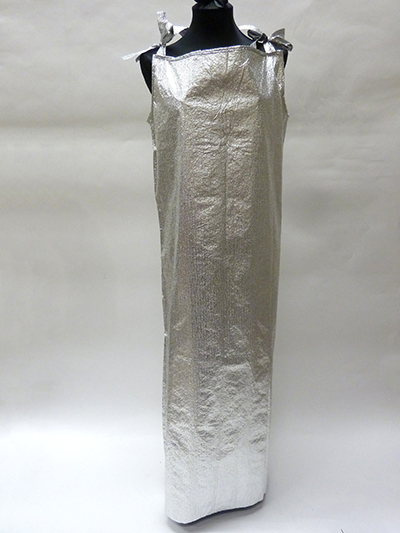 Lustre-Weave Polyethylene Foil Dress (Late 1960s) MHCTC
By 1967 paper garments were sold in major department stores in the forms of dresses, underwear, men's vests, bridal gowns, rain coats, headdresses, even paper underwear. Hallmark offered matching paper dresses, plates, napkins, and gift warp for a complete matching theme! Paper garments could be altered with scissors rather than a needle and thread, and discarded when torn or soiled. However, paper garments were often ill-fitting, uncomfortable, tore easily, and became flammable if washed. The disposable nature of paper objects was also a concern for many who worried about the "increasing demand for pulpwood and the need for more productive forests."(20) Within a few years paper clothing had lost its appeal.
"Yellow Pages" Paper Dress by Mars of Asheville (Late 1960s) MHCTC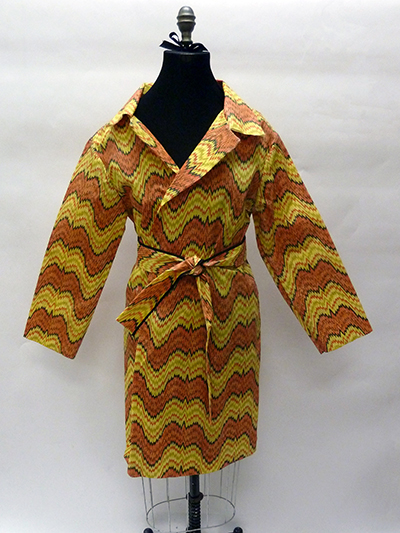 Paper Dress/Coat by James Sterling (Late 1960s) MHCTC
Paper Dress by James Sterling (Late 1960s) MHCTC
Lyocell, a 100% cellulose fiber, was developed in part by concern about rayon's negative environmental impact. Introduced in the early 1990s, Lyocell was first marketed as a type of rayon but is now a separate classification. To make lyocell, polymers derived from wood pulp are dissolved, spun, washed and dried. "This solvent-spinning process recycles process water and reuses the solvent at a recovery rate of more than 99%."(2) TENCEL™ Lyocell fibers are derived from sustainable wood sources.(31) REFIBRA™ technology combines wood pulp and upcycled cotton scraps, including a proportion from garment production, to create TENCEL™ Lyocell fibers for fabrics and garments.(31)
Return to Origins: Flora and Fashion homepage