TAM 2280: Designing with Ginger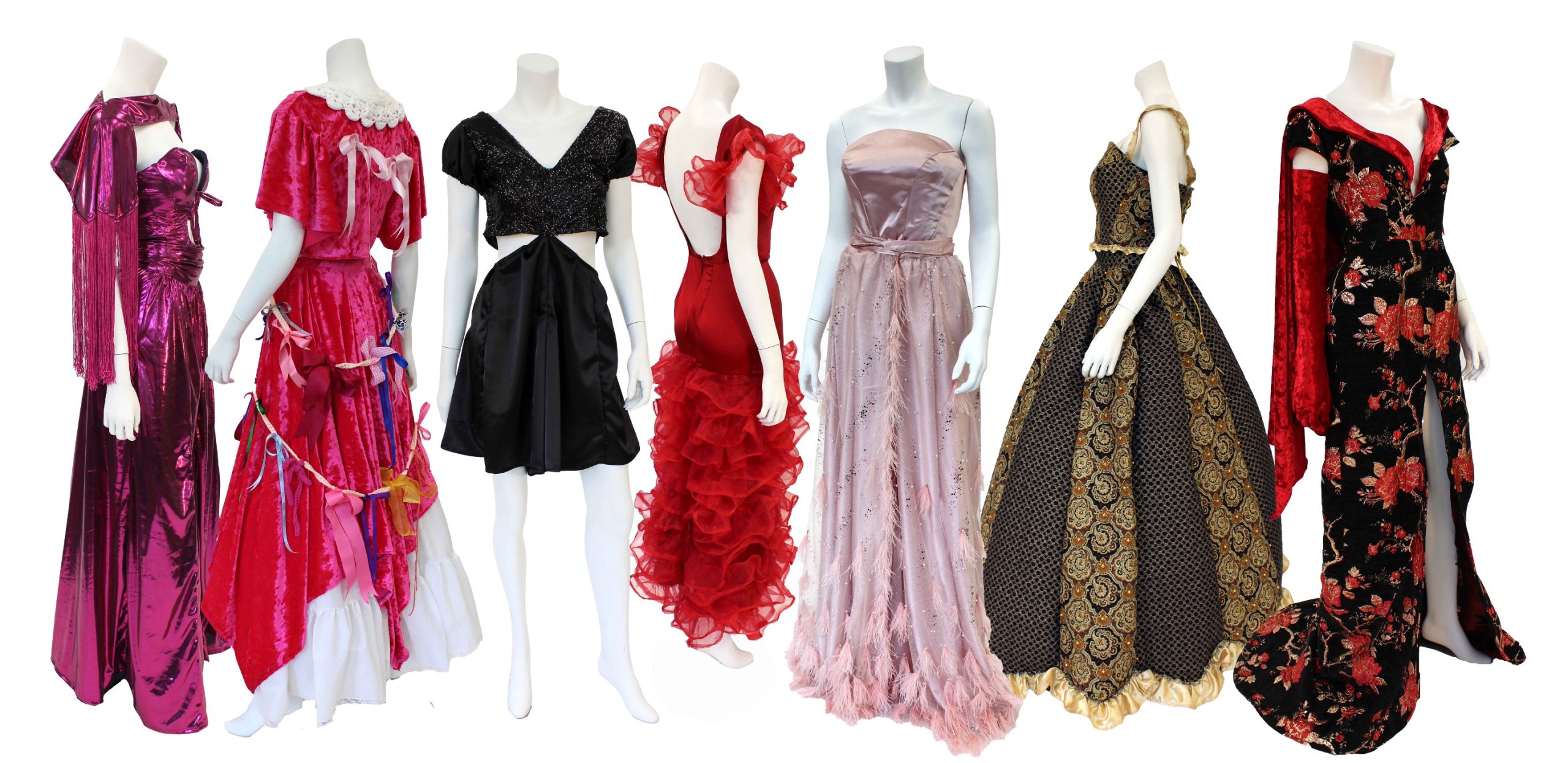 TAM 2280: DESIGNING WITH GINGER
August 2023 – January 2024​
Exhibit curated by Nicole Johnston. Classroom project directed by Mackenzie Miller.​
The use of material culture objects for exhibition and creative scholarship significantly enhances learning objectives and outcomes. Clothing in particular provides innumerable opportunities for teaching and research in the arts, humanities and social and hard sciences. The academic year 2022-23 saw the first of seven material culture collaborations between the Missouri Historic Costume and Textile Collection (MHCTC) and students in the Department of Textile and Apparel Management (TAM) at the University of Missouri. Over twenty-seven undergraduate students in TAM 2280 Apparel Production were provided a unique opportunity for research and creative scholarship inspired by one-of-a-kind newly-acquired costumes and archives of legendary performer and Missouri-native Ginger Rogers who rose to international stardom on film, stage, television, and radio.
THE GINGER PROJECT
In the spring of 2022, TAM 2280 graduate instructor Mackenzie Miller proposed an idea for a design collaboration using one of her favorite garments from the Ginger Rogers Collection acquired by the MHCTC: a red and white silk polka dot dress worn by Ginger Rogers in the 1959 television short film "Tender Shoot." That fall, Miller measured and photographed the dress to create a 3D digital pattern using the departments digitization software CLO3D. The pattern was printed on paper for each student to incorporate into their design projects. Students were required to use either the bodice or skirt pattern, or both, for garments inspired by Rogers' lifelong career on film, stage, television and radio.
After Curator Nicole Johnston presented the class with a variety of Rogers' garments and digital content in MHCTC collections, students researched numerous aspects of Rogers' career from childhood to 1984 in order manipulate the dress pattern into one-of-a-kind garment designs. More than twenty-seven students participated in the project from which a select number were chosen for exhibition.
Image: Ginger Rogers polka dot silk dress on mannequin and Mackenzie Miller measuring dress, using CLO3D, and assisting a student in class.
STEP 1: MEASURING THE GARMENT
---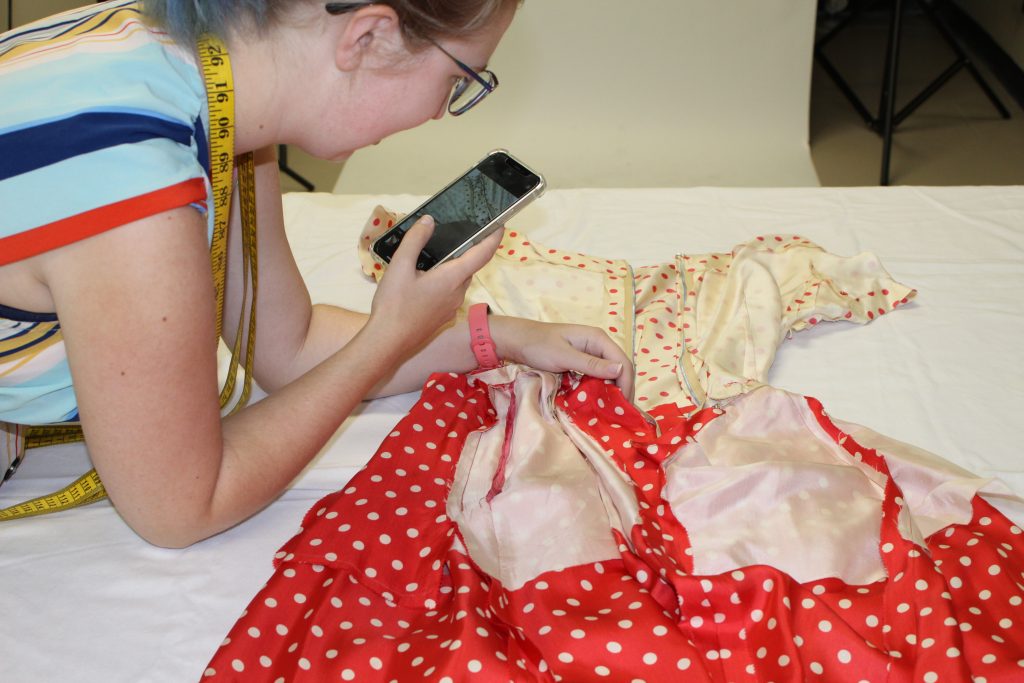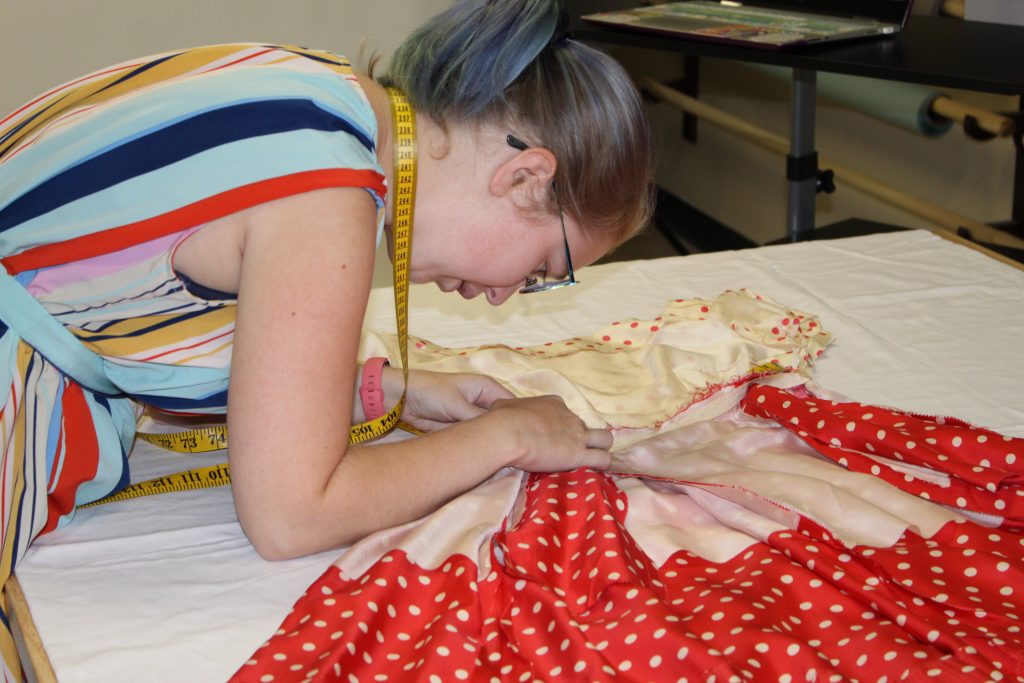 STEP 2: DIGITAL PATTERNMAKING WITH AVATAR IN CLO3D
---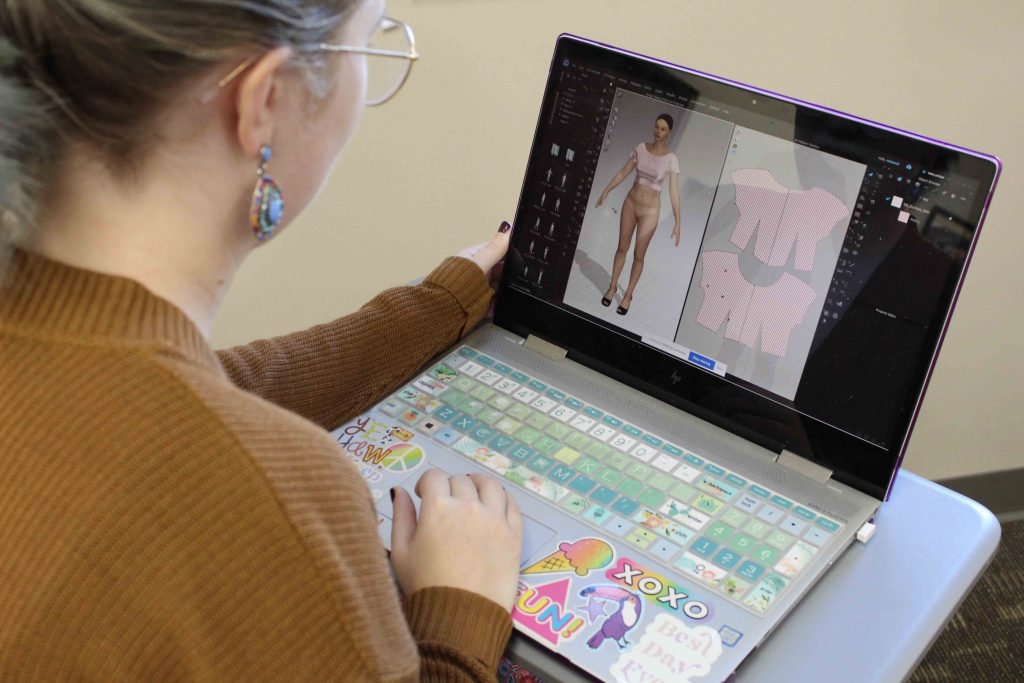 STEP 3: PAPER PATTERNMAKING
---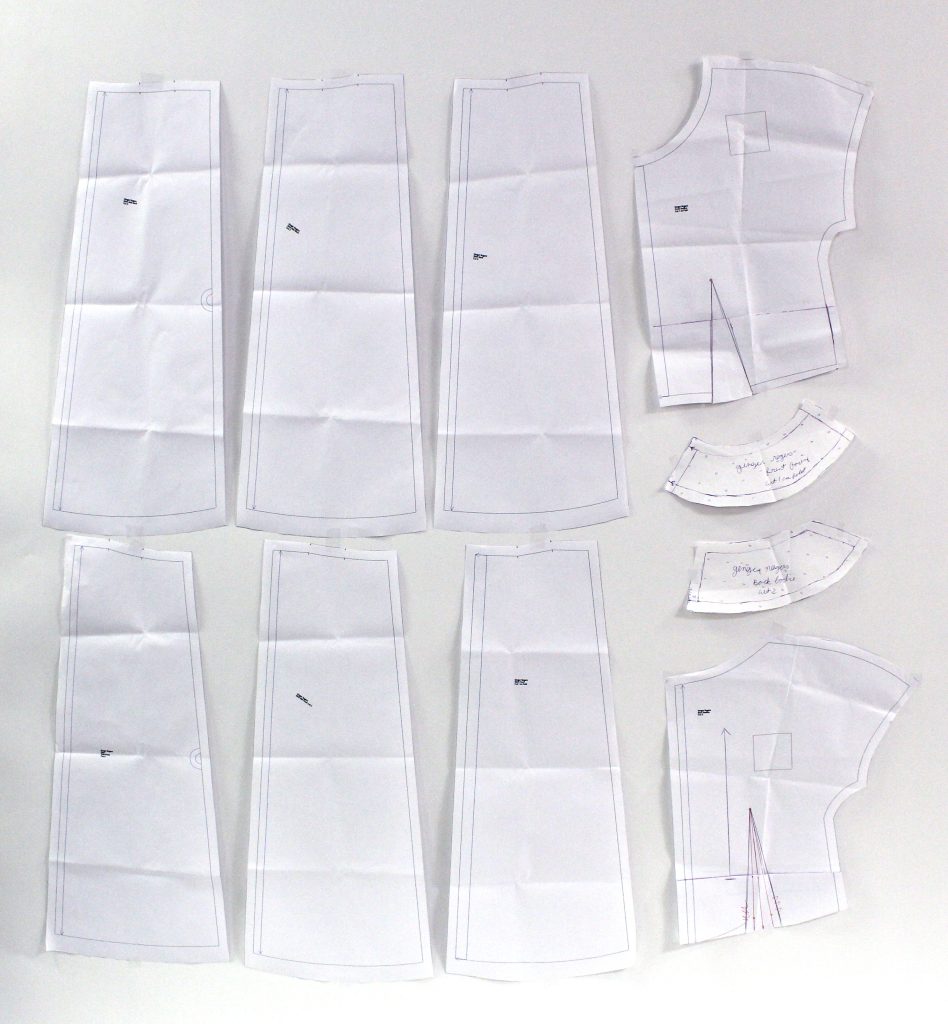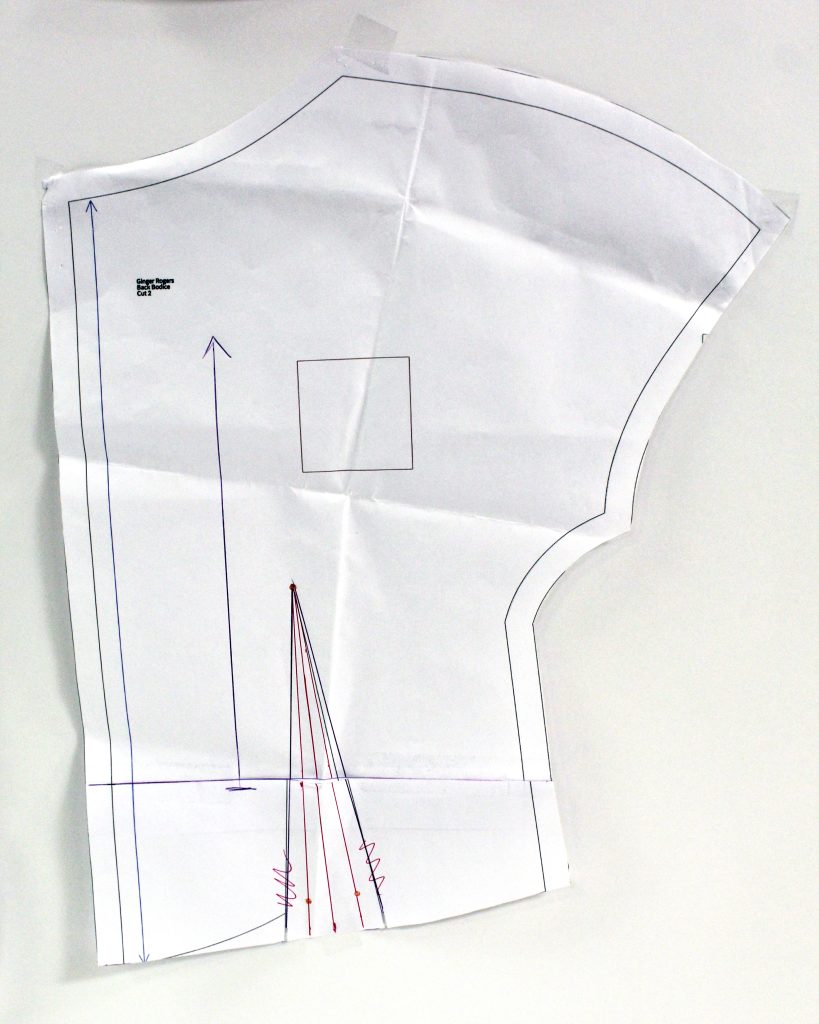 STEP 4: STUDENT RESEARCH AND GARMENT CONSTRUCTION
---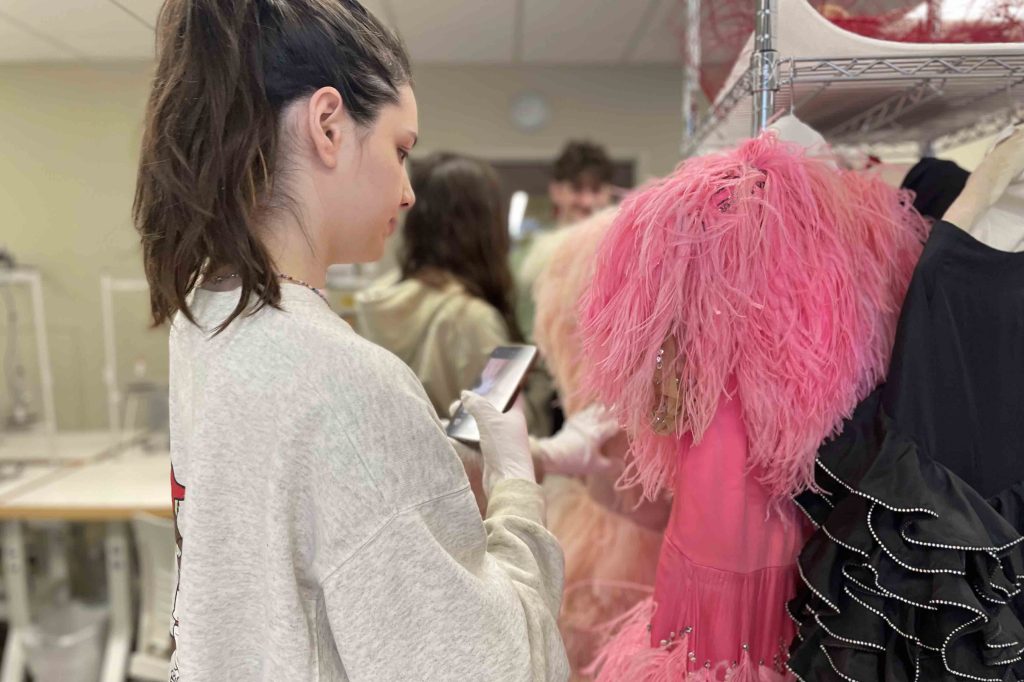 STUDENT DESIGN GALLERY
---
STUDENT NAMES (in alphabetical order): Alyssa Cozzoni; Ella Fosnough; William Funderburg; Madeline Grueber; Emilia Lee; Jenna Lene; Shyla Leonard; Maddie Lepp; Quin Manns; Tyler McGuirk; Kylie Minardi; Alana Osborne; Tara Owens; Zack Rackers; Abby Rathouz; Eliana Rosario; Carlie Scarpace; Cailey Southard; Teaghen Speier; Anna Staudt; Airi Washington ​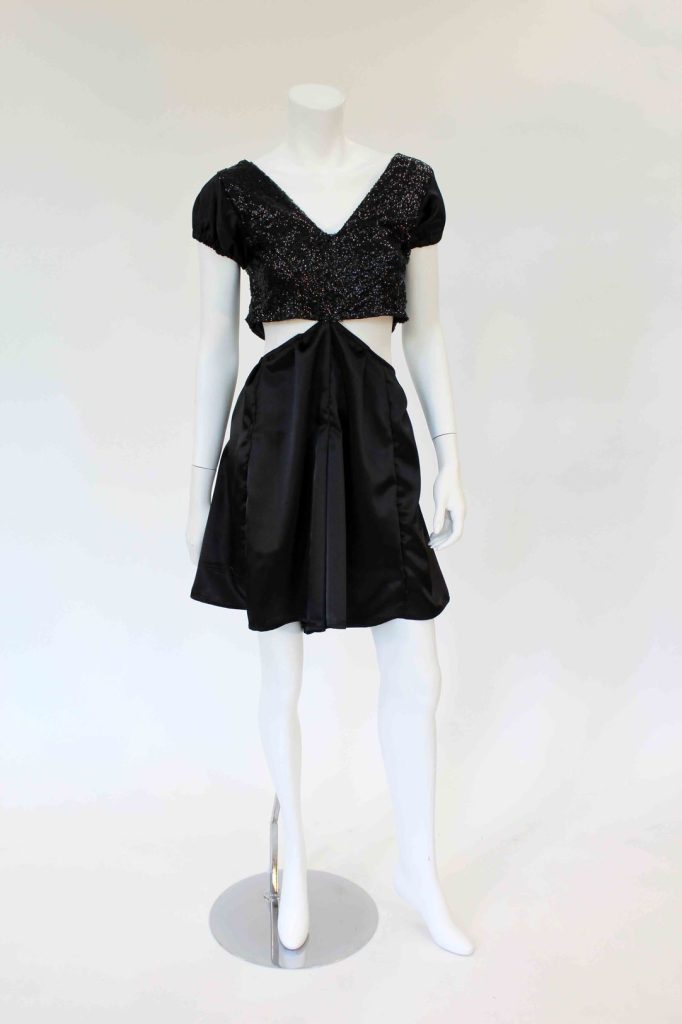 ALYSSA COZZONI
"I thought Ginger would look much better in the "Top Hat" ensemble than Fred."
"I was particularly drawn to a jumpsuit Ginger wore in the 1937 movie Stage Door, sassy but not extremely girly or frilly. I was reminded of this look when I watched the movie "Top Hat" (1935) and saw what Fred Astaire, her dancing partner, wore. I loved the clean lines of his look and thought Ginger herself would look far better in the "Top Hat" ensemble than Fred. I decided to create a menswear-inspired piece, a look that emphasized the things that made Ginger so special, like sequins, movement, feathers, and frills, but also a look that brought her into the twenty-first century with a gender-neutral take."
"The jumpsuit worked well with the base pattern with a few key changes like the V-neck top and adding a crotch seam to create shorts, [the last of which] mirrored the movement of a skirt while making it more comfortable to dance in. In my more modern take, I decided to finally give her shorts she could perform in as they were her favorite [garment] for practice. For the [tailcoat], I added some details that included a pop of white on the collar and back of the coattails. The decisive choices of the color palette helped tie in the era of Ginger's fame and the black-and-white drama of her movies."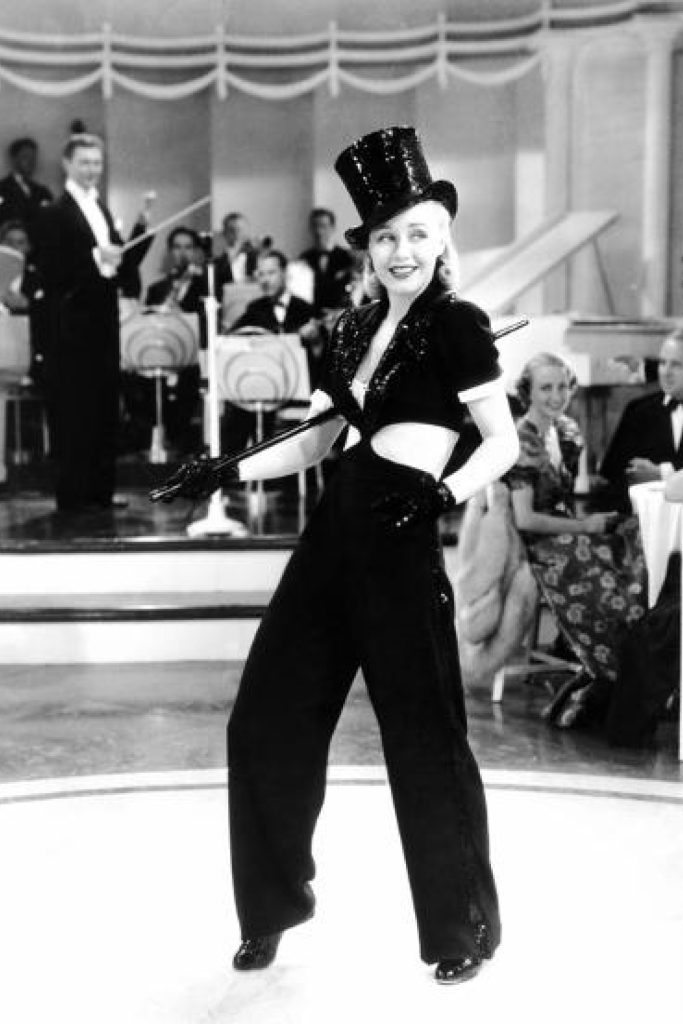 ---
ELLA FOSNOUGH
"When I was in fourth grade, I was Ginger Rogers for a Missouri history project."
"I was a dancer, so I connected with Ginger and dressed up as her for a presentation. The gold/champagne color I chose was similar to a dress Ginger wore in the 1936 film "Swing Time." Ginger had many dresses with matching capes, shawls and long sleeves. I used Ginger's base dress pattern for the shawl. I printed the pattern piece for the top part of the dress and continued a line out to make it a long sleeve. I then cut off the rest of the front to make it drape over the collar. The godets of the skirt were initially supposed to be the same champagne satin fabric, but I wanted to add more pizazz to the dress, so I ended up making them out of the sparkly mesh fabric. It added a modern look to the dress and made it risqué and see through."
---
WILLIAM FUNDERBURG
"I am very proud of the outcome of this dress with it being my first-ever dress I designed and created."
"I drew inspiration from a dress Rogers wore in the 1935 film "In Person." I decided to go with a body suit to which I added cuffs and a button placket with collar in a star-printed lavender organza. For the skirt, I drew inspiration from Ginger's polka dot dress with some alterations. I extended the 12-inch skirt panels by 20 inches and added ostrich feather trim, one of Rogers' favorite things. I am very proud of the outcome of this dress with it being my first-ever dress I designed and created."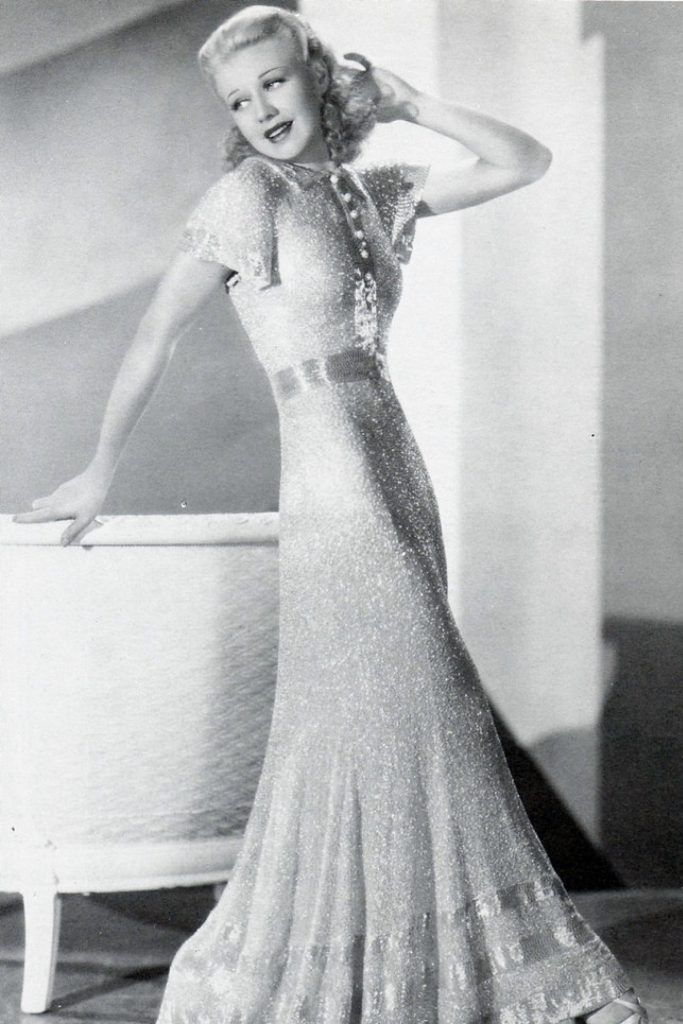 ---
MADELINE GRUEBER
"I wanted my design to feel modern and be something that Ginger would wear in 2023."
"After scrolling through 100s of pictures of Ginger I stumbled across a costume I hadn't seen before from one of her movies: "Vivacious Lady" (1938.) This costume had layers and layers of jeweled sheer chiffon and I immediately knew I wanted this dress to be my inspiration. Another dress I had loved of Ginger's was her 1967 blue Academy Awards dress [we saw from the MHCTC collection]; this dress became the base for my silhouette. When I put all my ideas together, I came up with a simple but elegant maxi skirt, a simple top using the given pattern, and a modern cropped, sheer overtop with billowy sleeves and delicate ribbon bows. I wanted my design to feel modern and be something that Ginger would wear in 2023. The influence of ballet on fashion is huge right now and this aesthetic was a major influence on my design. For my skirt I found a simple bias cut skirt pattern that I added a side zipper to."
"The sheer top is where it got tricky. I found a pattern online for a sweatshirt that was boxy and cropped and had flared bell sleeves but once I started the top many edits had to be made and I altered the pattern significantly. I made it wider, much shorter, changed the neckline and flared the sleeves even more. When picking my fabrics, I tried to stray away from the color I've used all semester. But how could I choose any color other than pink when it's not only my favorite color but Ginger's, too? In addition, pink matched the aesthetic of my ballet core-influence, so it was an easy choice. The end design turned out much simpler than I originally planned but I'm proud of it, nonetheless. This project taught me immense problem-solving skills and exposed me to different fabrics and techniques I hadn't worked with before."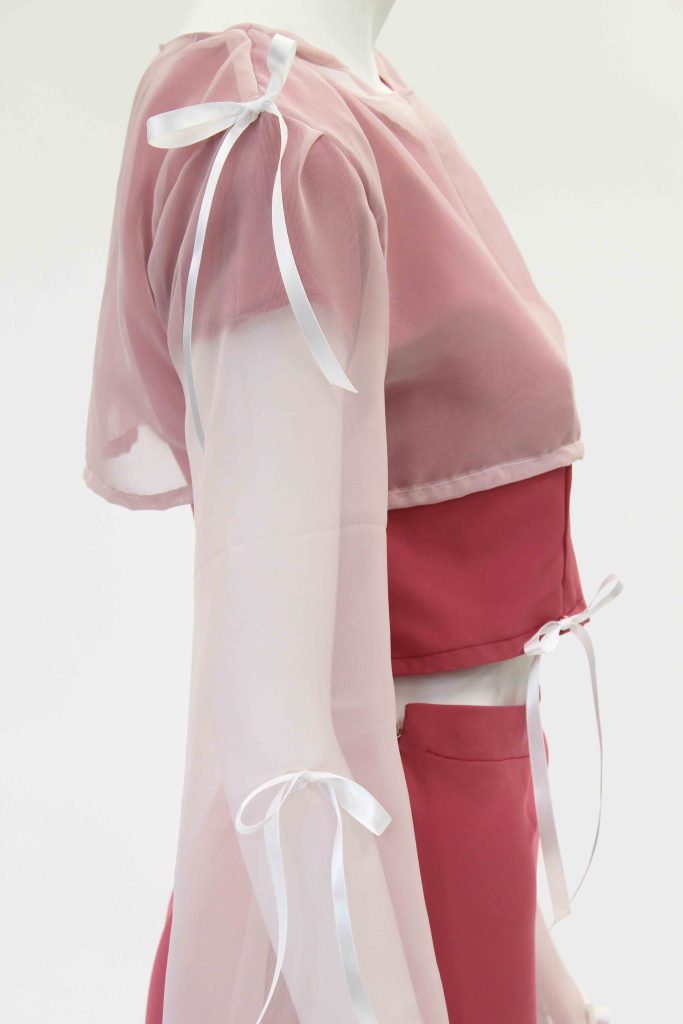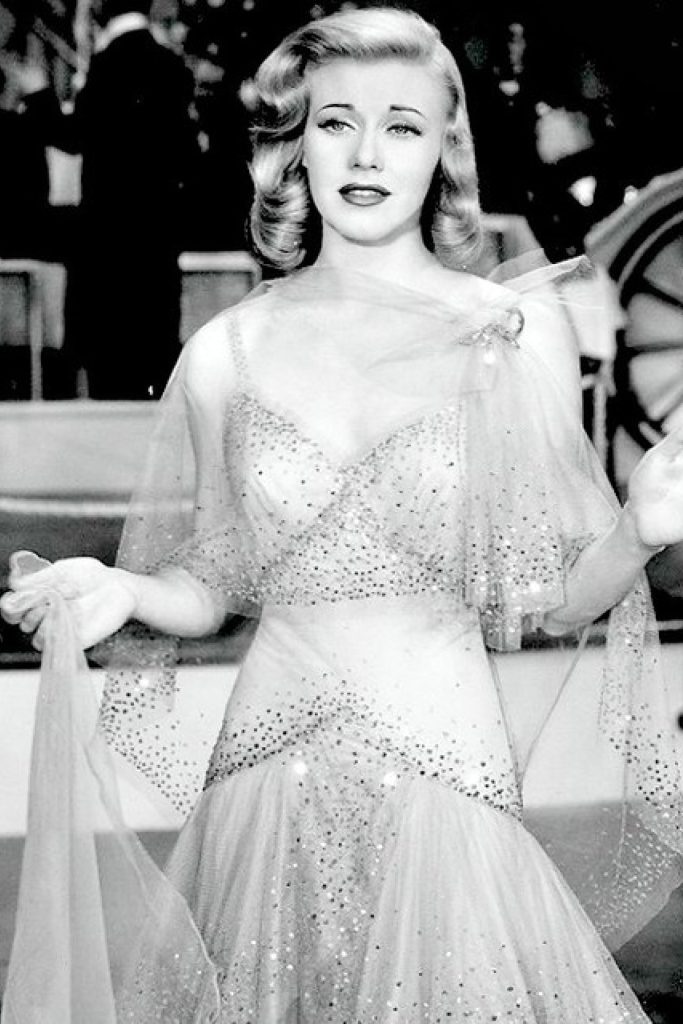 ---
EMILIA LEE
"I wanted Ginger to feel childish joy while wearing her favorite color on stage."
"I wanted Ginger to feel childish joy while wearing her favorite color on stage; therefore, I chose a crushed velvet material that shifts from a bright, youthful hot pink to a darker, more mature magenta. The removable collar is inspired by Rogers' dress in the 1940 film "Kitty Foyle" where Rogers played a working-class, "white-collar girl," and the dress drew inspiration from something that could be hand-made by her, as well as being versatile and customizable for the working-class women of the post-war period. The double crochet belts encircling the skirt are adorned with different colored ribbons and crocheted bows that are movable and removable.
The bows were inspired by the 1973 song "Tie a Yellow Ribbon Round the Ole Oak Tree" by Tony Orlando and Dawn in which a former prisoner-of-war coming home to his sweetheart asks her to signal her forgiveness and love before he even knocks on her door; this in itself sounds like a movie Rogers would have acted in as the lead love interest. In this case, the ribbons create a chaotic, whimsical effect with various sizes and materials I found around the house and in my mother's ribbon closet. The construction of the top is based on Ginger's dress pattern; the handkerchief skirt pattern I drafted. Handkerchief hems were made popular in the 1910s and 1920s for its ability to create flattering drapes and add volume, movement and texture. The dress can be worn with or without the petticoat."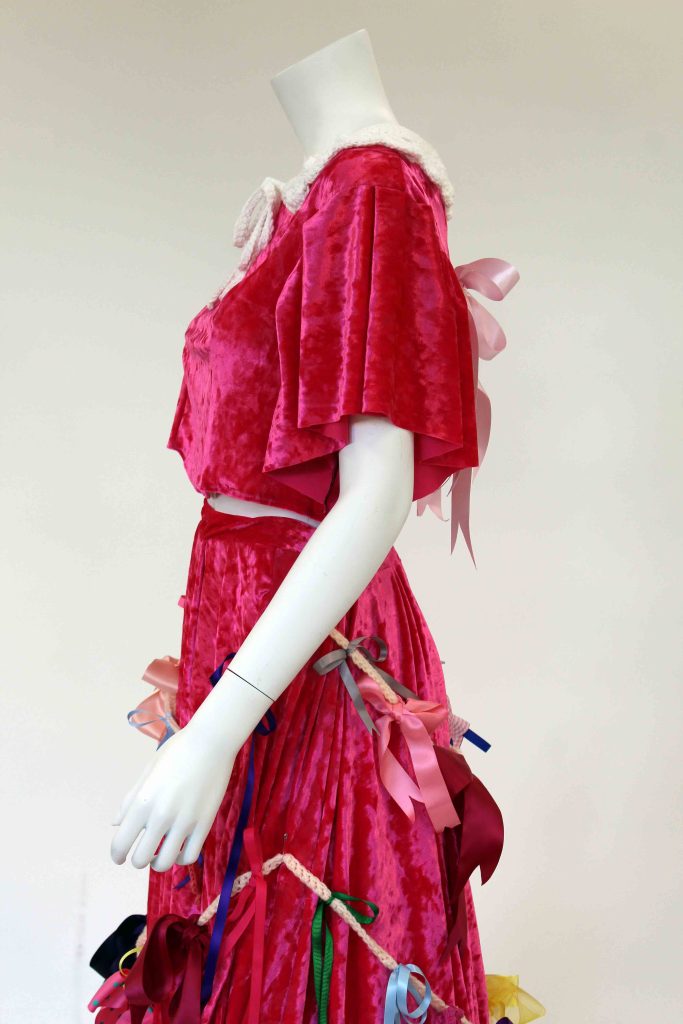 ---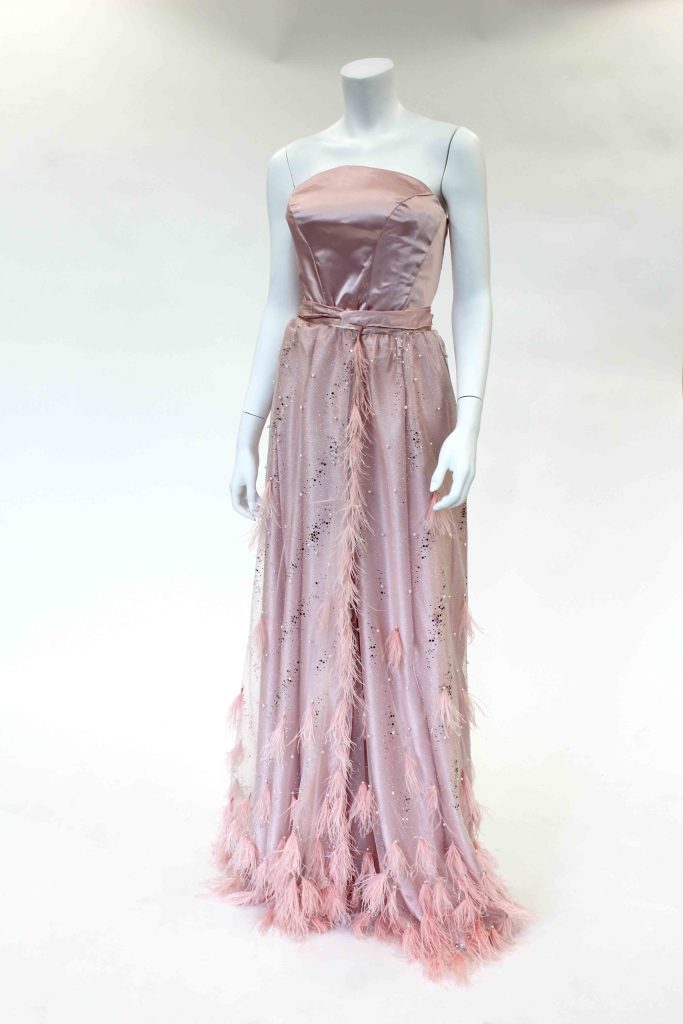 JENNA LENE
"I thought feathers might be too much, but she [Ginger] is too much!"
"My inspiration for this project came from many of Ginger Rogers' dresses in the Collection. Her baby pink silk dress, all of her feathered and bedazzled ones, along with her corset style gowns are some from which I drew my ideas. I started sketching dresses and decided to do a corset romper with a train because I thought it would be a modernized dress in her fashion sense that would make moving around and dancing easier. I also chose this style because one of my favorite dresses I have worn was a similar design. I bought six yards of a rosy pink satin material, three yards of a pearl and sequin embellished mesh fabric, and several yards of boning and feathers to create my vision. I started with the corset that turned out to be an extremely lengthy process due to the boning sewn in for stability. I also inserted bra cups for extra support."
"After I finished the corset, I found a jumpsuit pattern to create the shorts. I changed the length, left out the pockets, and moved the zipper from the side to the back. Then, I attached the shorts to the corset and connected the zipper, completing the romper. The largest and most time-consuming part was the train. I used the original pattern provided to us and lengthened the skirt pieces. I joined most of the pieces, leaving out two front pieces, and sewed the mesh fabric on top as an overlay. I then gathered the top and attached the waistband. I made the waist band extra long because the train is detachable and can be tied in different ways, [including as a cape.] When I finally finished assembling the train, I added the final details. I cut up feathers and glued them by twisting them together and layering them heavily at the bottom and sparser towards the top. I definitely think this project challenged my skills, but I plan on adding to and tweaking this dress over time to make it exactly what I want."
---
SHYLA LEONARD
"As I began my research, I instantly fell in love with a black and white photo of Ginger in the 1938 film "Vivacious Lady." I preferred the black and white colors in the old photo; that declared my fabric color. I knew I wanted to make it look cream-colored like in old films, and since the detailing on the Ginger dress I liked looks like silver crystals, I replaced them with pearls to match the color scheme. I picked a cream satin for fabric for the bottom layer and picked a gold sparkly tulle to compliment the cream. Next, I had to think how I could make the old pattern look closer to this desired picture. The skirt I wanted to keep but I didn't want the panels to be noticeable from top to bottom, so I incorporated a ruffled peplum into my project.
For the bodice, I looked at tank top designs that weren't athleisure but frillier and found one that matched the chest panels pretty perfectly. It was designed to be made with a stretchy knit fabric and delicate lace, not to hold a whole skirt, so I elongated the top and altered the waist for a better fit."
---
MADDIE LEPP
"When originally creating this dress, I was very inspired by Ginger's long pink ball gown with all of the feathers ("Top Hat," 1935). I loved the way the dress flowed, and I loved the added details. When I found this fabric, I immediately became more inspired by the dress in "The Devil Wears Prada" when Miranda Priestly is explaining to Andy the importance of these clothes. I was also drawn to the dress worn by Molly Ringwald in "Pretty in Pink". This inspired me from all the pink polka dots on her dress. I created the bodice for my dress by making a corset top with a twill lining. When creating the ruffled skirt, I cut out pieces of fabric from the Ginger Rogers skirt pattern and French-seamed all the sides together. To create an even more ruffled look, I created a belt-like piece from the skirt fabric. I overall loved this project and am very excited with the final outcome!"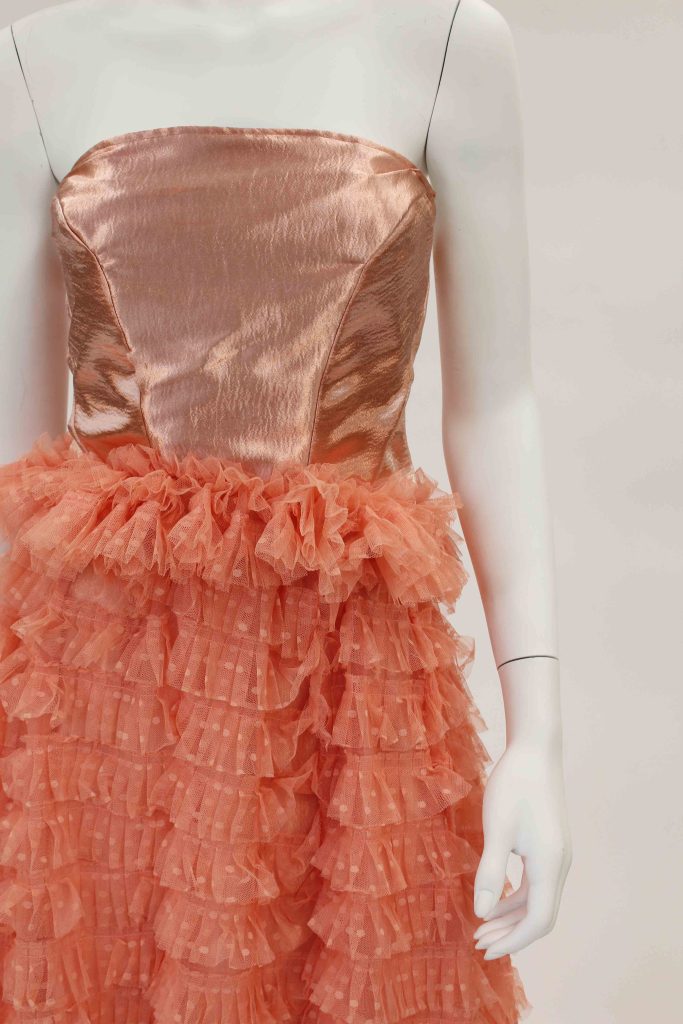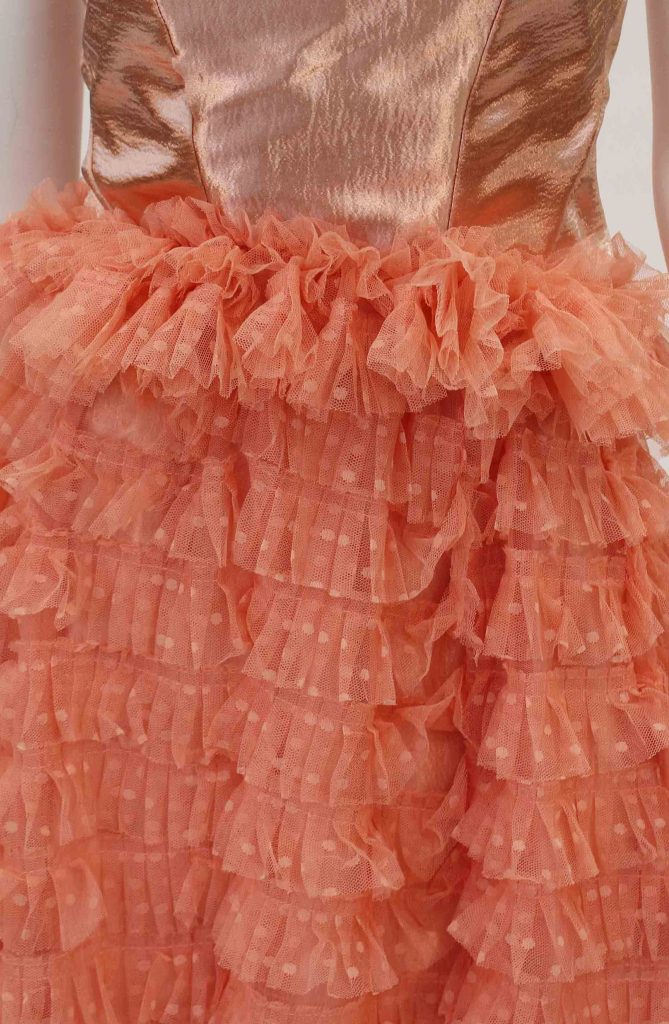 ---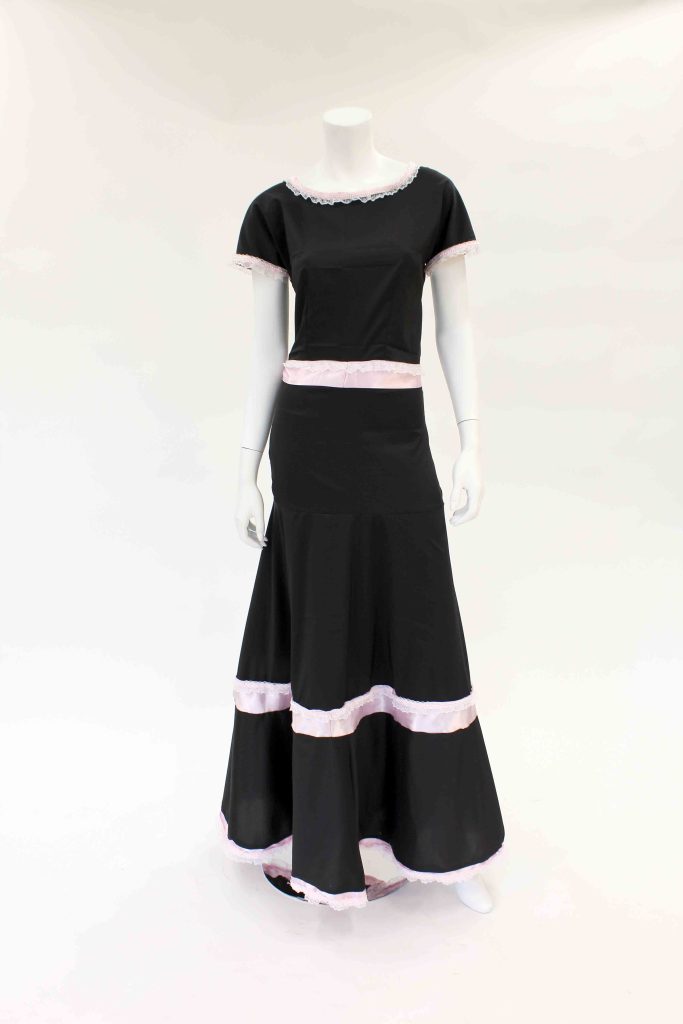 QUIN MANNS
"I wanted to include something bigger than just the basic design which led me to include a dramatic bow on the back – inspired by Ginger's big personality."
"When watching the movie "The Gay Divorcee" from 1934, there was a dancing scene with Ginger Rogers and Fred Astaire. Within this scene, Ginger performed a dramatic spin, causing her dress to flow. When this scene caught my attention, I knew what I was going to do for my project. With this dress design, I incorporated a lot of 1950s designs and elements like the pearly lace trim and my black and white color scheme. I used the basic bodice pattern for my top and then a drop-waist pattern I found online for the skirt. In the end, I wanted to include something bigger than just the basic design which led me to include a dramatic bow on the back – inspired by Ginger's big personality. Overall, I learned a lot from making this dress, including new sewing techniques and how to work under pressure. Because it was a bigger project, I had to spend a lot of time planning and preparing which I feel taught me about the time and effort that goes into making these pieces."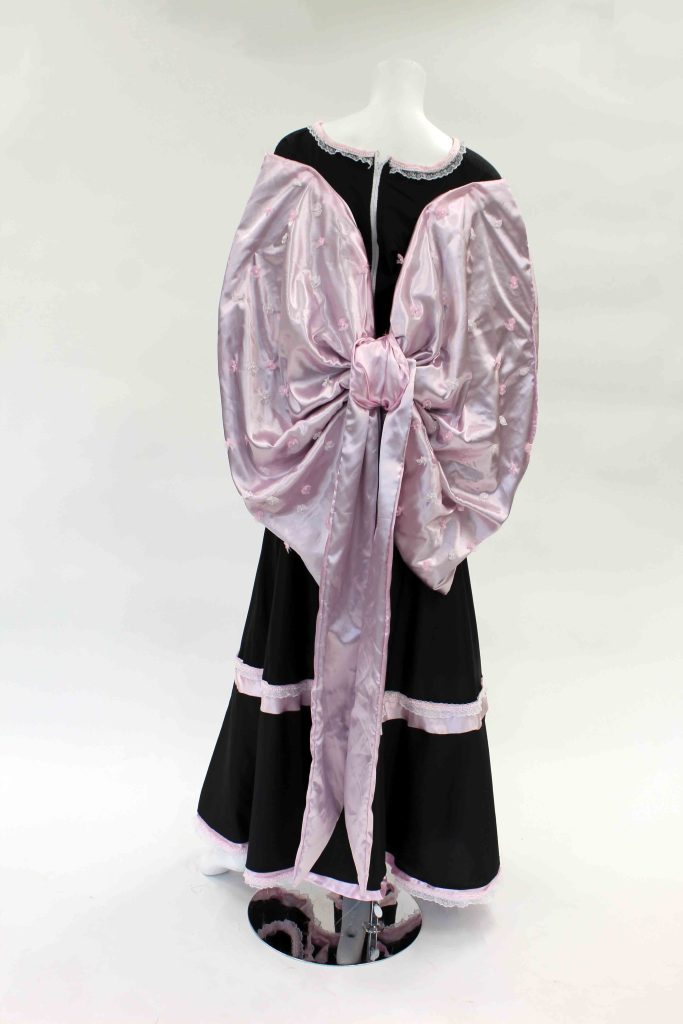 ---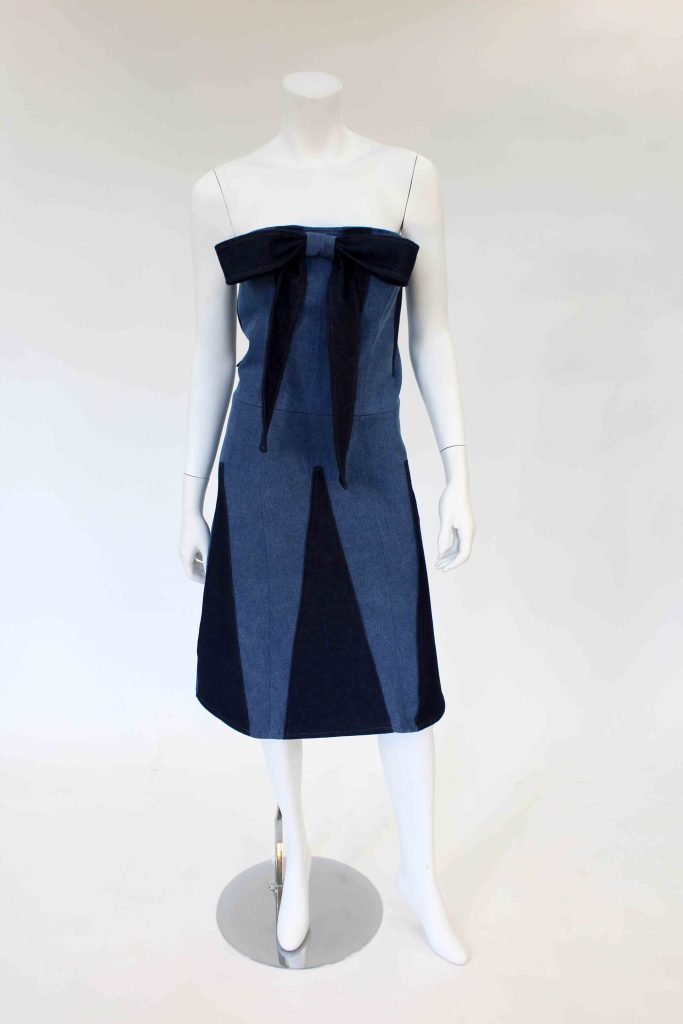 TYLER MCGUIRK
"Despite her daring style and her willingness to challenge convention, Rogers was always a lady at heart."
"My latest creation, a denim dress with a scandalous back and a bow on the front, pays tribute to Rogers' fearless spirit and groundbreaking style. The choice of denim for the dress represents Rogers' willingness to experiment with masculine fabrics and styles. Denim is traditionally associated with men's workwear, but Rogers was not afraid to incorporate it into her wardrobe, often pairing denim jackets and jeans with high heels and feminine accessories. In my dress, the denim fabric is used to create a bold and striking silhouette that speaks to Rogers' pioneering spirit. I modified the existing skirt pattern by removing half of the panels, resulting in a tight-fitting skirt that compliments the daring design of the dress."
"The laced corset back is a nod to Rogers' rebellious streak and her desire to challenge social norms and expectations. The bow on the front speaks to Rogers' femininity and grace. Despite her daring style and her willingness to challenge convention, Rogers was always a lady at heart. She was a master of both the masculine and the feminine, and she showed women everywhere that it was possible to be both strong and graceful at the same time. Through this project, I gained valuable experience in pattern modification, understanding the curves of the human body, and achieving clean topstitching."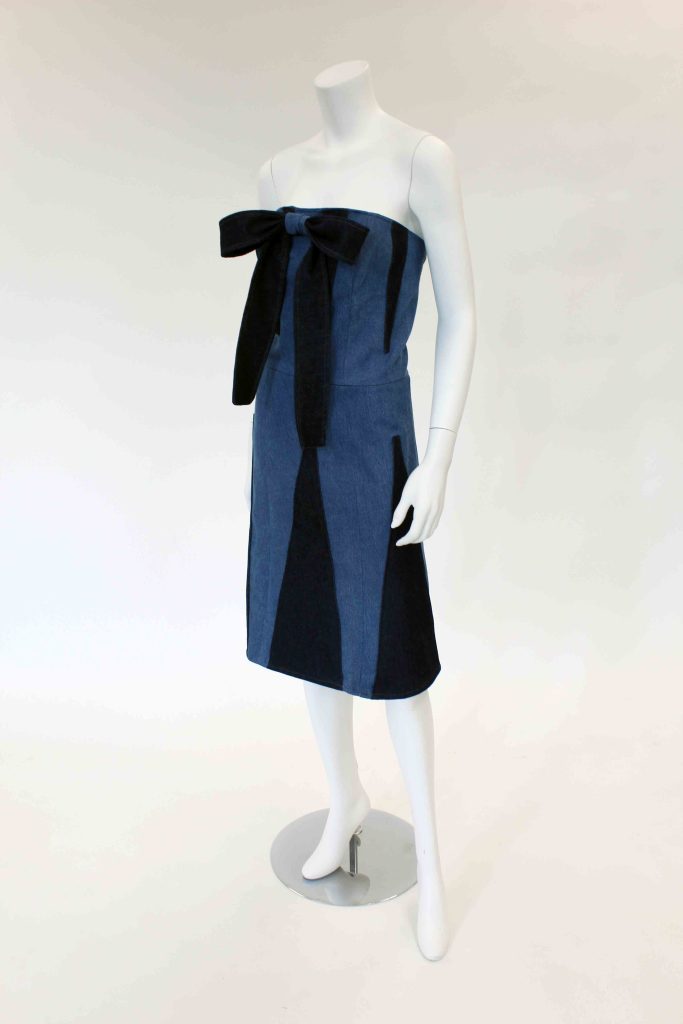 ---
KYLIE MINARDI
"It's a happy dress; it would make Ginger smile."
"I decided that when I saw the pattern of the dress, I wanted to keep as much of the original pattern as I could but with a twist. I wanted to incorporate pink since that is Ginger Rogers' favorite color. The first think I wanted to do was find something that stood out other than just the pink. I had found a butterfly sheer fabric that I felt would fit what I was looking for very well. After that, I was scrolling through Tik Tok when I found a strapless dress I loved and wanted to incorporate [into my design.] So, I looked for a strapless pattern that I could replicate. I found a free one on Mood and tweaked it to make the top higher and the sides lower to fit my idea. When talking to Ms. Miller, she thought it would be a great idea to overlay the sheer butterfly pattern over the strapless top to keep the upper pattern of the dress. So, I went ahead and finished the corset top and left the back open to include a zipper."
"I made the skirt exactly how the pattern was but realized it was way too big, so then I had to go in and add extra pleats. Once I finished with that, I added the sheer butterfly material over the skirt and sewed it all together. My next step was to connect the corset top to the skirt which I did and then took the opening of the corset top and matched it up with the back. Once sewn, I cut open a spot in the back of the skirt and sewed in an invisible zipper. I made the sheer top for the overlay using the butterfly pattern and wanted to focus the butterflies on the sleeves so then you could have this almost see-through look in the middle. It's a happy dress; it would make Ginger smile."
---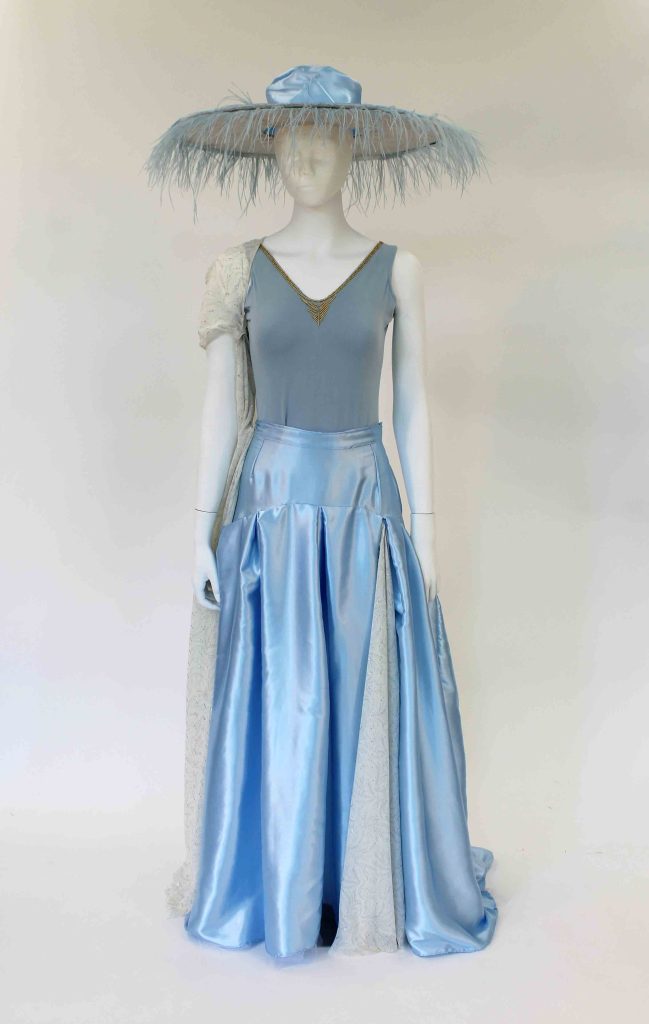 ALANA OSBORNE
"Overall, I learned a lot of new skills and lessons. I made my first hat, first long dress, used fur and ostrich feathers for the first time, and tried beading for the first time in this project."
"I wanted to make this dress a dainty color I thought Ginger would wear. I also wanted it to be easy to dance in. I made this dress tight along the hips and it comes out past the hips. That inspiration comes from previous Ginger dresses where she wore dresses that did not poof out until right at the hips. I made this dress a low back because so many Ginger dresses have a dramatic low back. I then draped fabric along the back to bring more elegance into the look. This dress is two separate pieces: the leotard and the skirt. There is gold beading added around the neckline to really elevate the look, as many Ginger dresses have very intricate beading. Along with this dress, I made a dramatic wide light blue hat with ostrich feathers hanging off it. This dress relates to the pattern given to us as it keeps the waistline and has the dramatic pleats, just at a lower point on the dress. The ostrich feathers and beading were all done by hand."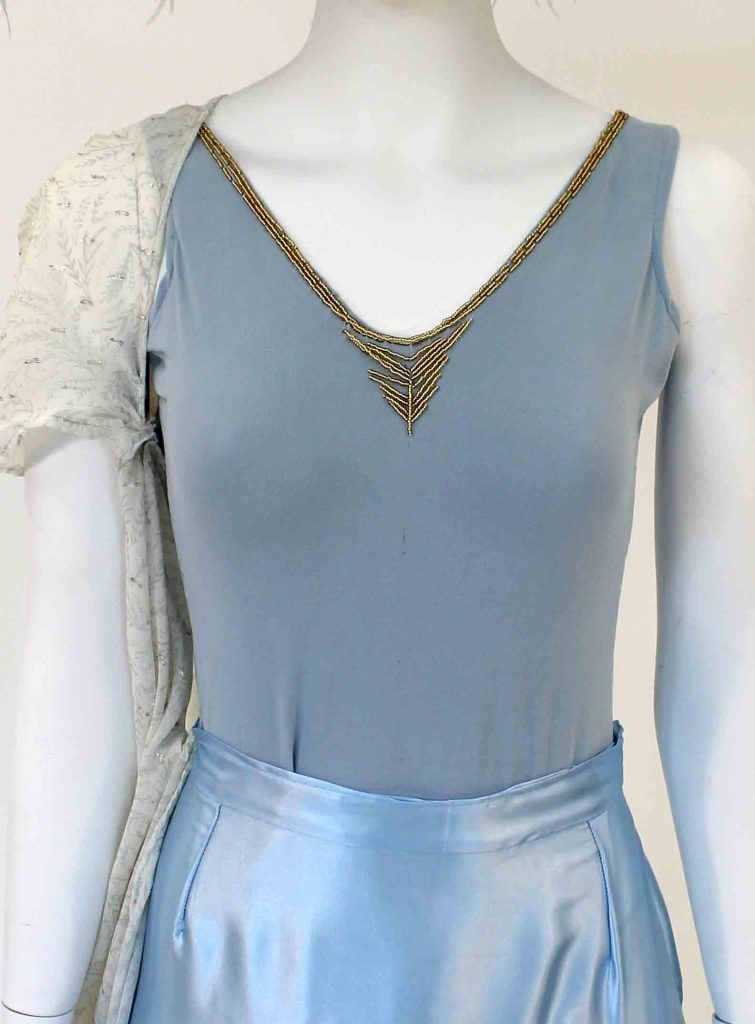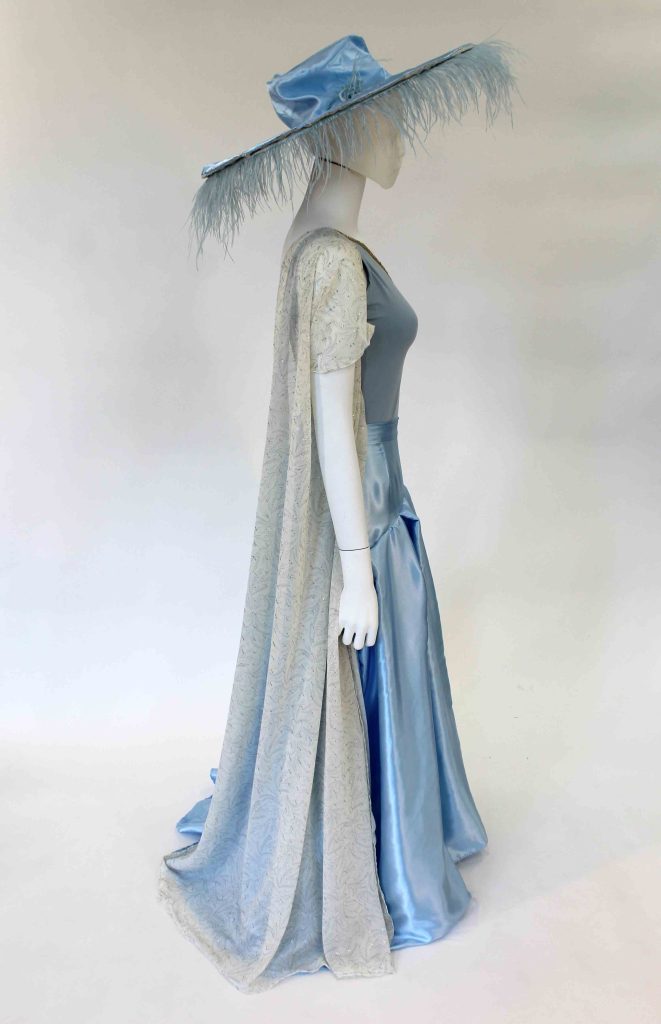 Another design I drew from was a brown [faux] fur dress with sheer black fabric. This was inspired by Ginger Rogers because she would wear a lot of fur in her coats. It kept the waistline in the pattern given to us and the straight neckline. This dress is modern, futuristic and sexy while still having that dancing ballgown look.
---
TARA OWENS
"I wanted mine to feel as a luxury princess design inspired by Victorian fashion staples but one that gave the feeling of the wealthy Golden Era."
"My dress was inspired by the Golden Era of Hollywood in the 1930s. When this project was introduced to us, there was a scene of Ginger announcing at an awards show, and I knew I wanted to make a big dramatic piece instead of soft and flowy. After seeing this beautiful double-sided quilted fabric, I knew I needed to take a different path than the more traditional Ginger Rogers pieces. My fabric has this beautiful almost Victorian glitter pattern and I fell in love with it immediately. I knew I had to make my dress big and dramatic, especially since I wasn't using a pink fabric like most of Ginger's dresses. I would consider my dress to be more of an award show or event dress, rather than her typical flowy pieces in which she would perform fast-paced routines.
Switching sides of the fabric for each panel was a last-minute decision but I am so happy I took that step. The [alternating] panels add more of a modern twist to my piece. I also really wanted to include gathered trim on the dress since that was a major staple of a lot of Victorian dresses. I bought this beautiful gold fabric and after a long time of gathering, I finally finished the trim. Originally, I wanted to add feathers as the trim instead, but then I remembered that my piece is not like her normal feathery-pink gowns. I wanted mine to feel as a luxury princess design inspired by Victorian fashion staples but one that gave the feeling of the wealthy Golden Era."
Tara adjusted the original bodice pattern into a corset design but utilized the provided skirt pattern and elongated the hem. Her design also features hand-glued pearls throughout the bodice and skirt. The bodice closes at back with a gold braid. Also influenced by Ginger's 1930s ballroom dances, Tara's silhouette hints at the full-skirted formal evening gowns of the 1950s, the same silhouette as Ginger's original 1959 polka dot dress.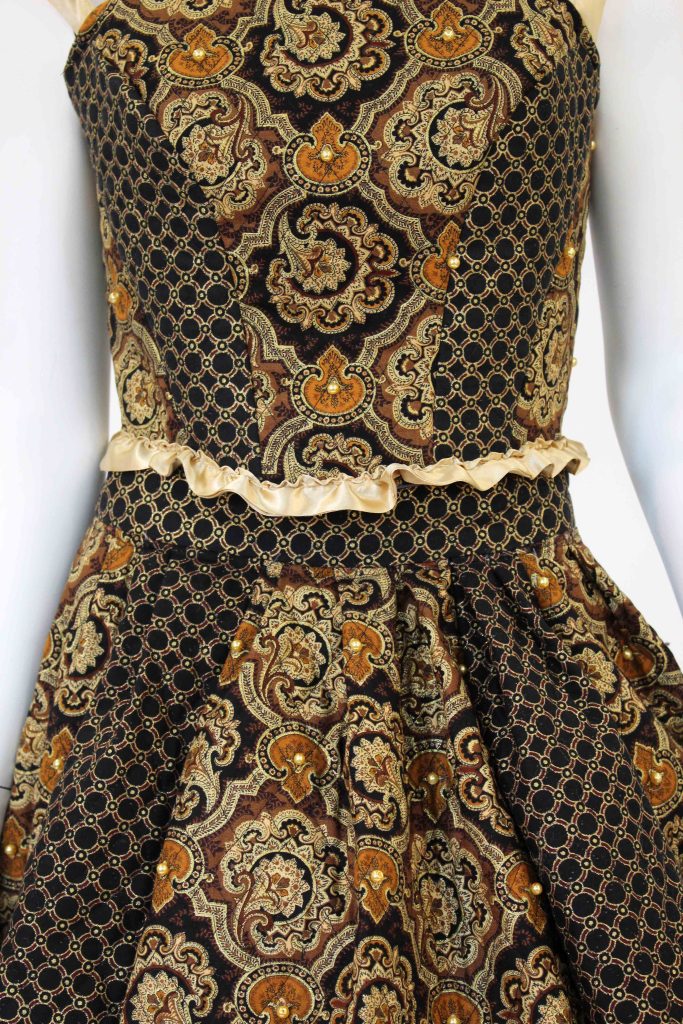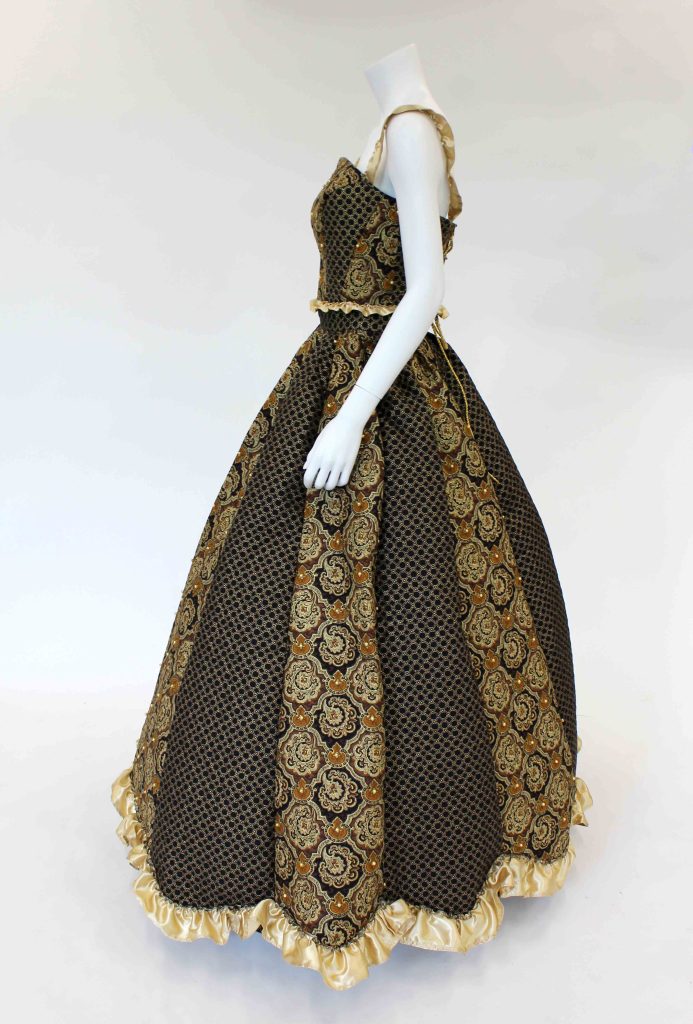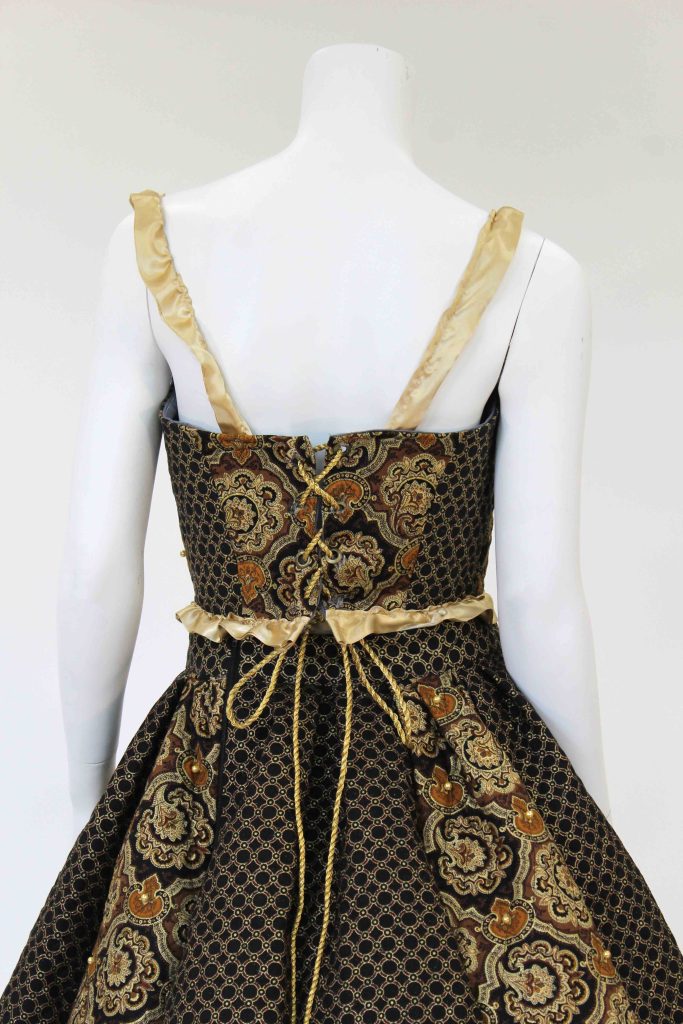 ---
ZACK RACKERS
"Ginger, to me, is all about elegance, flow and extravagance."
"When we were first introduced to the project, we were given the opportunity to physically touch and see dresses that Ginger had worn. Ginger Rogers, to me, is all about elegance, flow and extravagance. I wanted to capture that but with a modern and sexier twist. I wanted to make a dress that is inspired by her but could be worn to a modern red-carpet event. My dress is made from four yards of brocade fabric and three yards of red velvet. I changed the original pattern by shortening the sleeves, creating a heart-shaped neckline, and opening the back to show more skin. I used a different skirt pattern and cut out the front to have it open for a V-shape. I think I was able to create the "sexy and elegant" look that I was going for."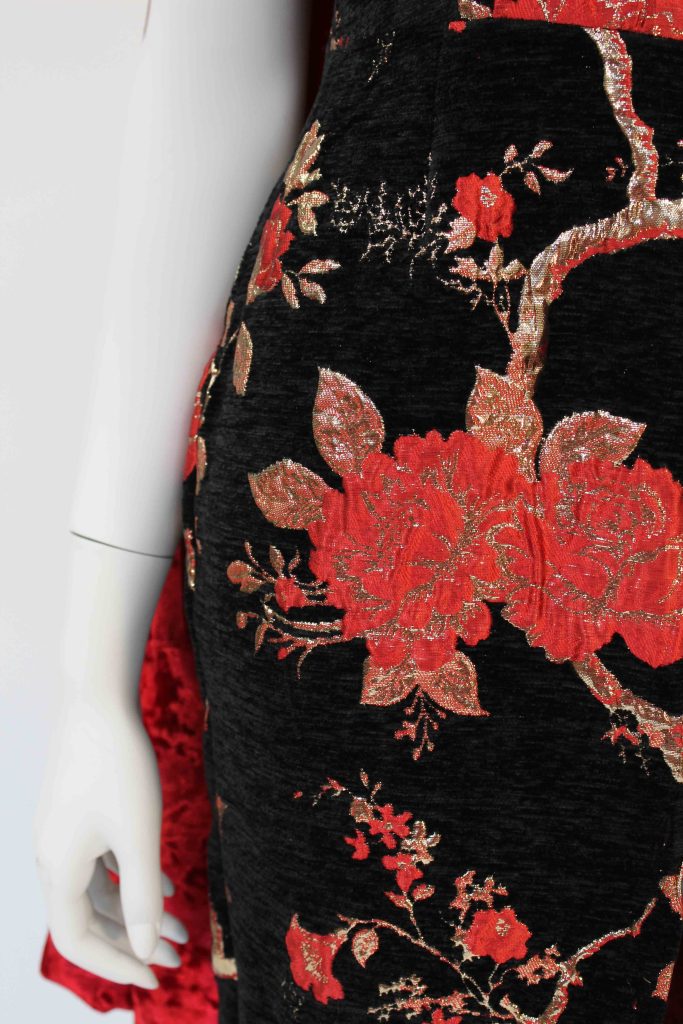 ---
ABBY RATHOUZ
"I appreciated the chance to learn about Ginger and allow her legacy to live on in the items I have created."
"The opportunity to express my own creative take on one of the many iconic Ginger Rogers dresses was a great learning experience! After Ginger was introduced to the class, I was inspired to make an ensemble for the modern Ginger, if she was still living and performing. Ms. Johnston mentioned Ginger's favorite color was pink, so that was the primary element I was in search of for fabric shopping. I considered doing an elaborate piece composed of satin and sparkle, similar to what Ginger would often perform in; however, the dress that is being replicated in this project looks more casual for Ginger's typical appearance on the screen. I decided to create a look for Ginger that is classy and casual. A two-toned pink checkered cotton fabric caught my eye. I wanted the top and bottom to be different patterns/colors like the red and white dress Ginger wore. I found a coral pink fabric of the same material that matched well."
"Keeping the skirt the same as the original pattern, I wanted to be creative with a different element of the dress. I decided the top could use some modernizing. With the 1950s era as my inspiration, I fell in love with the idea of doing a corset top. Corset patterns were rather limited, but I found one from Mood. The primary change I made to the corset was the neckline; it called for a scoop, but I wanted a square neckline in both the front and back. I also made the closure a zipper instead of lace-up. Additionally, I made the choice to keep the skirt and corset as two separate pieces. Looking at the completed product, I can visualize Ginger Rogers wearing something similar on nice but casual outings if she were still alive today. I appreciated the chance to learn about Ginger and allow her legacy to live on in the items I have created."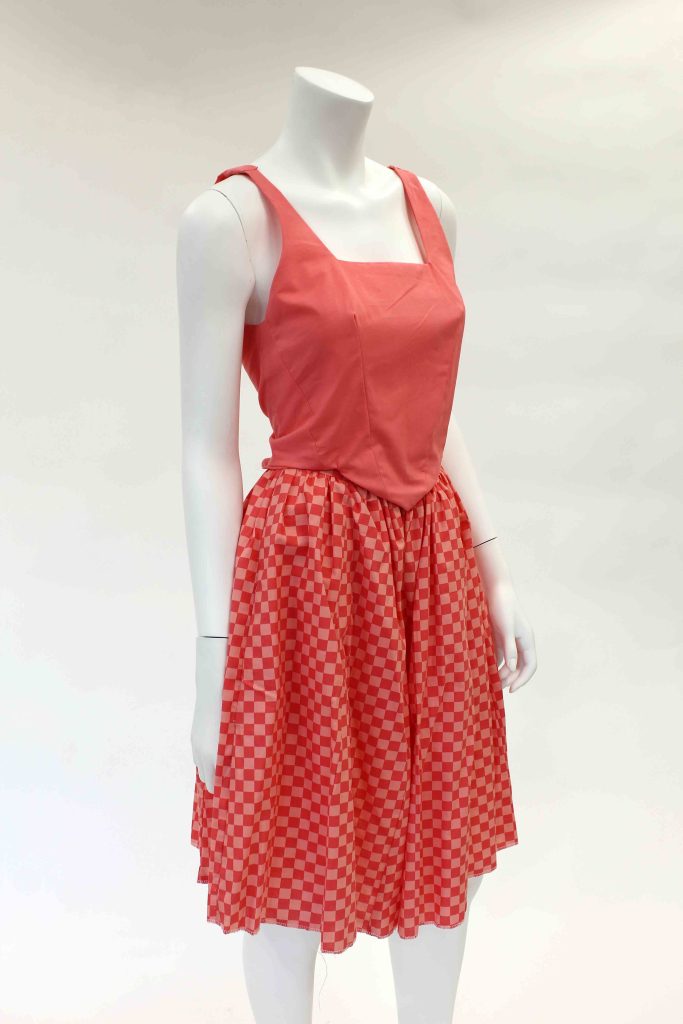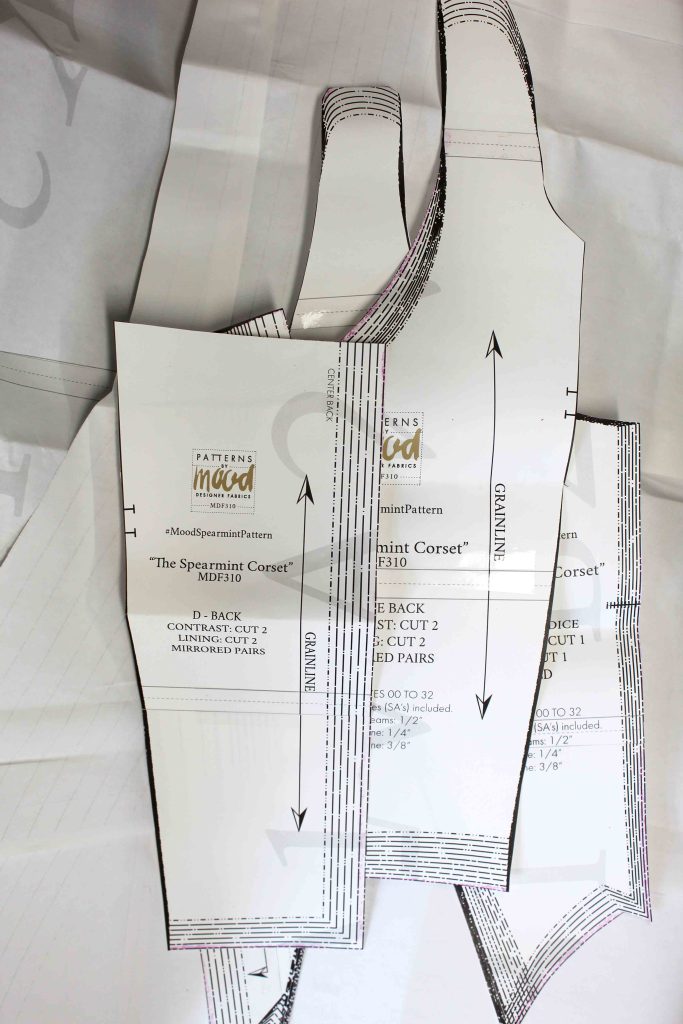 ---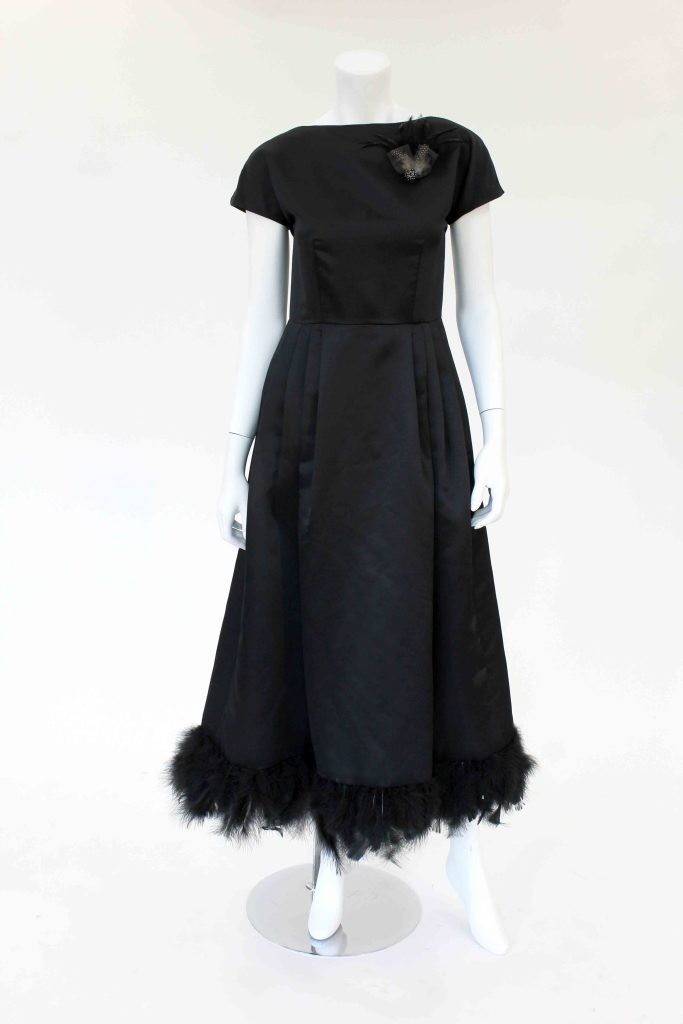 ELIANA ROSARIO
"She was more of a feathers kind of girl."
"Several weeks ago, in class we were shown many different clips and videos of Ginger Rogers including her dance scenes in movies, onstage performances, and even movie clips. One of [Ginger's] coats from her collection inspired my overall look. The coat was a long black [satin] coat with fur trim on the front and bottom. When I began, I was not quite sure where to start in terms of fabric choice and color. I opted for a solid black casa satin fabric for several reasons. Black is chic, classic and with a solid black dress, I could virtually add on any trims, appliques, etc.
I did not make many changes to the original pattern because I liked the simplicity and how classic the pattern was. I changed the neckline a bit. I went for a vintage boat neckline and a low back as well as elongating the dress about 9-10 inches. I had also known I wanted to make a matching shawl to go with the dress so the fur that I was planning on putting on the bottom of the dress would be cohesive. At the beginning of the sewing process, I was very intent on using fur because of the coat that I loved so much. However, through the process it changed because I was not able to personally afford faux fur and could not find any fur that I genuinely liked. I also had thought to myself that while Ginger did wear fur occasionally, fur was not her style. She was more of a feathers kind of girl. Towards the end of the process, I played with the idea of feathers and decided I would be using black turkey feathers on my dress."
The final dress includes an ankle length dress with a boat neckline, low back, and full skirt with pockets. [The original pattern's skirt pockets were kept in Eliana's design.] "There is also a vintage brooch of my grandmas that I included on the front of the dress to balance out the feather look when the shawl is not worn with the dress. The shawl includes a small phone pocket inside because the dress is already so much of a statement that carrying a clutch or purse may not look as well. The shawl also includes a snap on the collar in case I wanted it to be closed as well as ties to make a bow. The bow can be worn showing or hidden on the inside."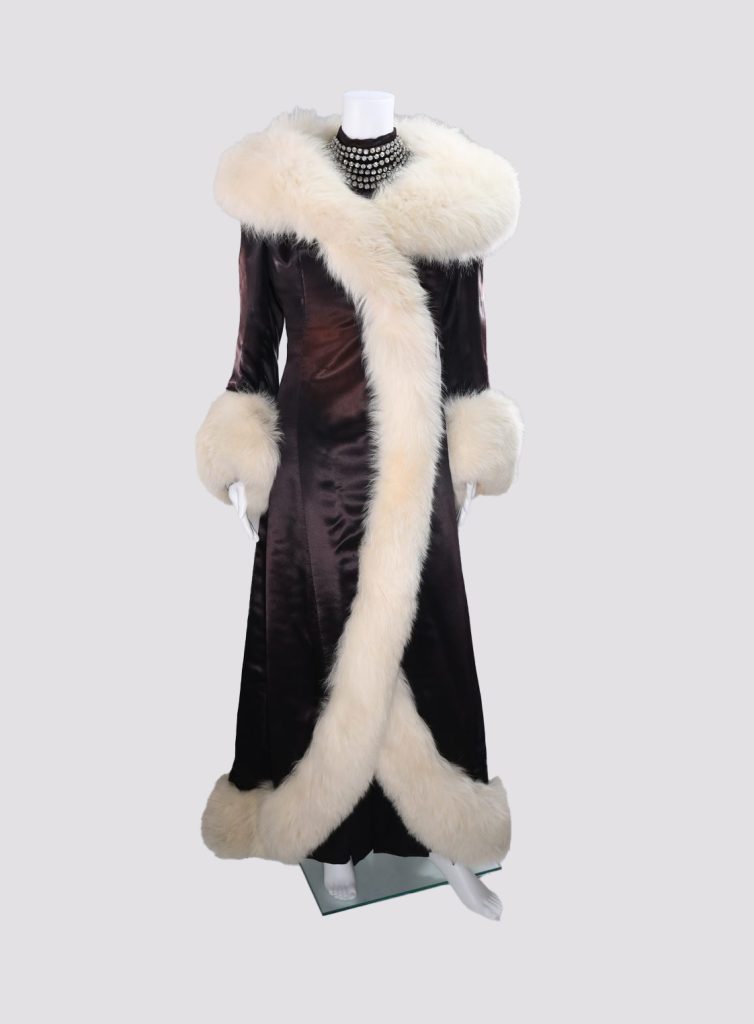 ---
CARLIE SCARPACE
"I had a lot of fun with this Ginger Rogers project; I was able to be creative and challenge myself."
"I was never able to have my senior year prom due to Covid, so my inspiration for this was 1950s prom dresses, silky fabrics, and pinks and soft colors. I chose to keep the skirt from the original pattern and shortened it about five inches. I found a free corset pattern that ended up being a perfect fit for my top. I was making my first corset ever, so it was very new to me. I struggled with the boning channels [in the corset], skirt pleating and waistband attachment, but I had a lot of fun with this Ginger Rogers project; I was able to be creative and challenge myself."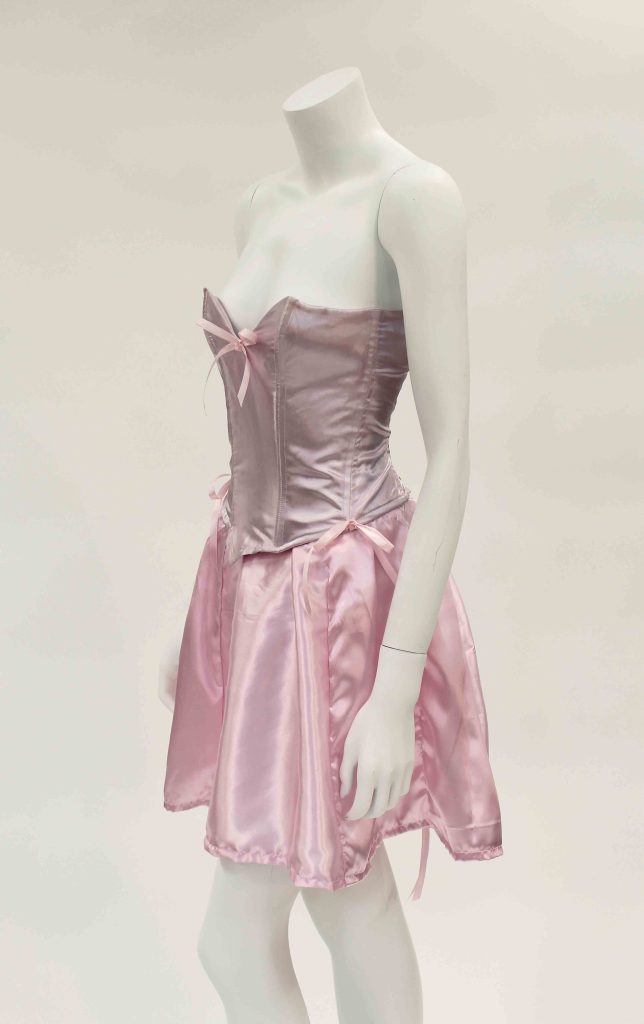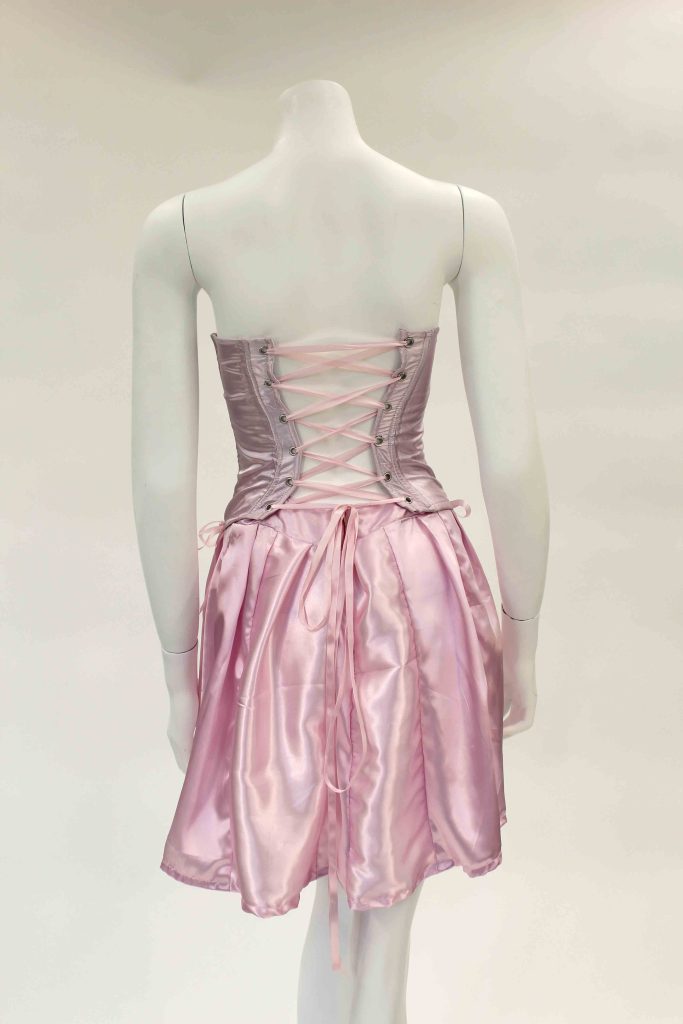 ---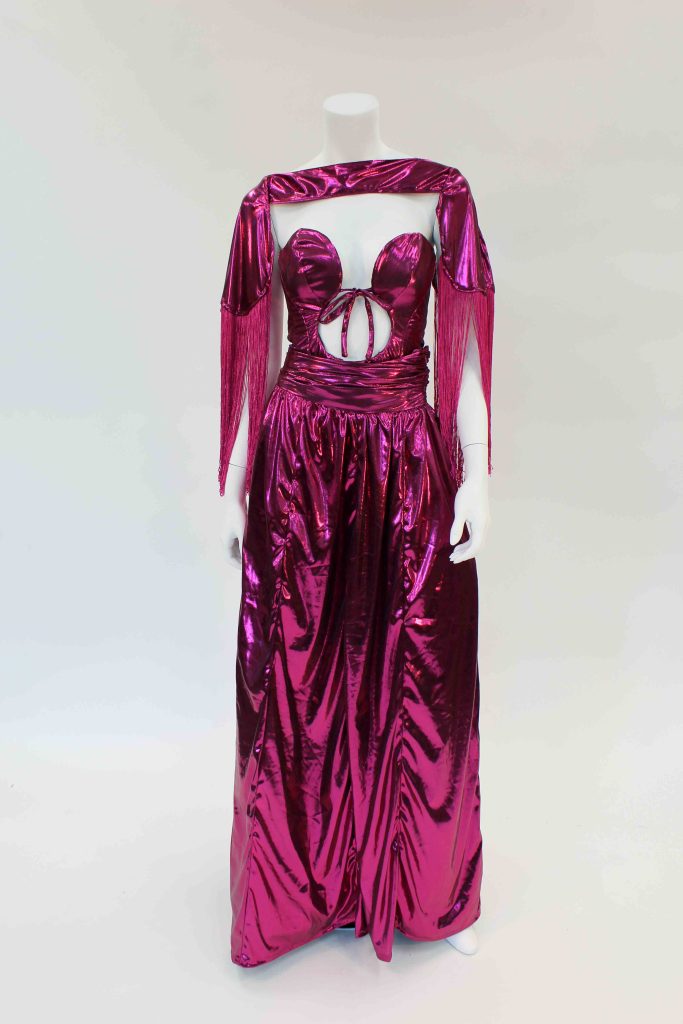 CAILEY SOUTHARD
"I like to think that Ginger and I have similar styles when it comes to special events- pink, feathers, sparkles, fringe, gems, shawls- just overall over the top."
"First, I wanted to include pink, feathers, sparkles, fringe, gems, and shawls in my piece until I realized that was not the most practical design. So, I decided to include just a few using a pink lamé fabric and adding a shawl with fringe. Ginger wore a white dress in "Lady of the Dark" (1944) which had an interesting neckline I wanted to include. I used four bra underwire pieces to make the rounded shapes in the corset top. For the skirt, I used the pattern from the original Ginger dress but added a waistband inspired by Ginger which acts as a sort of cummerbund, popular in the 1950s. For the shawl, I was inspired by the one Ginger wore in "Roberta" (1935) (pictured). I wanted the sleekness of the shawl in my design and included fringe down the arms."
Ginger's gown that inspired Cailey was worn in Roberta for the "I Won't Dance" number, a film for which Bernard Newman was the head designer. Made of gold lame fabric and strings of bugle beads, it was originally purchased by Rogers from Bergdorf Goodman as part of her wedding trousseau and was the first personal dress Rogers ever wore in a motion picture, "probably because Bernard Newman had designed it." (Ginger Rogers: My Story, 1991)
---
TEAGHEN SPEIER
"I believe Ginger would have been happy to push the envelope here."
"During the research process, I learned that many of the qualities that Ginger is iconic for – confidence, an outgoing and entertaining personality, and over-the-top expression of herself in life and fashion – are characteristics that resonate with me. I was drawn to her enthusiasm and love for her craft, her pretty but not always practical style, and lastly, her gregarious persona and welcoming disposition. During the design process, I wanted to tap into Ginger's love of exaggerated costumes and the appeal of feathers, ruffles, organza, and tulle that were common in many of her original gowns. I chose red as a nod to her name and because it is a "cousin" to pink, her favorite color. The sleeves and neckline of the original design were slightly modified for function and to support the use of satin. I deconstructed the top pattern and added a princess seam. I incorporated an open back and higher neck as a compromise between my own preferences and historical standards for how much skin was acceptable to show. I believe Ginger would have been happy to push the envelope here."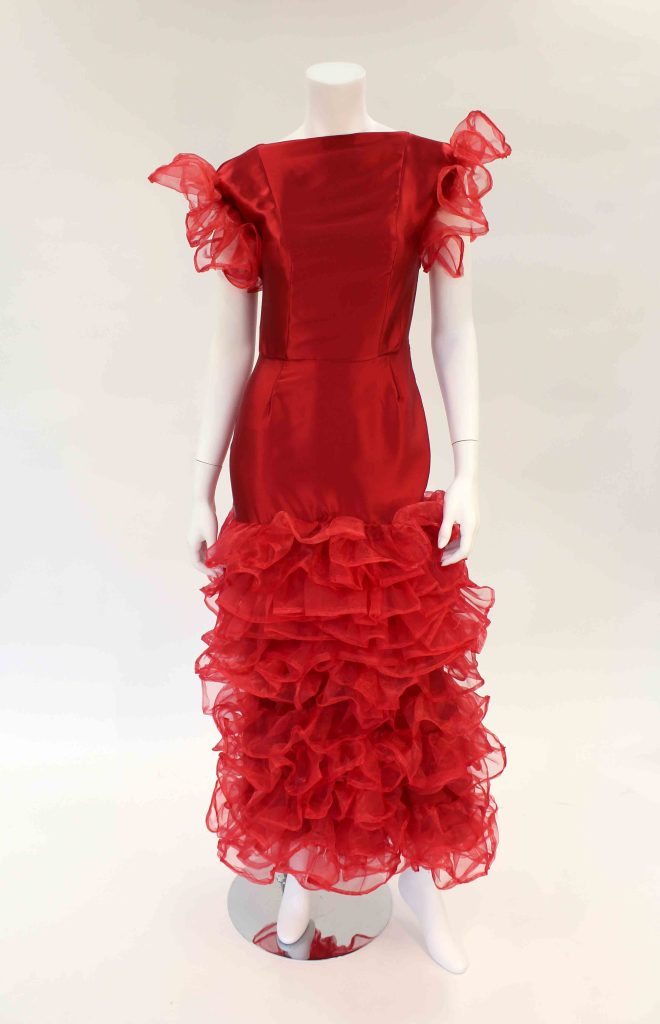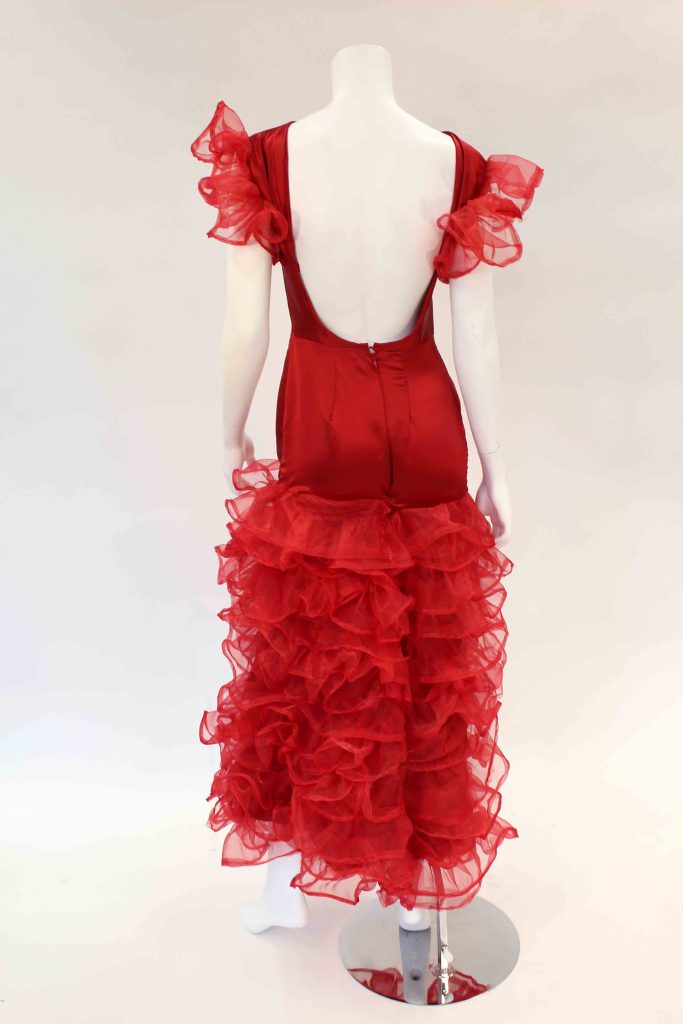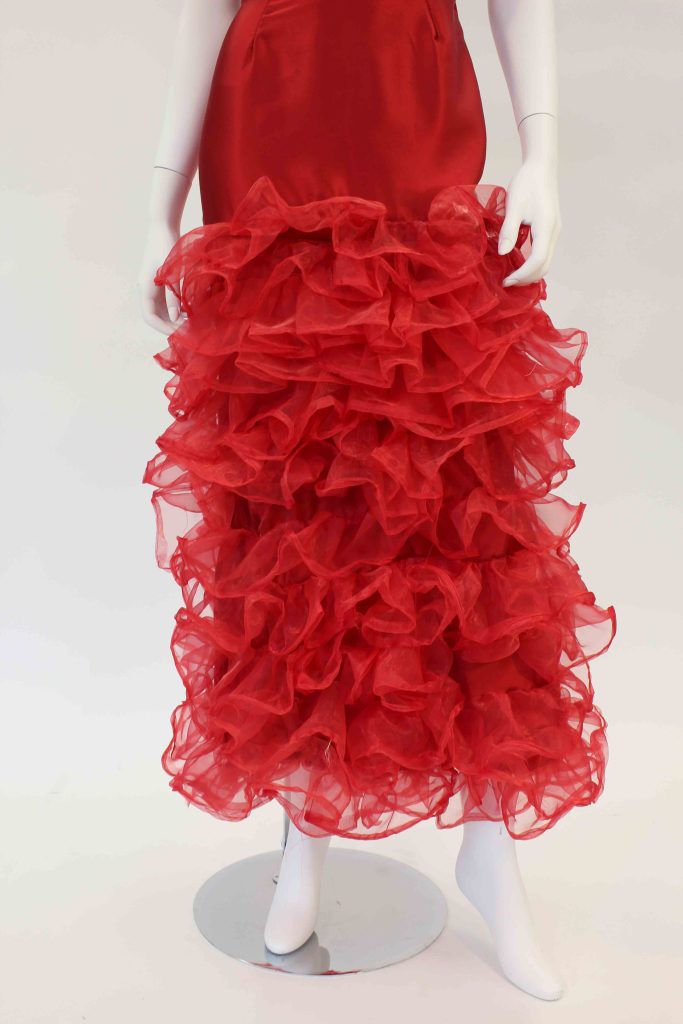 ---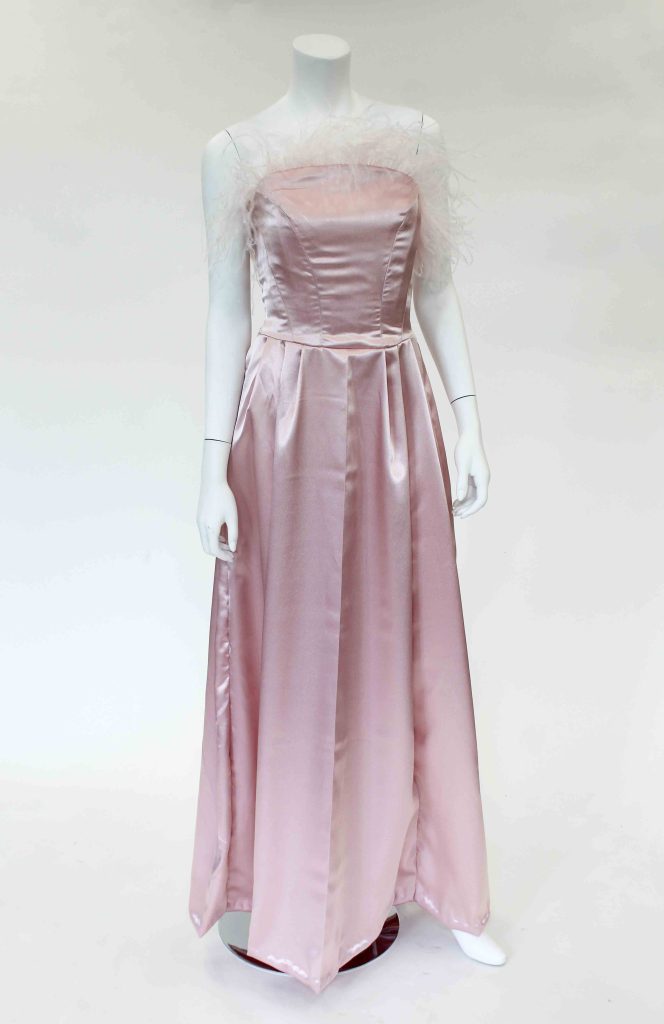 ANNA STAUDT
"Ginger Rogers with a modern twist."
"This dress was inspired by the Ginger Rogers pink [feather] dress with a modern twist. I attached the pink feathers at the top of the dress, which is very trendy currently. I made the top a corset style with boning and four layers of lining. [The skirt pattern was elongated.] I wanted this dress to be stylish for girls going to a wedding, prom, or a formal event while still being inspired by the very extravagant Ginger dress. I wanted it to be of great quality, hence the structured top, while still being very elegant and classy with the floor-length skirt and invisible zipper in the back."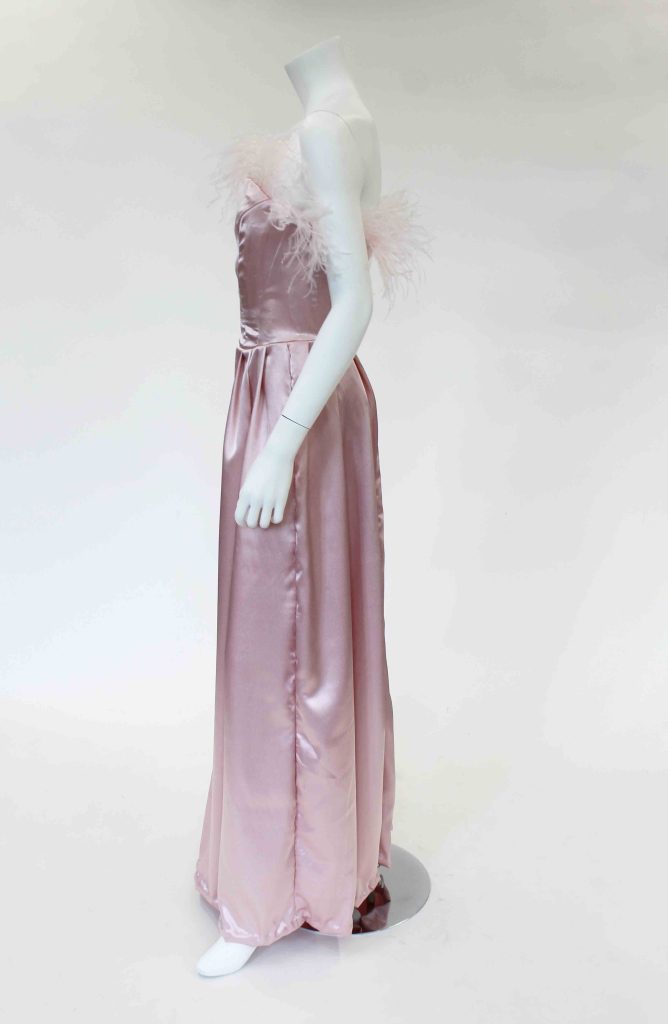 ---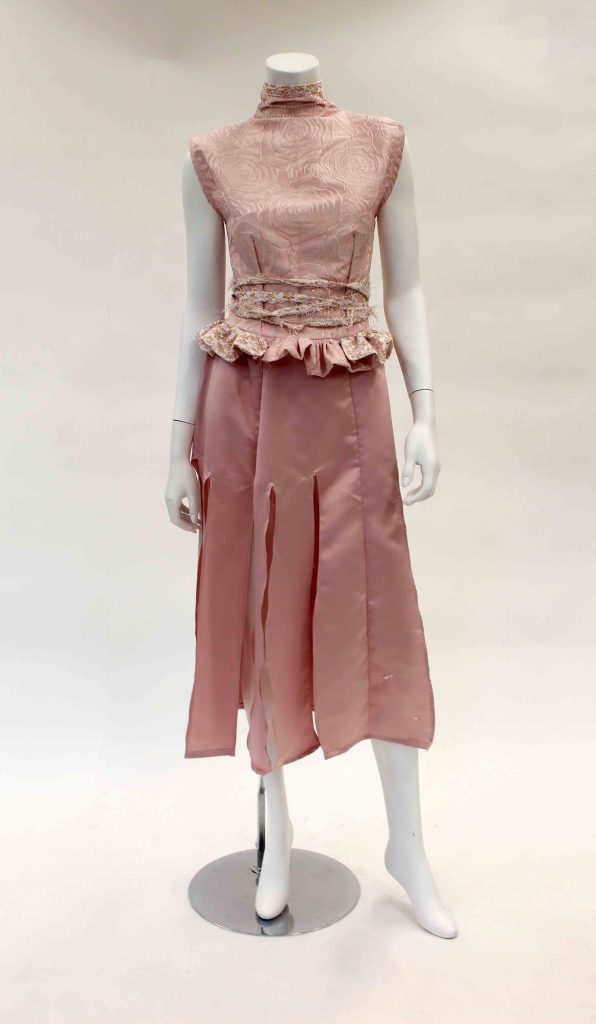 AIRI WASHINGTON
"This project really helped show me how to persevere through things and showed me the capabilities I do have and what I can strive toward in the future."
"One of the main inspirations for this dress was the black silk satin dress with rhinestone trim and wide panels on the skirt. This dress was the first one to catch my attention when we were examining the pieces in person. What really caught my eye about this dress were the slits that ran down it. It was something that I had personally never seen before so I knew I wanted to replicate it. I used the base Ginger pattern for the top part of my dress. I added a corset back instead of a zipper. I took off the sleeves and added a neck part to create a turtleneck look. A different pattern was used for the bottom part of the dress. For embellishments, I added rhinestones at the top of the turtleneck as a reference to the original dress from which I drew inspiration. I also added rhinestones in between the slits of the dress. Ruffles were added at the waistline as this was a key part of many of Ginger's outfits."